Last Updated: June 15, 2023
As US' dive capital, dive spots are everywhere in Florida. So even if you've been to hundreds of them, you know you're barely scratching the surface. But if you're looking for the best artificial reefs to explore in the Alligator State, you must head straight to Fort Lauderdale.
Teeming with marine life and blessed with all-year-round warm waters, Fort Lauderdale is not only the go-to spring break getaway but also home to some world-class dive sites that are within easy reach. From Tenneco Towers to Barracuda reef and every intentionally sunken ship in between, divers are in for an awesome adventure.
About Fort Lauderdale
Dubbed the Venice of America, there is more to Fort Lauderdale than just a labyrinth of canals and relaxing gondola rides. This coastal city in Broward County, southeast of Florida, is also renowned for its golden sandy beaches, museums, live entertainment, and outdoor fun, attracting more than 12 million visitors each year.
Best 8 Dive Sites in Fort Lauderdale
Back to Fort Lauderdale scuba diving, its undersea world comprises a variety of artificial reefs ranging from oil rigs to wrecks, commissioned and accidental, each one a sight to behold. Whether a diving novice, a frogman, or a pro, you will surely have a grand time exploring the well-preserved spots that correspond to different skill levels.
1. Fort Lauderdale Wreck Trek – Jay Scutti, Tracy, Merci Jesus
When the odds are in your favor, you can hit not two but three birds with one tank through drift diving at Fort Lauderdale Wreck Trek. Open-water divers can explore its three amazing attractions roughly 70 feet below the sea. The wrecks are guided with embedded stakes, cinder blocks, and tires for easy navigation.
The dive begins south to north with Jay Scutti, a 100-foot tugboat previously involved in drug smuggling, bought and given to Broward County in 1986. It was then placed as an artificial reef that houses southern stingrays and other sea inhabitants.
Next in line is the Tracy or Ken Vitale, named after a well-known local scuba teacher who died of a heart attack in 1998 while diving with students off Pompano beach. The wreck was a 132-foot oil rig supply boat and became a diving site in 1999. It features several penetration areas and overhang swim-throughs where you can spot barracudas coming and going.
Mercy Jesus is the final wreck in this trifecta which was sunk in 1998. Also seized by US Customs officials for drug possession, it is the smallest at 90 feet long but abundant with undersea life such as angelfish, eels, grunts, and parrotfish.

2. Tenneco Towers
Another major addition to Fort Lauderdale's amazing wreck lineup, Tenneco Towers consists of five sunken oil rig platforms donated by the Tenneco Oil Company in October 1985 to support marine life. They are the largest artificial reefs in South Florida and among the top dive sites in the area.
Located in Hallandale Beach, two platforms are for deep diving at over 150 feet below, while the rest are much shallower and reachable, with depths between 60 and 100 feet. Scuba divers will encounter the top section first, which is slanted but with precarious ends that point upwards. As such, exploring the site may cause disorientation. But if you're lucky, you might catch some bull sharks and lionfish swimming along the platform's nooks and crannies.
You can also witness spectacular coral life, such as various sponges, corals, reef fish, etc. In any case, the towers are recommended for technical divers and pros. But if you limit exploration to the shallower decks, divers with moderate experience can give them a shot.

3. Hog Heaven
Hog heaven is a 180-foot-long barge that has been deep at sea for more than 30 years, the evidence of which is its thick coral covering and rich marine life. It is one of the more popular dive sites in Fort Lauderdale, given its accessibility and moderate depth.
What's cool about this artificial reef is that it takes an inverted form which was caused by previous raging storms. For the more experienced divers, they can penetrate a lot of its swim-throughs and entry points. At the same time, they will have the skills to work around unstable structures with oddly positioned sharp frames, since many of them are fragile and dangerous if divers are not being too careful.
Aside from this barge, you will also find a smaller one nearby, the old pacific reef lighthouse, concrete culverts, an airplane wing, Interstate 595 construction beams, and a radio tower referred to as Jungle Gym.

4. Hammerhead Reef
While Fort Lauderdale is an artificial reef dive haven, it has some natural coral reefs to boot. One of them is the Hammerhead Reef. It belongs to South Florida's reef tract setup comprising three layers and boasts a stunning scenery of coral reef stretching out in front of Dr. Von D. Mizell-Eula Johnson State Park (formerly known as John U. Lloyd Beach State Park).
While the first layer is right offshore and sunk at only 15 feet below, and the second one sits in around 30 feet of water, Hammerhead reef is prominently located on the last tier and is the deepest and the farthest.
This natural reef is divided into two sections: east and west. The east part showcases the spur and groove formations resulting from constant wave action over long periods. On the other hand, the west section features several ledges, crevices, and an overhang allowing marine life to flourish.
Recommended Read: Best Places to Scuba Dive in Miami
Overall, the currents are mild on this site for the most part, which makes for a great drift diving experience.

5. Lady Luck
One of the more recent inclusions to Fort Lauderdale's wreck collection, Lady Luck is Shipwreck Park's centerpiece, whose purposeful sinking operation was witnessed by a large crowd in July 2016. It is 324 foot-long sludge tanker built in 1967.

Lady Luck has 16 staterooms, a galley, a captain's deck, and an engine room. It notably displays images of poker-playing sharks, octopus dealers, a mermaid cocktail waitress, a giant dice, and slot machines forming an underwater casino theme designed by artist Dennis McDonald and sponsored by Isle Casino.
With a depth of 126 feet and frequent strong currents, its exploration is reserved for advanced or technical divers who can take advantage of the unique photo opportunity it offers.
Despite its relatively short period below the sea, Lady Luck already hosts big schools of fish, whale sharks, turtles, and occasional dolphins in its territory.
6. Mercedes I
Perhaps the advanced diver's rightful challenger, the Mercedes I, is a German freight class ship that is tricky to navigate with its twisted metal and entanglements, especially in the engine compartment. Nonetheless, it still has several openings that are safe to penetrate.
Previously known as the Jacob Rusch, Mercedes was sunk in its final resting place in 1985 and had quite an interesting story. The owners abandoned the ship after a powerful storm ripped it into two pieces and swept it toward an exclusive Palm Beach mansion sea wall. It was later purchased by Broward County and turned into one of the major dive attractions in Fort Lauderdale.
Although the midship has collapsed, the wreckage continues to lure colorful fish and other amazing sea creatures into its cavernous holds, hatch covers, and coral-encrusted railings.

7. Barracuda Reef
Although many of the best dive sites in Fort Lauderdale are catered to highly experienced divers, Barracuda Reef is somewhat beginner-friendly. No deeper than 35 feet, it boasts many species of fish living along its high-profile ledge, as well as sea turtles and nurse sharks feeding off it.
Further underneath, you can find lobsters and crabs, among other bottom dwellers. Barracuda Reef is a great drift diving option as it is for snorkeling and fish-watching, with mooring buoys surrounding it. It belongs to the second layer of South Florida's reef tract and lies on the island's northern side.
The rocky bottom, peppered with coral patches, is just a short distance from the Dr. Von D. Mizell-Eula Johnson State Park, where swimmers get to visit from ashore. Sometimes, you'll even run into a gang of pesky moon jellyfish and a strong current, but overall, the experience will be fun for many.
8. SS Copenhagen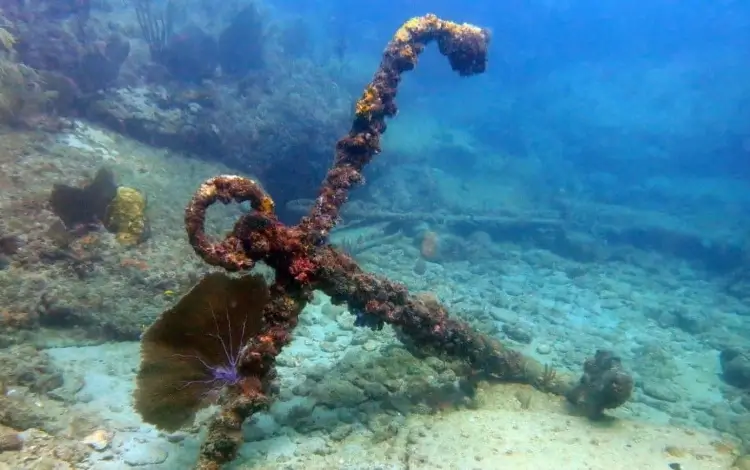 SS Copenhagen used to be a British cargo steamer that sank at a shallow depth of fewer than 30 feet at Lauderdale-by-the-Sea, a charming seaside town in Broward County. It is an accidental wreck caused by its captain's erroneous navigation, existing for over a century and awarded as the fifth Florida underwater archeological preserve. The corresponding plaque sits on the south side of the wreckage.
This shallow reef is situated directly across from Sea Watch Restaurant. Despite its age, it still has recognizable components, such as the mast, anchor, and boiler beds, although most of its body is gone. Tropical fish, lobsters, and other marine species reside in the structural remains scattered over a 300-foot area, which locals consider part of the Pompano Dropoff Reef.

Diving Conditions and Best Time to Dive
Unlike most states, subtropical Florida essentially has only two seasons: winter and summer, with the latter comprising most of its calendar days. Hence, you can dive any time of the year as the warm water temperatures, averaging at 80 degrees in the summer brought about by the Gulf Stream, keep divers parallel to the shore and make for ideal dive conditions.
Wetsuits between 3 and 5 millimeters will suffice; a little thicker would be recommended in winter.
Divers are spoiled for choice with an array of dive sites at varying depths, many of which are within recreational limits. Generally, currents range from mild to moderate, which dictates visibility often at 70 feet, sometimes more. Occasionally, 5 to 6 feet of swells occur when the east and southeast winds are 15 knots or thereabouts.
Also Read: Scuba Diving in Jupiter Florida
Top Fort Lauderdale Dive Shops
To ensure you have the best diving adventures, check out the following dive centers in the city.
#1. Sea Experience
A PADI Green Star dive center, Sea Experience is a one-stop shop where you can get scuba gear and supplies, join organized dive expeditions, and train for a scuba instructor career. Scuba Diving Magazine recognized it as one of North America's best diving operators in 2019.
#2. American Dream Dive Charters
When exploring the magnificent dive spots in Fort Lauderdale, you can count on American Dream Dive Charters to provide you with an unforgettable experience. Choose from reef diving locations such as Hammerhead Reef and Barracuda Reef or popular wrecks like Hog Heaven and Mercedes I; this dive center will bring you there safely and ensure you have a wonderful time.
#3. Pineapple Scuba
Pineapple Scuba is another great dive shop where you can buy in-house-label clothing and accessories and acquire dive certifications or intro dives. They organize local expeditions and outside-Florida dive trips to the Bahamas, Barbados, and Belize, too.
#4. Gold Coast Scuba
Just like the rest of the dive operators mentioned, Gold Coast Scuba provides diving lessons and certifications, scuba diving equipment purchases and rentals, and guided tours that intend to exceed your expectations.
Frequently Asked Questions
Is Fort Lauderdale Good for Scuba Diving?
Absolutely. Fort Lauderdale takes pride in being known as the artificial reef heaven in Florida. Several dive sites are accessible from the shore, while others with greater depths appeal to technical and advanced divers.
Does Fort Lauderdale Have Coral Reefs?
Yes. The South Florida reef tract has three layers parallel to the shore. Popular coral reef sites include Hammerhead Reef and Barracuda Reef.
How Deep is the Reef at Lauderdale by the Sea?
Most dive sites at Lauderdale-by-the-Sea have shallow depths, which are anywhere from 10 feet to 25 feet. It has SS Copenhagen, Pompano Ledge, and the Biorock Project, among others, that novice divers and ocean explorers can examine up close.
What is Lauderdale-by-the-Sea known for?
The city is famous for being the beach diving capital of the Sunshine State. You can access the first of three coral reef tracts just a hundred yards from the beach, allowing visitors to go snorkeling or shore diving, depending on their skills.

My unbounded love for the oceans and everything it has to offer motivated me to pursue my passion and become a professional scuba diving instructor.
I keep reading, exploring, and learning more about scuba diving and the underwater world all the time, so I'm excited to share my knowledge with fellow scuba enthusiasts and hopefully contribute a little to your development as a diver. I want people to fall in love with the oceans with as much passion as I have. Read more about me here.