Last Updated: February 27, 2023
Planning your next dive trip in the US? An undersea adventure like no other awaits you in Monterey Bay, California, one of the largest marine sanctuaries in the country.
The undeniable beauty beneath the Monterey seas has captured many hearts, leaving visitors wanting more. Known for its world-class Monterey Bay Aquarium, it is no surprise that diving into its natural waters is even more outstanding.
With the Monterey Bay Canyon only a few yards offshore, expect to have a grand time exploring its depth and the surrounding visuals.
About Monterey
Pristine beaches, scenic views, seaside cliffs, cypress forests, and artichoke fields along Highway One; Monterey is a picturesque pastoral paradise. No wonder it has attracted many writers and artists to settle in the area. You can find here Nobel Prize-winning author John Steinbeck's restored Victorian home, which features a restaurant, and other cultural touchstones such as the Cannery Row and Fort Ord National Monument.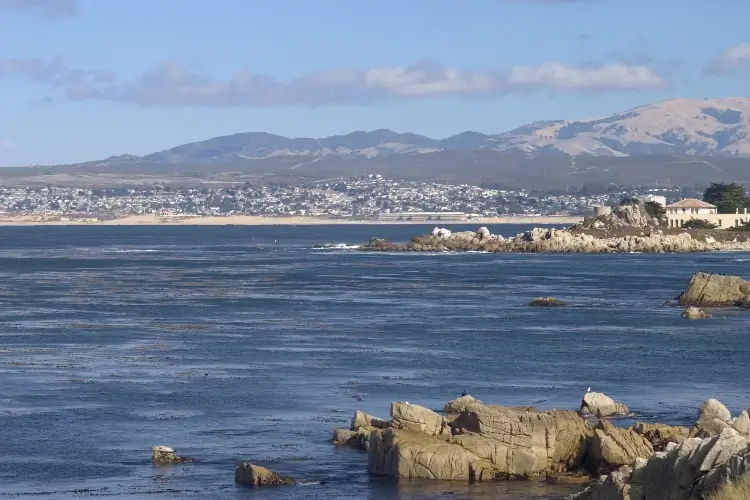 Located on California's central coast, Alta California called Monterey its capital under the jurisdiction of Spain and Mexico, respectively, in the 1800s. Today, it has a population of over 30,000 that enjoys cool summers or an oceanic climate, largely because of its proximity to the Pacific Ocean.
There is so much more to Monterey than being a scenic ocean town and marine haven. While in the city, you can head to Carmel-by-the-Sea to appreciate the fairytale-like Comstock cottages or visit Monterey Bay and Moss Landing to discover its diverse wildlife.
Sample the freshest seafood and their famous version of clam chowder sitting on a chunky sourdough bread at the Old Fisherman's wharf before you leave.
Whatever you decide to do, you will savor every minute of your stay in Monterey.
Monterey Scuba Diving
There have been countless marine explorations throughout history, yet, the mighty ocean remains shrouded in mystery which many scuba divers are aching to unlock.
Each year, more than 65,000 visitors flock to the Monterey seas to get up close and personal with a variety of marine species, such as seals, sea lions, rockfish groupers, otters, dolphins, and starfish, to mention a few. Many of these wonderful sea creatures, alongside hundreds of other organisms, reside in majestic kelp forests, which form part of a thriving and dynamic underwater ecosystem.
The lush kelp beds, underwater canyons, and near-shore deep ocean environments upwelling with nutrients are worth exploring, given their unique topography and sea inhabitants galore. You'll see schools of fish moving in cyclonic patterns, moray eels hiding in the cracks, and sea lions soaring the kelp stalks.
Don't worry if you are new to diving or a moderately experienced deep-sea diver; many dive sites in California will cater to your skill level.
Best 7 Monterey Bay Dive Sites
As a marine sanctuary, divers will surely encounter hundreds of sea animals and fish species while exploring Monterey Bay. Harbor seals, Spanish shawls, octopuses, rainbow nudibranchs, you name it, Monterey has it, and then some. While several locations are novice-friendly, there are remote sites that offer challenging yet rewarding dives for technical and advanced divers.
Here are the top dive sites dotting Monterey Bay.
1. Point Lobos State Natural Reserve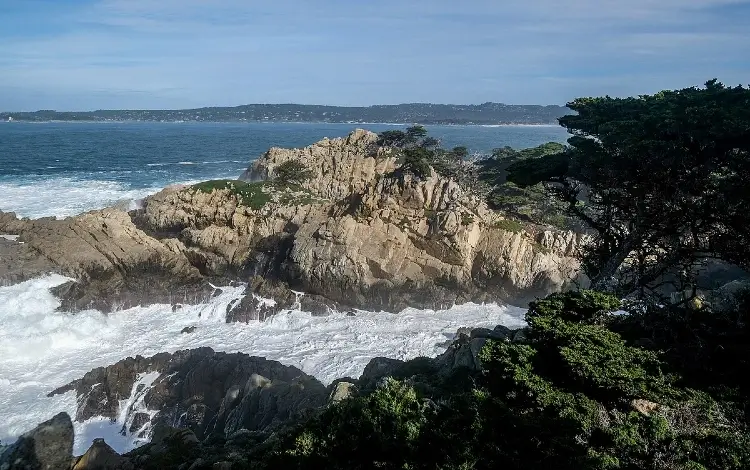 There are two primary sites certified divers can explore at Point Lobos: Whalers Cove and Bluefish Cove.
A must-dive, Whalers Cove is a narrow beach with a rocky bottom located in the northern part near Carmel. The kelp in this spot can be overwhelming, especially during summer and fall when it is thickest. Nonetheless, flora and fauna are flourishing, while the pristine reefs and coves are impressive, allowing you to swim under calm waters.
There's also the Pit, an adjacent spot consisting of three caverns where unique invertebrates abound.
On the other hand, Bluefish Cove does not have a beach, but divers can use a boat dropoff to access it. It has two large pinnacles separated by a steep and narrow canyon around 90 feet deep. Aside from the great topography, you will find colorful fish, stony corals, encrusted sponges, and strawberry anemones, to name a few.
There is a limit of 10 teams who can dive the spots at a time; hence you should make reservations in advance. In addition, a diver's certification is required since the site is an advanced dive.
You can do many other things at Point Lobos State Natural Reserve if you can't dive. There's the Whalers Cabin, hiking trails, a birdwatching spot, and a wildlife sanctuary where you can check out coyotes, foxes, mountain lions in their natural setting.

2. Lover's Point
Situated in Pacific Grove, diving at Lover's Point is a delightful experience. Novice divers can practice their skills safely here, given its shallow depths.
There are three entry points to Lover's Point, although only two are viable. One is through Lover's Cove 1, which is the safest since it has a sand channel to facilitate undersea exploration. The other is through Lover's Point 3, a rocky beach that is more open and can be accessed by taking the stairs originating in the upper parking location. Note that if you use this entry point, you must trudge several boulders before reaching the beach.
Once you're in, you will be rewarded with a festival of marine life beginning with algae-covered reefs that range from brown to golden yellow. Further below and you will notice the coralline algae where many species are hiding.

3. San Carlos Beach – The Breakwater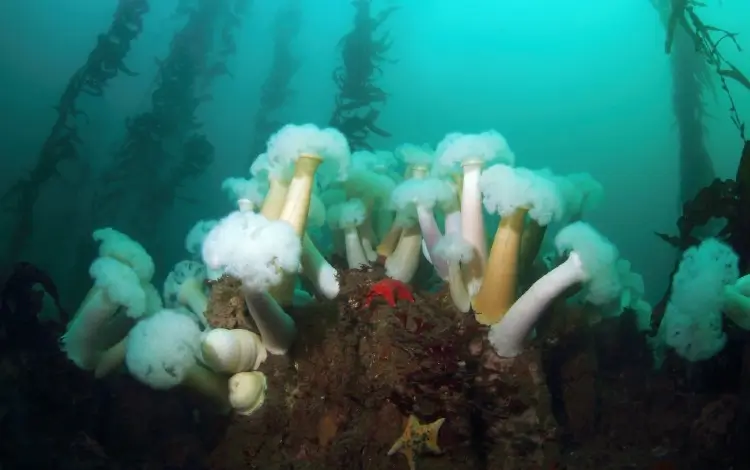 For more relaxing dives, head to panoramic San Carlos Beach at the end of Cannery Row. Once the location of San Carlos Canning Company, the Breakwater is a beginner-friendly area that serves as a great culmination of open-water evaluation dives. It is arguably the most popular spot in Monterey due to its generally calm conditions, accessibility, availability of amenities, and of course, its underwater scenery.
Dive classes are usually held here on weekends because beginners are protected from ocean swells, making it conducive for all-year-round diving. The shoreline has a gentle slope that aids in easy entries and exits, further enhanced by the gradual descent to 50 feet. You can even bring a knife along since it's a good fishing spot where there are frequent sightings of crabs, shrimp, nudibranchs, and mola mola, among other macro subjects.
On the left side of the beach, you will find the aptly named Metridium Fields due to its abundance in metridium anemones that look like cauliflowers. Since this dive site is accessible and caters to divers of all levels, it is recommended to go early; and besides, parking is limited in the area.

4. McAbee Beach
McAbee Beach is the tiniest at less than a quarter acre, located along Cannery Row. Despite its size, this spot makes up for its marine life, which is bursting at the seams, and also features small pinnacles surrounded by sand.
Newbies can practice their skills in dense kelp beds at manageable depths. Keep an eye on the rockfish lurking in nearby abandoned pipes and halibut swimming through. The McAbee Pinnacle is another spot further out in the sea that can be accessed by boat or extended swim. Its main attraction is a variety of nudibranchs that dominate the site.
McAbee Beach, close to the Edward F Ricketts State Marine Conservations Area, is also a favorite takeoff point for kayakers. As such, divers might bump into the kayak's underside when ascending. So when on the surface, use a diver-down flag and also give a wave to kayakers to alert them of your presence.

5. Coral Street
A rocky gravel beach characterizes the Coral Street cove based on the presence of boulders and inshore rocks covered with palm kelp and red coralline algae.
Entry can be precarious when it's low tide, since the dense kelp and seagrass can be slippery. Some distance has a shallow bottom of fewer than 20 feet below, where divers can simply follow the sand channel in the center to get to deeper waters without crawling on the rocks during low tide.
At a maximum depth of 60 feet, you will find plenty of rock scallops, abalone, and a monkey-face eel or two in the crevices. There are more walls and pinnacles to see beyond, as well as the remainder of John Denver's aircraft. Although this spot can accommodate novice divers to a certain point, under rougher conditions, it requires technical skills.

6. Hopkins Deep Reef
A veritable playground for advanced and more seasoned divers, this dive site has a series of reefs with depths of up to 90 feet. It entails a boat dive and one of the few deep reefs still divable even with strong winds and swells.
The main attraction is the Metridium Giganteum, a giant white anemone with multiple long and slender tentacles. The bright reflective white color makes it easy to spot even with poor visibility. Their presence in substantial numbers gives the area a spooky feel but is nonetheless very attractive.
The abundant kelp provides rich nutrients for the sea residents, such as the sea pens, Spanish shawls, and market squid eggs which are more visible in the summertime. Beside the smooth and polished rocks, you'll find crabs, shrimp, octopuses, and small fish your eyes can feast on.

7. Monterey Bay Aquarium
The Monterey Bay Aquarium is a highly acclaimed underwater mecca that has been a favorite stop along the Californian coast for visitors and marine life enthusiasts. Marvel at the extraordinary collection of diverse species as a spectator or learn more by exploring the different exhibition spaces and immersive large video screens located in its holding facility.
You can dive in this natural aquarium as a volunteer, and your tasks wilmonterey bayl include observing animals, siphoning, feeding, and maintaining exhibits. To qualify, you must be certified in open water, advanced, and rescue diving by a legitimate scuba agency. Furthermore, you should present proof of a minimum of 20 dives in Monterey Bay or other cold-water locations within the last five years.

Diving Conditions and Best Time to Dive Monterey Bay
If you enjoy diving in cool yet calm waters, Monterey Bay is the best there is. With an average surface water temperature ranging from 53 to 58 degrees Fahrenheit, it is possible to dive any time of the year.
Always wear a 7mm wetsuit or a semi-dry suit which performs better in terms of body heat retention.
Bottom visibility averages between 15 and 40 feet, allowing you to clearly see a variety of sea creatures and the undersea topography.
Note that several dive spots allow shore diving. But if you are up for the challenge, there are dive locations off the coast that you can access by boat, where you can get better visibility and witness much denser wildlife.
Top Dive Shops
#1. Monterey Bay Scuba
Located right along the beach, Monterey Bay Scuba is a full-service dive shop offering open water certification and classes, complete gear setup, dive tours, and equipment rentals.
#2. Bamboo Reef Diving
Shop for scuba gear online and in-store, and learn to dive in Bamboo Reef Diving. They also organize tours and out-of-the-country diving trips, ensuring your dives are fun and safe.
#3. Aquarius Dive Shop
More than a dive shop, the store is also home to the largest active dive club in Monterey Bay – Underwater Voyagers. Aquarius Dive Shop is also a PADI 5-star Instructor Development Center and an authorized seller of premium scuba gear brands.
#4. Monterey Bay Diving
Monterey Bay Diving provides professional diving services, including equipment servicing, underwater imaging, seafloor mapping and commercial diving operations.
Frequently Asked Questions
Is Monterey Good for Scuba Diving?
Yes, it is regarded by many as one of the best cold-water dive locations in the US, offering a world-class diving experience with its lush kelp forests and wide range of marine creatures.
How Much Does it Cost to Scuba Dive in Monterey Bay?
An intro dive in Monterey Bay will cost anywhere between 70 and 100 dollars per person.
Is it Safe to Dive in Monterey Bay?
Like other popular dive destinations, diving in Monterey Bay is generally safe if you observe your limits and stay within them.
How Cold is Scuba Diving in Monterey?
It ranges from 48 to 52 degrees Fahrenheit.
How Deep is the Trench off Monterey Bay?
The Monterey Canyon is more than two miles deep, twice the depth of the Grand Canyon in Arizona.
Are There Sharks in Monterey Bay?
Yes. Due to its warming waters, great white sharks have been discovered thriving in Monterey Bay. Other types of sharks, such as Sevengill and leopard sharks, also find their way to Monterey Bay.
Where Can I See Bioluminescence in Monterey?
Elkhorn Slough, a 7-mile-long estuary located at Moss Landing, hosts diverse wildlife, including the bioluminescent algae called Noctiluca Scintillians. With favorable conditions, it is visible at night from June to October.

My unbounded love for the oceans and everything it has to offer motivated me to pursue my passion and become a professional scuba diving instructor.
I keep reading, exploring, and learning more about scuba diving and the underwater world all the time, so I'm excited to share my knowledge with fellow scuba enthusiasts and hopefully contribute a little to your development as a diver. I want people to fall in love with the oceans with as much passion as I have. Read more about me here.