Last Updated: June 15, 2023
As the US diving capital, divers are spoiled for choice in Florida. So many dive spots are in the Sunshine State, but not just on its West Coast. There's more along the East Coast and beyond. So even if you've been to multiple sites here, you still would have barely scratched the surface.
In this article, I'm turning the spotlight on Jupiter town, representing what Florida diving is about. I'll provide details on the best dive sites, dive conditions, dive centers, and more. Ready to dive in?
About Jupiter
Before I get to the diving part, you might wonder: where is Jupiter? It's a town in the northernmost part of Palm Beach County, boasting miles of golden beaches, natural scenery, and luxurious amenities.
More than 60,000 (including a few famous names) call this place home, which generally enjoys a tropical rainforest climate. The two main seasons include a mildly dry winter and a humid summer.
There are several fascinating spots to check out in Jupiter; one is the Jupiter Waterway Trail. It encompasses around 40 miles and consists of many rivers, lush coastal rivers, surfing beaches, and crystal-clear inlets. You can hike and ride horses at Riverbend Park or swim in the turquoise lagoons of Jupiter Beach Park and DuBois Park.
While many activities in Jupiter revolve around water, some are on dry land, too. The 105-foot-tall Jupiter Inlet Lighthouse is an icon in Palm Beach County, built in the late 1800s. Or, you can kick back and relax at one of the local tiki bars while enjoying killer views of this lovely town.
Jupiter Scuba Diving
Jupiter has long deep-seated wrecks and coral gardens to ensure your dive will be rewarded with a plethora of aquatic critters. There are manta rays, sea turtles, sharks, Goliath groupers, and many sorts of schooling tropical fish.
With its proximity to the Gulf Stream, you have the advantages of excellent visibility and easygoing drift dives that take you to different spots in one go. No wonder Scuba Diver Magazine named Jupiter one of the top ten places to dive back in 2020.
Best Dive Sites in Jupiter Fl
This section was the hardest because I think there are just too many good sites in the area. Nonetheless, I tried my best to pare it down to the six best locations you won't regret going to.
1. Tunnels
Dubbed Jupiter's diving mecca, Tunnels best represents what world-class diving truly means. Right from the get-go, many creatures will already reveal themselves to you. Reef sharks, Southern stingrays, and Goliath groupers will welcome your dive at the tunnel swim-throughs. So the trick here is to take a slow, steady pace as some divers skip past the beginning of the ledge, where there are lots of fascinating critters close by.
Further in, you may be overwhelmed by massive schools of fish almost as packed as the grains of sand. Likewise, countless juvenile fish would be going in and out of the reef holes, with more hiding underneath. Sea turtles gliding in slow motion is a sight that never gets old.

2. Area 51
Area 51 is a deep high-ledge dive site parallel to Juno Beach and has a depth of over 90 feet. The locals named it as such because of the mysterious creatures that lie beneath. Its fractured reef has given crevices for alien-like organisms such as frogfish and eels to stay in.
There are schools of Atlantic spadefish that would be cruising against the current, along with multiple large barracudas, sharks, amberjacks, and other marine species. Lemon sharks are also known to congregate in this spot during their migration from December to March. Around this time, you could easily have more than 50 sharks in one descent.

3. Jupiter Wreck Trek (Zion, Miss Jenny, Esso Bonnaire)
Consisting of a series of wrecks, the Jupiter Wreck Trek is a multi-wreck adventure and epic dive rolled into one.
Zion was a cargo ship that ran aground South Beach, was sold to a salvage company, and later abandoned in 2003. It has since been torn open, providing a marine sanctuary for Goliath groupers who love hanging out in its nooks and crannies.
Miss Jenny is another artificial reef that used to be a dredge barge located north of Zion. It lies upside down and has thick coral growth frequented by marine creatures.
The largest wreck, Esso Bonaire, is a 147-foot oil tanker seized by US Customs for carrying tens of thousands of pounds of marijuana. It was sunk in 1989 and has become a great spot for shark varieties such as lemon sharks, bull sharks, and hammerheads, among other large critters.

4. Spadefish Point
If you're looking for an explosion of marine life, spadefish among them, come to Spadefish Point. At the site, the ledge drops more than 20 feet, where you'll find different species of fish and other fauna with decent visibility of up to 18 meters.
As you dive further, you'll reach the "point" where large schools of fish start sashaying in front of you. Hundreds, if not thousands, of juvenile fish would wiggle their way from top to bottom. Creole wrasses, grunts, eels, horse-eyed jacks, and some sea turtles are likely to make an appearance along the underwater ledge.

5. Loggerhead
The Loggerhead dive site highlights the gentle sea turtles that come here during nesting season. It is relatively shallow compared to most but can reach up to 75 feet below, yet quite expansive, reaching up to half a mile in length.
Aside from the signature loggerheads, you will find other marine inhabitants like hawksbills, moray eels, hammerheads, Goliath groupers, lobsters, and reef sharks. The elusive tiger shark may drop by sometimes.
You will also notice the eastern portion of the reef has amphitheater-like structures where smaller species reside.
6. Lighthouse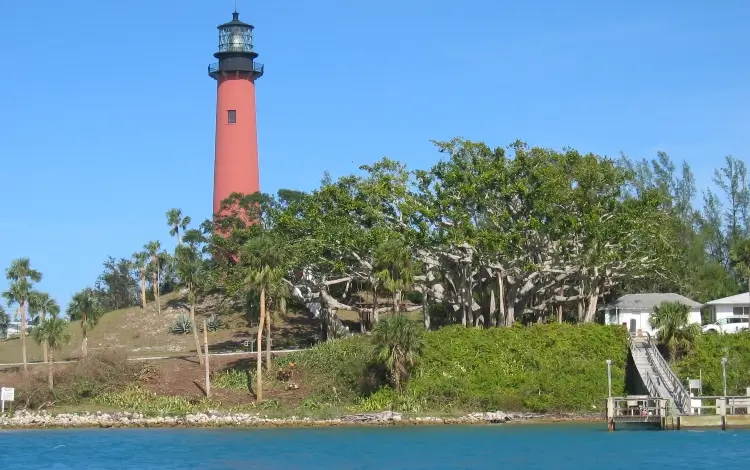 Head to the Lighthouse dive site, and you are in for an awesome adventure. The drop-off is a straight line across Jupiter Inlet Lighthouse hence the name. It has waters surrounding the lighthouse and is also the designated habitat for West Indian manatees.
One of the things that many divers (and seafood hunters) like seeing here are the lobsters that hide in smaller ledges. There are also shoals of critters, big and small, like sea turtles, reef fish, eels, and sharks, that will make your underwater trip worthwhile.
Other great diving spots in Jupiter not covered here, but worth mentioning, include the MG-111, Captain Kurls, Scarface or Julie's.
Diving Conditions and Best Time to Dive
Divers can check out the bottom scenery any time of the year. But if you like to see leatherback sea turtles and hammerhead sharks, you should time your visit from January to April.
Surface water temperature averages 73 degrees Fahrenheit, along with moderate to strong currents, making it ideal for drift diving.
Visibility varies from good to excellent (up to 100 feet). Avoid diving during excessive easterly winds that can cause large waves and turbulent waters.
Top Jupiter Dive Operators
#1. Jupiter Dive Center
Jupiter Dive Center operates at the top level with highly trained and experienced divers and crew to ensure a pleasant experience in and out of the water.
#2. Scuba Works
If you don't like bringing your own dive gear and supplies, you can rent them instead from Scuba Works. It has high-quality rental equipment and tank fills and perform outstanding repairs and maintenance of your own regulators, tanks, and BCDs.
#3. Salty Divers
Beginners who are bold enough to try shark cage diving can go to Salty Divers. This dive shop specializes in shark diving for any skill level.
#4. Emerald Charters
Advanced nitrox divers can look to Emerald Charters for superior shark diving. You have a chance to dive with a wide variety of sharks, like lemon sharks, whale sharks, and others.
#5. Kyalami Charters
Many divers only have good things to share about Kyalami Charters. It has a professional crew, reliable boats, and fantastic diving adventures.
Recommended: Best Dive Sites in West Palm Beach
Frequently Asked Questions
Are There Alligators in Jupiter Florida?
There are alligators, but they rarely appear like in other parts of Florida. In December 2022, a couple at the beach near Jupiter Inlet, trying to shoot a video of black-tip sharks, instead saw an alligator between eight and ten feet long.
Are There Sharks in Jupiter Inlet?
Yes, but they are not guaranteed as they only make a pitstop in Jupiter, especially in winter during migration before they head to their next destination.
How Rough is Jupiter Inlet?
Jupiter Inlet is very rough and touted as the most dangerous inlet in South Florida due to its shallow approach, narrow mouth, and shifting sandbars. It may only take an outgoing tide and a northeast blow to render it impossible to navigate.

My unbounded love for the oceans and everything it has to offer motivated me to pursue my passion and become a professional scuba diving instructor.
I keep reading, exploring, and learning more about scuba diving and the underwater world all the time, so I'm excited to share my knowledge with fellow scuba enthusiasts and hopefully contribute a little to your development as a diver. I want people to fall in love with the oceans with as much passion as I have. Read more about me here.