Last Updated: February 14, 2023
Are you planning a trip to Cozumel and intend on scuba diving during your visit? If so, you may be wondering about the best scuba diving companies in Cozumel and what they offer.
Luckily, there are many great dive shops. These centers provide recreational divers with scuba lessons, guided dive trips, and renting or sale of diving equipment.
With so many options to choose from, you really can't go wrong.
Still, having such a variety of dive operators to choose from can be overwhelming. I've created this list of the top 10 dive shops in Cozumel, as well as some other mentions, helping you narrow down your choices and hopefully decide which one you will be visiting during your stay.
Best Scuba Diving Company in Cozumel – Top 10 Dive Shops
1. Blue Magic Scuba
As one of the few Cozumel Dive Shops to be honored by the PADI Five-Star IDC Center, Blue Magic Scuba offers professionally trained PADI Dive Masters and Instructors who are committed to providing safe dives. They are located two blocks away from the ferry pier in downtown Cozumel.
They offer several services including diving, PADI courses to learn how to dive, and Cozumel Dive Packages which include sleep & dive packages. They do their best to accommodate all their customers.
Aside from these services, they also offer:
GoPRO: A divemaster internship program, taught by real and experienced divers, allowing you to become an instructor, divemaster, master scuba diver trainer, or EFR instructor.
Gear Rental: Blue Magic Scuba offers full gear rental for those who do not have equipment of their own. All of their gear is kept in top-notch condition.
Personal Valet Diving: With personal valet diving, Blue Magic Scuba prepares your equipment for you and helps you to get ready for your dive.
Fast Covered Boats: All of their boats come stocked with canopies, oxygen, first aid kits, and marine radios.
Website |  Email | +1 866 712 6161 | Map
2. ScubaTony
ScubaTony makes booking your trip effortless with their online booking portal. Their online features don't just stop there. They also offer impeccable customer support, even after hours, and it's just a simple email away.
They are both SSI and PADI certified and have consistently carried a top-rated number on TripAdvisor.
Their prices vary depending on the services you request. For beginners, the Discover Scuba Cozumel package is the most appropriate option, starting at $130 for a 2-tank experience.
Other services they offer include:
A Six-Passenger Boat: Bigger-sized boats will leave you feeling over-crowded and potentially ignored. Instead, enjoy a small, six-passenger boat where personal attention is guaranteed.
Departure Times: Beat the crowd with ScubaTony's early departure times.
Rental Gear: ScubaTony offers the very best in rental gear. Their brand is Aqualung and includes upgrades such as being weight integrated.
Website | Email | +1 469 361 6573 | Map
3. Scuba Life
Scuba Life is a world-class PADI certified dive shop. They offer certified diving, snorkeling, and a private charter which will allow you to enjoy Cozumel from both above and below water.
With personalized service, Scuba Life promises to cater to its customers. They also promise flexibility and prompt service – you can arrange to have them pick you up on the dock of your hotel or to meet at Marina Cozumel, and they'll always be on time.
They provide hassle-free diving meaning that they will assist you in the care of all of your gear, even helping to set it up for you and taking care of it afterward in preparation for the next day's dives.
Their services also include:
A Professional Team: Helmed by experienced captains, a professional team full of experienced bilingual PADI professionals who can teach you various skills such as underwater photography and freediving.
PADI Courses: Their PADI Courses are open to families as well as smaller classes of 2-3 students per instructor. This will allow you to get the best training.
Safety First: Their PADI instructors are constantly studying up on their Emergency First Response and Rescue Diver skills and their boats are fully equipped for emergency situations.
Jam-Packed Fun: With their understanding of the reefs, coral, and marine life, Scuba Life provides its divers with a new perspective of the underwater world. Plus, they allow photographers and videographers to come and catch marine life on film.
Website | Email | +52 987 118 8226 | Map
4. Barefoot Dive Center
Barefoot Dive Center is a family dive shop located in downtown Cozumel. Their instructors are experienced and passionate about diving.
Their goal is to ensure that all of their guests, whether they are certified or not, have a great diving experience while also remaining safe.
Their services include several different diving experiences including diving in the Cozumel reserve, cenote diving, refresh diving, bull shark diving, and more.
They also offer:
Open Water Courses: Barefoot Dive Center will teach you everything you need to know to become a certified diver.
Specialty Services: They offer specialty services that are exciting and unique, going beyond both open water and advanced dives.
CPR & First Aid Lessons: It's important to know CPR and first aid, especially when diving – that's why the dive center offers lessons on how to save a life. This also includes a rescue course, teaching participants how to rescue someone out at sea.
Website | Email | +52 984 208 6853 | Map
5. Cozumel H2O
Cozumel H2O is a small but professional dive operator that employs people who are passionate about aquatic life.
They offer a snorkel tour, scuba diving, PADI courses, and a tour to the beautiful Passion Island where you can do a 1-tank dive. You can also request a private tour of Passion Island.
Though they are a smaller business with smaller services, they should not be overlooked as they have a certificate of excellence from TripAdvisor.
Website | Email | +52 987 876 2021 | Map
6. Salty Endeavors

Salty Endeavors, is a top-notch Cozumel dive operator, offering passionate instructors who are there to take care of you from day one.
Their boats are comfortable – offering adequate cover and shade from the hot sun. Plus, their boats are six-passenger, meaning you won't feel overcrowded.
They offer diving services 365 days of the year, offering both mornings, afternoon, and evening dives. This flexibility allows them to cater to a wide audience of divers.
Their dive options include, but are not limited to:
Fun diving
Dive certification
Private charters
Cenotes
Website | Email | +52 987 119 3731 | Map
7. Blue Project
Advertised as a full-service, valet-style dive shop, Blue Project offers to pick up, transport, and prep your diving equipment, and their boats come packed with purified water, juice, fruit, snacks, and towels, not to mention safety equipment such as oxygen, a first aid kit, and a radio.
Their boats are managed by certified divemasters who will guide you through the whole experience and will be there in case something goes wrong and their diving services include daily dives, dive packages, and dive certification.
They have multi-day packages and equipment rental with a full set of scuba gear coming in at $25 per day, or $20 per day after three days.
Their daily dive packages include:
2-Tank Dive Trip: The 2-tank dive trip offers two dives on different reefs. The dive site is set by the onboard dive master depending on weather conditions as well as the skills and preferences of the divers.
Twilight & Night Dive: Similar to the 2-tank dive trip, the package consists of two dives on different reefs, one in the evening and the second dive at night.
Discover Scuba Diving: This one is meant for beginners to be introduced to diving in an environment that is safe for them.
Refresher Dive: A refresher dive is recommended for experienced divers who have not dived in a while and may need a refresher of essential skills that are required to dive safely.
Special Requests: Special request trips include a 3-tank dive, private charters, private divemasters, a snorkel trip, and more.
Website | Email | +52 987 105 3027 | Map
8. Maple Leaf Scuba
Maple Leaf Scuba is proud to offer daily dive trips for those interested, led by experienced divemasters, allowing participants to visit the best diving spots in Cozumel. They also offer an adventure of a lifetime – that is cenote diving.
If diving in cenotes isn't your thing, Maple Leaf also offers customers the chance to swim and snorkel with whale sharks.
Like other operators listed, Maple Leaf also offers a variety of instruction courses. These include:
Intro Courses: They include Discover Scuba From Beach, allowing participants interested in learning about diving the chance to experience it from the beach, Discover Scuba From Boat, another introductory lesson meant to teach participants about scuba diving from a boat, and Refresher lessons meant to reteach experienced but rusty divers the essential skills.
Certification Courses: Maple Leaf offers several PADI scuba courses to help participants become certified in scuba diving, open water diving, emergency first response rescue diving, and becoming a divemaster.
Specialty Courses: Their specialty courses include courses that are intended to help students achieve their goals by enhancing their skills or realizing their potential to become a PADI Master Scuba Diver.
Website | Email | +52 987 800 5539 | Map
9. CozuDive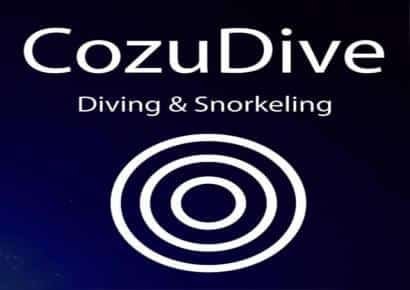 CozuDive offers the smallest group of divers, putting 4 with one guide. However, if you are traveling with a bigger group of family or friends, they won't split you up.
Their experienced divemasters have years of experience under their belts, allowing them to take you to the best reefs suited to your particular skills.
On board their ship, they offer weights, tanks, refreshments, and marine park passes, allowing you to just sit back and relax as they take you to your destination.
Their diving trips include a 2-tank trip, 3-tank trip, scuba refresh, night dive, twilight trip, groups, and private dives.
Other services include:
Equipment Rental: If you need a Nitrox tank, a dive computer, a dive torch, a BCD, regulator, wetsuit, or full equipment, CozuDive has you covered with all the gear.
Courses: Their courses include PADI Open Water, PADI Advanced Open Water, PADI Rescue Diver, PADI Divemaster, and more.
Dive & Sleep: If you choose one of their Dive & Sleep packages, you'll be well taken care of as they will book your hotel and your diving days so you don't have to.
Website | Email | +52 987 114 4970 | Map
10. Ray Diving Cozumel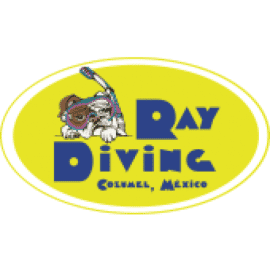 Ray Diving Cozumel is another small dive center and is family-owned. Since 2016, they have offered their services which include personalized service of 4 divers per group.
Their scuba diving packages include 2-tank, night dive, special dive, private charters, and multi-day dive packages. Plus, they have snorkel sessions, too.
And, of course, they offer dive courses geared towards all levels of scuba diving. At the end of their lessons, you should be PADI certified to dive.
Website | Email | +52 987 873 9969 | Map
Honorable Mentions
While I have listed my top 10 scuba diving companies in Cozumel, there are some others that deserve some recognition:
ScubaLuis: ScubaLuis offers personalized attention, relaxed scuba diving, a comfortable boat packed with safety equipment, first-class service, and a hassle-free dive vacation.
Deep Xposure: Whether you want to dive, train, or just enjoy aquatic life, Deep Xposure has you covered with diving, training, hotel accommodations, and more, providing their customers with personalized service.
Go Divers: Regardless if you're certified or a beginner, Go Divers will give you an experience you won't forget. They offer snorkeling, dive packages, instruction courses, and private charters.
Scuba XOC: As a small, owner-operated business, Scuba XOC is proud to offer personalized attention, certified professionals, top-of-the-line gear, and a top-notch safety record.
Scuba Club Cozumel Resort and Dive Shop: Scuba Club Cozumel is more than just a dive shop, it's a Cozumel's first dedicated diver's resort. Here you can expect to get everything from rooms, meals, to unforgettable diving experience.
Blue Angel Resort and Dive Shop: Blue Angel is also both a resort and dive shop, offering diving experiences, hotel accommodations, and a restaurant.
How Much Do You Tip for Diving in Cozumel?
On average, a $5-$10 USD tip per tank is sufficient for certified divers, but you can see my article on tipping etiquette in scuba diving for more info how much to tip various guides and crew members.
How Much Does it Cost to Get Scuba Certified in Cozumel?
You can expect to pay around $300 to get certified to scuba dive in Cozumel.
Final Thoughts

As you can see, there are plenty of choices for diving in Cozumel. The options I listed above are the top dive shops you can find and really you cannot go wrong with any of these. Moreover, they offer affordable rates for everyone.
No matter which one you choose to go to, you'll be sure to have an experience of a lifetime with memories made to last.

My unbounded love for the oceans and everything it has to offer motivated me to pursue my passion and become a professional scuba diving instructor.
I keep reading, exploring, and learning more about scuba diving and the underwater world all the time, so I'm excited to share my knowledge with fellow scuba enthusiasts and hopefully contribute a little to your development as a diver. I want people to fall in love with the oceans with as much passion as I have. Read more about me here.