Last Updated: February 28, 2023
The state of California is gigantic, with a coastline along its entire western border – from tip to tail, as they say.
Unsurprisingly, this means that there are tons of great places to scuba dive, landmark diving experiences that people from all over the country (and across the world) come to the Golden State just to get in on all the action.
Finding the best scuba diving sites in California, though, can be a bit of a challenge because there are so many different opportunities to pick and choose from.
That's why I've put together this detailed guide!
Below I run through 10 of the very best spots you'll want to check out ASAP, bucket list caliber California hotspots that every recreational and serious scuba diver is going to want to spend at least a little time underwater in.
Let's begin.
Best Scuba Diving in California – Top 10 Spots
Northern California
1. Monterey Bay
Monterey Bay has a world renowned aquarium that celebrates the diversity of the aquatic wildlife in the region. Scuba divers get a chance to see all of that underwater life up close and personal, in a way that the folks visiting the aquarium may never be able to experience.
One of the coolest spots to scuba dive is just off of the Monterey Bay. Just outside the actual bay itself is a very deep canyon, a 100% natural diver's paradise that anyone in the area is going to want to see firsthand for themselves.
Breakwater Cove is another dive spot in Monterey Bay to check out, particularly if you are a beginner scuba diver. This cove is very well protected against the open ocean and makes for pretty smooth sailing (so to speak).
The Hopkins Marine Station, Point Lobos, and the Caramel Bay Reserves should be checked out firsthand, too.
Go a little north and you'll come across "The Trench" – really easy access to the Monterey Canyon.
Recognize, though, that conditions in this area can get pretty rough choppy. This might not be the first rodeo you want to tackle as a brand-new scuba diver. It's something better left explored when you have a couple of dives under your belt already.

2. Farallon Islands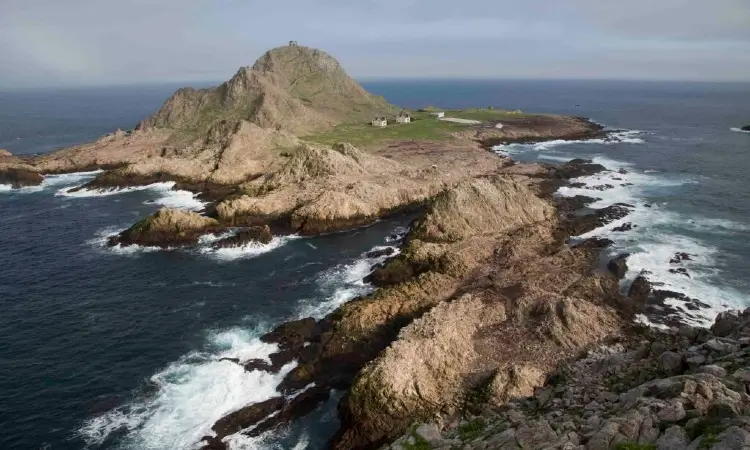 These islands are found about 30 miles just off the coast of San Francisco, situated inside of a natural marine life reserve – one of the largest in the world.
I am talking about a marine life reserve that's bigger than the state of Rhode Island.
Thanks to its protected status, these islands have tons of sea life to watch and enjoy up close and personal. Underwater you'll find schools of Pacific fish – and if you visit in the fall your odds skyrocket for coming across some great white sharks.
From September through November it's "shark week" all the time, in fact.
Divers from all around the world flood these islands just to get a chance to scoop into the shark cages and get a little one-on-one time with these giant apex predators.
The sharks themselves move along around the end of November, but there's still tons to see here. Noonday Rock and the Middle Farallon Islands offer all kinds of underwater landscapes to explore.
If you are going to dive this sanctuary, though, be sure that you are a more experienced diver.
For one, the water can get pretty rough and really taxing. Secondly, you might even need to run a unique mix in your tanks. That means you'll need nitrox certification (at the very least).
Understand what you're getting into before you put up your dive flag, drop your anchor, and sink beneath the surface of the waves.
3. Lake Tahoe
Lake Tahoe gets a lot of love from "surface adventurers" but it really is one of the hidden gems in the diving community and certainly belongs on any list of locations for scuba diving in California.
Being underwater in Lake Tahoe is going to be unlike any other dive you've ever been on.
For one thing, folks that are used to diving in California are almost always taking the plunge in the Pacific Ocean. Lake Tahoe is a completely different beast altogether.
You can put in pretty much anywhere on the lake and get a bit of underwater adventuring in under your belt. But if you really want to start things off with a bang it's a good idea to head over to the Emerald Bay Maritime Heritage Trail and see everything it has to offer.
This underwater "hiking trail" is made up of all kinds of boats, barges, and other landmarks that tell the history of diving in Lake Tahoe.
A little bit of freelancing underwater on the lake, will bring you across a whole bunch of "shipwrecks", underwater forests and caves, and even trains, planes, and automobiles that have found themselves underwater in Tahoe, too.

Just be sure that you've trained up for altitude diving and brought along your dry suit. The water here is really chilly all year round.
4. Smith River
Only just a little bit south of the Oregon border, Smith River is pretty accessible and friendly to everyone in the scuba community – including those that have only just begun to explore underwater.
There's a diving site called "Early Hole" that everyone should check out at least once. You get at least 50 feet of visibility pretty much every day of the year, water temperatures that are comfortable all year round, and don't really have to worry much about strong currents or storms.
Things can get a little choppy from November through March, though. It's usually not rough enough to put folks off but still something to consider.
One of the coolest things about scuba diving the Smith River is the unique underwater life you'll come across. Unlike the kind of fish you can spot in the Pacific, you'll see trout, salmon, and sturgeon too.
5. Point Lobos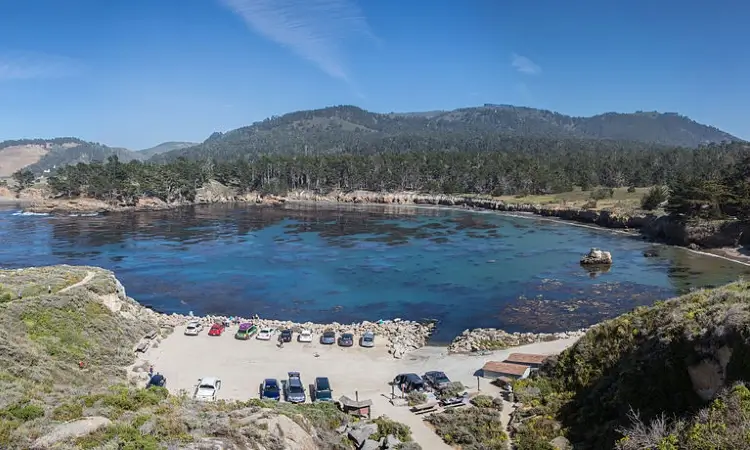 Point Lobos has its own nature reserve, and while you'll need to get your hands on a permit to have access to the water – not just to dive, but the boat, kayak, or pretty much anything else on the reserve as well – it's one of the top scuba diving experience in the entire state.
Whaler's Cove is filled top to bottom with tiny caves and underwater outcroppings that you can poke your head into. All kinds of nooks and crannies exist for those that are feeling particularly adventurous, giving you an opportunity to get up close and personal with some of the sea life that calls these pieces of structure home.
I'm talking about spotting sea lions, seals, and even wolf eels in all their glory when you check out the underwater structure in Point Lobos.
Southern California
6. Catalina Island
Only about two hours away from Los Angeles (a sneaky scuba diving hotspot in Southern California on its own), Catalina Island is an absolute game changer and one of the premier diving destinations anywhere on the West Coast.
People come to Catalina not just to scuba but also to snorkel, soaking in the (relatively) warm water and seeing all the underwater action this part of Southern California has to offer.
You'll find shipwrecks (including those that were intentionally sunk and those that got lost in storms), caves and walls, kelp forests, and that's just barely beginning to scratch the surface.
Be sure that you make your way out to Casino Point, the Farnsworth Banks, and Blue Cavern Point with a fresh tank. There's so much to see in these Catalina Island dive hotspots it would be almost criminal to have to come up for air quickly and miss out on even just a few moments underwater.
7. Channel Islands
The Channel Islands National Park has a marine sanctuary, swallowing up all of Santa Cruz as well as all of the neighboring islands, too.
If you have to pick just a single one of the Channel Islands to dive off of, though, Santa Cruz is the spot for sure. The largest of all of the eight different islands that make up this string, people just can't get enough of all the underwater overhangs, caves structures, and ocean walls that can be explored just off the Santa Cruz shore.
In fact, the Painted Cave is one of the largest ocean cave structures in the entire world.

Just be aware that the Channel Islands are a little light when it comes to their fish population. This isn't to suggest that the underwater world off of Santa Cruz is bland or dreary – nothing could be further from the truth. It's actually filled top to bottom with all kinds of electric colors.
It's just that there's not tons of fish to see when you are diving there as in other spots around the Golden State.
8. San Diego
San Diego just might be the best place of all the spots in California to do a little diving in.
San Diego itself has absolutely picture-perfect weather all year round. And that means that the water just off the shoreline is kept pretty nice and toasty all year round, too.
Unsurprisingly, this means that divers have explored pretty much every square inch of San Diego's oceanfront and found all different kinds of hotspots to check out under the surface of the waves.
"Wreck Alley" probably tops any San Diego diving itinerary. And the wreck of HMCS Yukon in particular is a must for anyone taking the plunge off the San Diego shore.
The U.S. Navy has a huge presence in San Diego and have been deliberately sinking older, decommissioned ships, vessels, and equipment off the coast (in the shallows, though) for folks to explore.

La Jolla Cove
and the
La Jolla Bay
in general make for some pretty good underwater exploring, too.
Two massive canyons (the La Jolla Canyon and the Scripps Canyon) meet up just off the coast of La Jolla. They aren't too deep, they aren't too difficult to navigate, and that makes them hotspots for scuba divers of every skill level.
9. Naples Reef, Long Beach
The Naples Reef can be found in a relatively remote spot, tucked away off of Long Beach in the Santa Barbara Channel.
Perhaps not the best place for scuba beginners to "cut their teeth", it is one of the more popular spots for those that have even just a little bit of experience under their belt. Recreational divers and marine biologists alike spend a ton of time swimming up and down this reef with their scuba gear on.
It's tough to put the experience of seeing this reef with your own two eyes into words.
The colors are unbelievable but the sheer scale of the reef is really something special, too. Combined together with the motion of the ocean – as well as all of the life that swims around this reef – and it can sometimes be almost overwhelming.
Something to be experienced firsthand, that's for sure.
10. Oil Rigs
You'll have no shortage of oil rigs to explore in Southern California. But if you want to see the real landmark rigs – so popular that divers all over the world come to check them out – there are three you'll want to have on your checklist.
We are talking about Elly, Ellen, and Eureka.
Divers that explore these rigs are going to need to have their advanced certificate, should be experienced enough to have a couple of live drop entries already, and must be comfortable with live exits as well.
After dropping in, you are probably going to want to find the pylon structure of the oil rigs and then follow them down. It's unbelievable just how much marine life attaches itself to these pylons, even when the rigs are relatively new.
Just be prepared to share this swimming space with sea lions, the occasional shark, and maybe even a massive gray whale every now and again.

What are the Prices of Scuba Diving in California?
This might not come as a shock to many, but scuba diving in California is often a little more expensive than it is across the rest of the USA.
As a general rule of thumb, an individual preparing for a single tank dive should expect to spend about $110-$120 on their excursion. Sometimes a little more, sometimes a little less – but that's about the ballpark for a single tank dive in California.
Looking to do a double take excursion to stay down a little deeper? Well, you're going to have to pony up another $110-$120. That's almost double the rate of Florida for the exact same amount of scuba time.
Didn't bring all of your equipment with you? Well, that means you're going to have to rent gear. Most of the gear available from the reputable scuba outfits here is going to be high quality and pretty new. But it's also going to set you back a decent chunk of change.
Renting everything (except gloves) will set you back somewhere around $179-$250, depending on the dive shop that you connect with.
Want to hit the water alone for a "private dive"?
Tack on another $50-$100 to your final bill.
Interestingly enough, getting your certification in California (a PADI certification) isn't the most expensive thing to pull off.
You can get your full certification for between $400 and $1200 or so, but most people end up spending somewhere in the middle – right around $800.
Getting yourself out with a full set of your own scuba gear can get sort of pricey. You should expect to spend at least $1500 on quality gear, and even more than that if you want to make sure that you are always slipping beneath the waves with a rock solid diving computer.
A budget of $2000 (or even $2500) will give you a lot more confidence in your gear.
Let's say that you're looking to do a multi-day dive and are going to be chartering your own boat and maybe even your own guides.
The daily rate is going to drop a little bit in most circumstances (you might only end up paying around $100-$115 per dive). But you might also find that you are on the hook for new expenses – live aboard expenses, food expenses, travel expenses, fuel expenses, etc. – that will really force California scuba trips to start to stretch your wallet.
Something to think about, anyway.
Is LA Good for Scuba Diving?
The city of Los Angeles (and the LA Metro area in general) is a hugely popular tourist destination, one of the biggest draws in the country pulling in millions of visitors from all over the world.
Yes, the overwhelming majority of visitors to LA are hoping to find some of their favorite celebrities – or maybe even break into the entertainment business themselves – but that's not the only reason that people end up in "La La Land".
It turns out that there is some pretty fantastic scuba diving to be had just off the shore of Los Angeles.
The water is a little chillier than what you'll find in San Diego, but it's not nearly as cold as the water you'll find when diving in San Francisco bay. Visibility is a little bit on the lower side of things as well – which can make underwater excursions kind of tough.
At the same time, LA offers unique opportunities to see some of the most extensive kelp forests anywhere on the planet.
You'll come across a lot of underwater life that call these kelp forests home – including huge fish, angel sharks, rays, halibut, and that's just the tip of the iceberg.
If you want to be sure that visibility is as high as can be, try and time your adventure for the months of July through January.
All in all, diving in Los Angeles can be a lot of fun!
Diving Conditions and Best Time to Dive
California, being as large as it is, can have wildly different dive conditions from the northern part of the coastline down to the southern part on the exact same day.
If you are going to be diving in Northern California (all the way from the tip of the state down to about San Francisco/San Jose), you'll probably want to plan for a diving trip that avoids the months of November through March.
November through March is when winter storms bring some pretty nasty conditions to Northern California offshore environments. You get much stronger currents, you get way worse visibility, and the water temperature takes a nosedive.
Southern California diving is an entirely different animal, though.
There's really no bad time of the year to dive in this region, with warm water, great visibility, and (usually) few storms that really stir things up.
If you are looking for the absolute best conditions to do some Southern California diving in, try to shoot for the early to late fall. This is when the water is especially warm, visibility is just through the roof, and currents are pretty well behaved.
California also does a very good job of reporting dive conditions on a regular and consistent basis. Look up the dive conditions for places you're going to hit a couple of days before (and on the day of) your dive and you'll know exactly what to expect.

My unbounded love for the oceans and everything it has to offer motivated me to pursue my passion and become a professional scuba diving instructor.
I keep reading, exploring, and learning more about scuba diving and the underwater world all the time, so I'm excited to share my knowledge with fellow scuba enthusiasts and hopefully contribute a little to your development as a diver. I want people to fall in love with the oceans with as much passion as I have. Read more about me here.