Last Updated: June 9, 2023
Looking for a different kind of Hawaiian diving adventure? If you want the most breathtaking and unspoiled reef in the paradise state, you must consider the dive spots in Molokai.
With over 30 miles in length and more or less 40 dive spots, Molokai is the perfect place to be completely zen and commune with nature, far from the madding crowds of more well-known diving locations in Hawaii.
Did I mention that aside from its pristine reef, a plethora of fascinating pelagics and endemics happily reside in its perimeter? Seeing them all in action will surely make for such a fun and unforgettable dive.
But wait, there's more. Read on to find out everything that can come in handy when making plans on this gorgeous island.
About Molokai
Molokai is not exactly on people's radar, probably because that's how it prefers to be. Here's the thing: there's no traffic, no overcrowding, and practically just the Hotel Molokai for a limited number of visitors to stay in. And besides, it's mostly undeveloped and uncharted; hence, it's not for everyone.
Right smack in the middle of the Pacific Ocean, Molokai is among the eight major islands of the Hawaiian archipelago. It's not remote, but it's really tiny compared to others, so it can't be helped that its 7300-plus residents are protective of it to preserve their ohana community and environment.
In fact, there is only one small cruise ship, interestingly named UnCruise, that is allowed in its territory. However, this is not to say that tourists are not welcome on the island; they want genuine visitors, not vacationers who simply take advantage of the land's resources during their stay.
It is important for locals that those who visit their island conduct themselves properly, just as they would when going to somebody's house for the first time. In short, respect.
After all, Hawaiians are some of the warmest people you'll meet. But first, you need to show them that you are, too. They want a symbiotic relationship or mutually beneficial, as they put it, not a one-way street.
Proof of their island hospitality is an opportunity for discounted, if not free, lodging at the Halawa Tropical Flower Farm or other farms if you volunteer to help in the nursery and other tasks. As such, people lucky enough to step on this island and truly connect with it would surely have the fondest memories and meaningful experiences to cherish.
Best Molokai Dive Sites
Molokai is one of two western islands that comprise Maui County. Expect the diving all around Mokuho'oniki (Elephant Rock) to be nothing short of spectacular. Nonetheless, I've rounded up Molokai's five best for your bucket list.
1. Fish Rain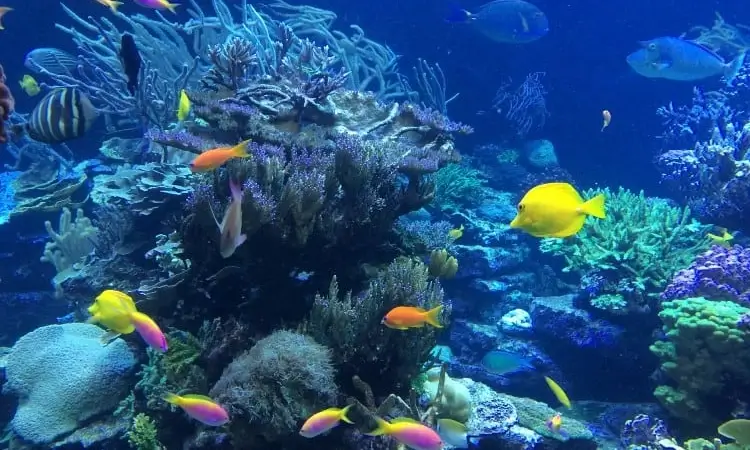 For starters, this is a diving paradise only for seasoned aquanauts. En route to this site from Lahaina Harbor, you will have to contend with strong gusts of wind along the Pailolo Channel, adding a tad more challenge and excitement to your 45-minute boat trip. The spot has no moorings, so your boat constantly moves until you resurface.
On to the good stuff; if you want to see one of the highest fish concentrations in the healthiest reefs, Fish Rain hits it out of the ballpark. It is worth going through the rough seas once you're underwater at 110 feet thereabouts because it is raining fish here, indeed.
Butterflyfish, eels, wrasses, unicorn fish, yellowtail coris, and many others surround the area. Going further below, you'll see hammerheads swimming along the grassy sea beds. There's an overwhelming amount of hard corals sitting on the pinnacle where monk seals and white-tip reef sharks like to play around.
When you're done, you'll ascend using the line attached to your boat as your guide.

2. The Cove
The Cove refers to a dive spot located at a semi-circle cove between two islands. It gradually slopes to about 50 feet, which drops off to 85 feet. Beginners are welcome to dive into the shallower depths and the generally calm water conditions. At the same time, seasoned divers will be more than satisfied with the underwater ecosystem because it is teeming with tropical fish and antler coral reefs.
For those who are up to the challenge of diving beyond 50 feet, the enchanting black coral trees down below provide food and shelter for marine species. These include slipper lobsters, manta rays, frogfish, longnose hawkfish, and Spanish dancers.
3. Fish Bowl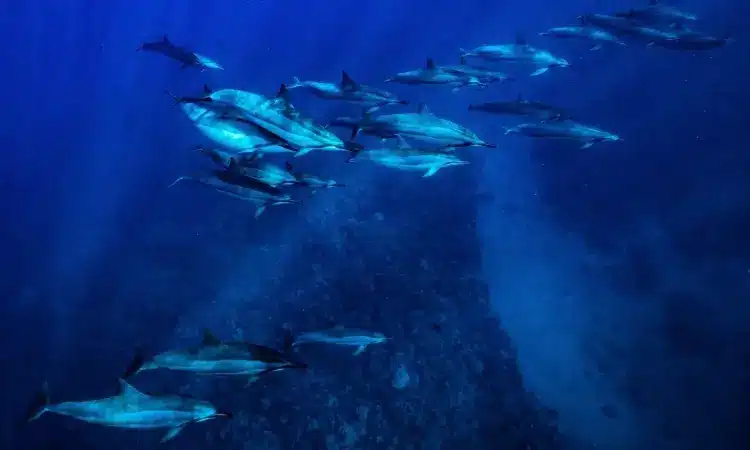 Fish Bowl is another advanced dive site with depths of more than 100 feet. And as such, the most diverse pelagics await the avid diver. It has a beautiful rock formation where a motley crew of yellow tangs, surgeonfish, snappers, jacks, and wrasses go about their day swimming and foraging for food.
At about 55 feet below, you'll find ledges where white-tip reef sharks and octopuses are stationed. Keep your eyes peeled on hammerheads and 8-foot-long spotted eagle rays that occasionally stop by, while Hawaiian green sea turtles go in and out of the area.

4. Hole in the Wall
A 60-foot pinnacle with a base of 100 feet, the Hole in the Wall is anything but small and is quite an amazing site. It features black coral trees and snowflake corals that house butterfly fish varieties and other tropical species. Nearby is a large military missile partially buried 100 feet below the sea and smaller ones serving as artificial reefs for many aquatics like slipper lobsters, mahi mahi, and nudibranchs. Manta rays and sharks are often spotted within this territory, too.
5. The Pinnacle
Concluding my list, The Pinnacle consists of a concave top island that drops to 35 feet on the shallow side while reaching 120 feet below at maximum. It also features two missiles which make for a great photo opportunity. This is an advanced boat dive, given the strong currents and rough conditions.
Once into the blue, you will be rewarded with multiple encounters of schools of large fish like barracudas, sharks, and manta rays. With its excellent visibility of up to 150 feet, the colors of sponge crabs, lobsters, nudibranchs, angelfish, longnose hawkfish, eels, and others are greatly magnified.
Recommended: Scuba Diving in Lanai
Diving Conditions and Best Time to Dive
Divers can access the Molokai dive spots any day of the year. One thing you'll notice is their lack of moorings. Hence, divers should be able to dive to and from a moving boat. Surface water temperatures range from 76 to 80 degrees Fahrenheit. During summer, a 3-mm wetsuit should suffice. Although it gets rainy now and then, it is rarely intense. Strong currents are expected, but several sites are suitable for beginners. Visibility is generally good, which is anywhere from 50 to 120 feet.
Top Molokai Dive Shops
#1. Molokai Fish and Dive
Your ultimate source for dive essentials and other water-related services, Molokai Fish and Dive is the only dive center allowed to operate in Molokai because of the residents' strong opposition to commercializing the island. While you have no other options, customers are in great hands as their certified divers are well-versed and offer fun ocean activities.
#2. Maui Diving
Maui Diving is your alternative dive shop in Lahaina that offers Molokai dive tours. It is a family-operated business with decades of experience providing excellent dive services and training to its customers, with a high safety rating.
Frequently Asked Questions
How to Get From Maui to Molokai?
Aside from taking a domestic flight, you can also ride a scheduled ferry from Lahaina Harbor to Kaunakakai Harbor, which is available daily.
Do you Need a Car on Molokai?
Yes, because there is no public transportation on the island. It is recommended to make an advanced reservation with a car rental service due to its limited availability.
Are Molokai Beaches Safe?
Yes, but you must proceed with caution, especially when there are strong water currents. Note that Molokai beaches do not have lifeguards on standby.

My unbounded love for the oceans and everything it has to offer motivated me to pursue my passion and become a professional scuba diving instructor.
I keep reading, exploring, and learning more about scuba diving and the underwater world all the time, so I'm excited to share my knowledge with fellow scuba enthusiasts and hopefully contribute a little to your development as a diver. I want people to fall in love with the oceans with as much passion as I have. Read more about me here.