Last Updated: February 14, 2023
If you're wondering whether there are any scuba opportunities in the Lone Star State, you'll be pleased to find several great places for diving in Texas.
Despite being known for cowboys, cattle herding and beautiful landscapes, the US state of Texas is home to several excellent scuba diving sites.
In this article, I'll not only go over the the top 10 scuba sites in Texas, but I'll also cover a few frequently asked questions, prime diving conditions and times, as well as information on scuba certification in the Lone Star State.
Best Scuba Diving in Texas – Top 10 Sites
Let's take a closer look at all the great reasons to scuba at these specific locations.
1. The Flower Garden Banks – Galveston
In the 1800s, a couple of people fishing near Houston for snapper discovered this gem of a diving location instead. The Flower Garden has spent all the subsequent years being celebrated as the most beautiful, ideal location to dive in Texas.
The Flower Garden got it's name from the brightly colored reefs and vibrant wildlife it offers divers a chance to observe. It features three different sections, including the Stetson Bank, West Flower Garden Bank, and the East Flower Garden Bank.
Each of these sections offers a variety of wildlife to admire, including beautiful whale sharks and even a few hammerhead sharks.
The temperatures here range from the high 60s in the winter to the mid-80s during the summer months. The visibility is usually somewhere between 60 to 80 feet. Thus, the best times to dive in the Flower Garden are the mid-summer.
If you're looking to experience all the wonders that The Flower Garden has to offer, you may want to check out the dive charters that frequent the area. These are:
Happy Hooker Charters – Sabine Pass, Texas
Texas Caribbean Charters, LLC – Freeport, Texas
Texas Bluewater Safaris – Surfside, Texas
2. The Texas Clipper – Terrell
The Texas Clipper is a 437-foot long ship with a storied history, submerged a little over 15 miles off of South Padre Island. It was once a transport for troops serving in World War II, then spent time as a training vessel and a cargo liner before coming to rest as an artificial reef in Texas' waters.
The Texas Clipper is now the third-biggest artificial reef in USA, and to divers, it is a huge underwater emporium to explore. Not only does the makeup of the ship offer a peek into maritime life of days gone by, but it is actually located in relatively clear waters.
The temperatures around the Texas Clipper dive are mildest in the summer, around 75 to 80 degrees. In the winter, however, it gets a touch colder, sometimes dropping to the 60s. Visibility is also at it's best during the summer, reaching up to 100 feet, while the winter only offers an average of 50 feet.
It is a prime location for anyone looking to spend a long day exploring the treasures underwater, thanks to the reef's huge size.

3. Athens Scuba Park – Athens
If you're looking to observe sunken wrecks, the Athens Scuba Park is definitely for you. It is situated near the Athens town square and holds more than 30 wrecks. Similar to an underwater antique shop, diving here will afford you a chance to observe airplanes, shattered vessels, and more intact boats that have met their watery end.
There are 10 diving docks affording access to this park. Athens Scuba Park is one of very few diving locations in the United States that provides access to their own classrooms and training pools, so it is a great choice for beginners.
The average visibility is usually between 26 and 30 feet. Thanks to it's location, temperatures are almost consistently mild year-round, averaging in the 70s. There are many good times to dive at Athens Scuba Park thanks to this consistency, but the summer is preferable.
4. The Scuba Ranch (Clear Springs Scuba Park) – Terrell
The Scuba Ranch got it's start as Clear Springs Scuba Park thanks to the fact that it is a lake fed by a spring. The lake itself is enormous, spanning 22 acres. According to their website, it's natural location does not mean that the wildlife is skittish.
The Scuba Ranch boasts fish, but also harmless jellyfish and turtles who are accustomed to being watched and may even pose for underwater photos.
The visibility is anywhere between 11 to 15 feet on average, while the temperatures are mild. Typically, the water temperature does not drop below 70 degrees year-round. The best time to see the underwater wildlife here is in the summer months, and the cool spring-fed waters make that the most popular time to visit the Scuba Ranch. However, because of the huge popularity of this area, diving here in winter to avoid the crowds is not too bad either.
The area is also open for those looking to camp, so after a long day of enjoying the water and all it has to offer, you can feel free to set up a campsite and enjoy the land-based nature, too.

5. Blue Lagoon – Huntsville
The Blue Lagoon in Huntsville offers boat tours, outdoor activities including camping, and snorkeling in addition to scuba diving.
The fresh water dive site doesn't offer much to see in terms of vegetation and wildlife, however, there are cool boats and rock structures to see and you might also come across the occasional dragonfly nymph, a shrimp-like critter.
It is a great place to dive thanks to it's previous status as a limestone quarry. The maximum depth is around 30ft and there is plenty of training platforms too.
The visibility can be anywhere between 5 and 15 feet, averaging out at 10 feet in the best conditions. The best time to dive is in the summer months, specifically in May, when the temperature of the water is at it's most mild – between 76 and 80 degrees.
One of the biggest benefits to diving at the Blue Lagoon is the opportunity for relaxation. There is access on the weekends, but I would advise going during the weekdays, when the amount of visitors is capped to preserve the serenity of the area.

6. Comal River – New Braunfels
Found at Hinman Island Drive in New Braunfels, this river is a unique freshwater place to dive. It offers a maximum depth of 15 feet and excellent visibility. It also offers a great drift dive opportunities thanks to it's mild current.
There is a tube chute to explore, though it isn't very scuba-gear friendly due to the force of the water at the end of the tube chute. This river is actually the shortest river in Texas, only reaching two and a half miles in length. You might spot several giant crayfish here.
The diving conditions at Comal River offer a visibility of 11 to 20 feet. In the spring, the visibility is on the lower end, while the summer and fall months provide clearer waters. The temperature is at it's mildest, around 75 degrees, during these later months, also. For these reasons, the best time to dive is late summer or early fall.
If you're planning on spending time in New Braunfels, visiting this crystal-clear spot for a shorter scuba adventure or even training is a great idea.
7. Valhalla Missile Silo – Abilene
Did you know there is a decommissioned silo of nuclear missiles in Texas? The Valhalla Missile Silo, located in Abilene, is drowned in over 120 feet of water. The equipment used to service the nuclear missiles in days gone by may be removed, but the crystal-clear water which has flooded the area still allows a view of two distinct silos.
The silos are a great option for a haunted adventure thanks to the plain concrete walls and debris field at the bottom of each shaft.
One distinctly neat part of this dive is that it counts as an altitude dive. This is because the silo is actually located 2500 feet above sea-level. It is also dark, deep, and holds plenty of sunken wrecks from equipment that wasn't able to be removed from the blast doors.
With a headlamp to light the Valhalla Missile Silo, visibility is typically anywhere from 16 to 20 feet. Even in the summer months, the water is cold, typically bottoming out at 50 degrees and only getting as warm as 55 degrees. In the winter, this is even colder, so the best time to dive is during mid-summer months.

8. San Solomon Springs – Toyahvale

Rain drifting down through the peaks of the Balmorhea State Park created the pool of San Solomon Springs. It was turned into a spring-fed type of swimming pool by the Civilian Conservation Corps during America's Great Depression.
The San Solomon Springs is an open water diving site, designed in a V shape that is 200 feet in diameter. One of the "legs" of this V is shallow enough to make a wading and swimming pool.
Things to see while in the San Solomon Springs include the unique hydrilla grass, which is fed on by Mexican tetras, spiny softshell turtles, and lots of fish like sunfish, gambusia, pupfish and channel catfish.
Now classified as a natural spring, it is an altitude dive and a great spot for dive training thanks to calm waters.
The visibility in San Solomon Springs is usually between 30 and 35 feet with maximum depth of 25 ft. Also consistent year-round are the temperatures, between 72 and 76 degrees F. The best time to dive here is in the summer months, when wildlife is most active.
9. Meadows Center – Spring Lake
Near in location to the San Marcos River, the Meadows Center for Water and the Environment is home to Spring Lake. It is fed by over 200 springs, creating a very clear lake of mild temperature no matter what time of year you decide to visit.
Spring Lake is home to several endangered species, including the San Marcos Gambusia, the Texas Blind Salamander, the San Marcos Salamander, the Fountain Darter, the Peck's Cave Amphipod, the Comal Springs Dryopid Beetle, and the Comal Springs Riffle Beetle. It is also home to one of the most densely-concentrated population of turtles in the United States.
The Meadows Center keeps up lots of archaeological research here, since it is technically the longest inhabited site in the country.
The visibility is at it's peak in the fall rather than in the summer. According to divers who frequent the area, visibility can be up to 80 feet during autumn months. The water temperature is also at it's best between summer and fall months, ranging between 70 and 75 degrees.
Rich history and even more fascinating wildlife make this a must-visit spot for divers, but the Center also offers authorization courses and Auquacorps.
10. The Windy Point Private – Lake Travis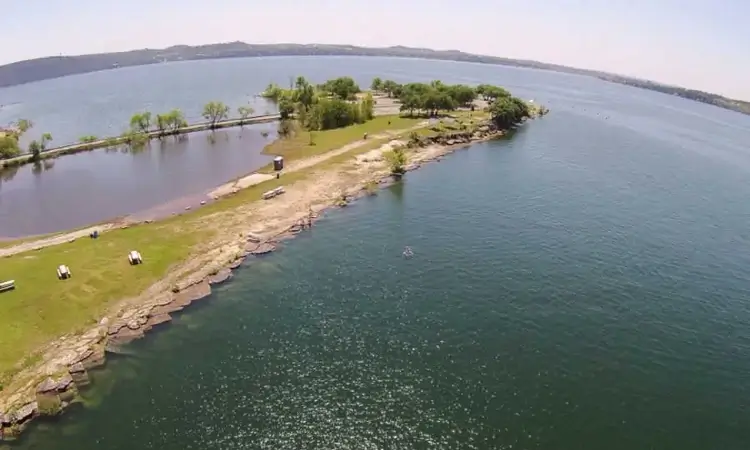 The Windy Point park at Lake Travis is a fantastic spot for divers. It boasts it's own air-fill station on site, offers to repair and transport equipment, and protects the areas divers are most likely to frequent.
Not only that, but Windy Point also offers classes for those looking to get into scuba diving. Inside Lake Travis, you'll find boat wrecks to explore, but also several sunken sculptures. Some of these include a sculpture of a shark, a sculpture of a sea turtle, and even one of a diver.
On average, the best visibility is 15 feet during the fall months. During all other times of the year, visibility is less consistent and only averages around 10 feet at best. The temperatures are also the best during the fall and late summer, averaging between 70 and 75 degrees.
The depths, though cold, can reach more than 100 feet. With easy access to both the Lake itself and services, Windy Point offers a great scuba diving experience for those in the Texas area.
Frequently Asked Questions
Is There Good Diving in Texas?
Though Texas is known for it's ranches and above-surface entertainment, it is actually a good place to dive. If you're looking for wildlife, the Flower Garden and Spring Lake are great locations to see it. If you're more interested in wrecks, Texas offers a decommissioned nuclear missile silo and the Texas Clipper to explore.
Do You Have to be Certified to Scuba Dive in Texas?
According to US Scuba certification, the State of Texas does not require divers to be certified by law; however, it is recommended for the safety of those participating that certification be obtained.
How Much Does Scuba Diving Cost in Texas?
Different locations in Texas may require a fee to scuba dive, but on average, those who rent scuba equipment and need training tend to pay around $250 to do so.
Which Are the Best Diving Centers in Texas?
The best diving center in Texas is likely the Texas Dive Center in Houston, although Athens Scuba Park has it's own diving center for the convenience of visitors, as well.
Final Thoughts

To sum it all up, Texas offers many fantastic scuba diving sites. For those looking to explore sunken treasures like boats and statues, locations like the Texas Clipper or Lake Travis are ideal.
On the other hand, beginners can also find non-challenging locations like the Scuba Ranch and the Flower Garden. Without a need for certification, and with a variety of cool spots to choose from, the state of Texas has as many fantastic offerings for scuba divers.
If you're hoping to spend time diving in Texas, you'll need to make sure you're doing all you can to not only maximize the fun and enjoyment of your experience, but to stay comfortable!

My unbounded love for the oceans and everything it has to offer motivated me to pursue my passion and become a professional scuba diving instructor.
I keep reading, exploring, and learning more about scuba diving and the underwater world all the time, so I'm excited to share my knowledge with fellow scuba enthusiasts and hopefully contribute a little to your development as a diver. I want people to fall in love with the oceans with as much passion as I have. Read more about me here.