Last Updated: August 18, 2023
Want a good reason to visit Florida, let alone return to the Sunshine State, particularly if you are into scuba diving? The warm waters of West Palm Beach and the living treasures underneath are surely too inviting.
About West Palm Beach
West Palm Beach is open all year round for tourists to explore and fall in love with. It is a city in Palm Beach County, approximately 68 miles north of Downtown Miami and home to over 117,000 residents. Located along the Atlantic Ocean coast, this city has much more to offer visitors as they stroll down its palm-lined streets, particularly Clematis Street.
In the historic heart of the city, Clematis Street is bursting with fine dining restaurants, exquisite boutiques, Broadway-quality performance shows, and trendy nightclubs, to name a few. Not too far would be the world-renowned Norton Museum of Art, featuring a large concentration of art and photography from all over the world,
If you are looking for wholesome family entertainment in West Palm Beach, you can check out the Palm Beach Zoo & Conservation Society and Cox Science Center & Aquarium. You can also time your visit during SunFest, the largest waterfront music festival in Florida, and the Palm Beach International Boat Show, a premier yachting event where you can marvel at billion-dollar boats, yachts, and accessories.
West Palm Beach Diving
The diving experience in West Palm Beach is on another level. You'll have your fill of underwater site exploration in varying depths, bottom formations, and structures. Here, divers get to hang out with more wild sea turtles inhabiting the area than anywhere else, especially in the summertime, when tens of thousands of them come to the shore. Aside from these bulky critters, you will run into other unique sea creatures that are fascinating to be around.
The Gulf Stream's proximity strongly impacts every diving aspect along West Palm Beach. Thus, you get great underwater visibility averaging 60 feet on this side, and a rich marine environment that thrives continuously.
Although it varies daily, the offshore current is mostly conducive to drift diving, making a case for more lazy dives in the region. The constant water flow breathes life into reefs, serving as the oceanic highway for migratory fish and aquatic species ranging from lemon sharks to mackerel, manta rays, grunts, groupers, snappers, and so on. So the last thing you'd want to happen is forget your underwater camera to capture the vibrant kaleidoscope beneath.
West Palm Beach reefs are not only highly decorated and vivid in color, but they also have a dual ledge setup that runs parallel to the coast. This system makes it easy for snorkelers and divers to maximize bottom time, taking in all the surrounding beauty undersea.
There are several curated wrecks with manageable depths worth navigating for their structure, coral growth, and marine inhabitants. And if you are lucky, you might even find gold or silver along the way, which allegedly some divers have in previous outings.
Best 7 Dive Sites in West Palm Beach
With over 60 artificial reefs that are mostly less than 100 feet below and accessible natural coral reefs that are ideal for drift diving, there's not always enough time to explore the underwater realms of West Palm Beach. And this means another excuse to be back soon. Here are the top spots you might want to consider depending on your skill level.
1. The Corridor Wreck Trek
Comprising six different wrecks (Brazilian Docks, China Barge, Amaryllis, PC1174, Mizpah and Ana Cecilia) just outside the Riviera Inlet, the Corridor Wreck Trek is a dive well-spent. When in the area, you would want to take advantage of this great opportunity to explore this trek in one day.
With the ocean current going towards the North, you will likely drift off to M/V Ana Cecilia first, which is fairly new, having been sunk in 2016 as an artificial reef. Nonetheless, many Goliath Groupers hang out in what used to be a 170-foot-long freight ship. It sits 85 feet below and has a prominent bow you're bound to see as you approach the site.

Next in line is the oldest artificial reef on the Palm Beach coast, Mizpah. It was a 185-foot Greek hull and was purposefully sunk in 1968. Only about 60 percent of it exists at the bottom of the sea, but given its age, it is heavily covered with corals and living sponges.
PC 1174 is a 165-foot military craft 100 yards away and sunk in the same year as the Mizpah. Although a good chunk of it has already broken into bits and pieces, the largest one lies under Mizpah's bow.
As you drift further, aided by the rock piles, the currents will bring you to the fourth wreck, Amaryllis. Once a behemoth 450-foot ship, its salvaged parts were sunk as an artificial reef after being washed ashore by a hurricane. Here, it's almost certain that you'll encounter sea turtles and perhaps reef sharks as well.

Many divers would have to ascend first before continuing; after all, the entire trek is almost 1800 feet in total. When you're ready to get back in, China Barge is the fifth wreck that is much smaller compared to the other wreckage but is nothing short of spectacular, given its thick coral coverings and abundant aquatic life.
Completing the lineup, the Brazilian Docks are characterized by piles of rubble and culverts and serve as an oceanic hotspot for Goliath groupers, queen angelfish, and nurse sharks.
2. Blue Heron Bridge (Phil Foster Park)
Once chosen as the best dive site by PADI's Sport Diver Magazine (in 2013), Blue Heron Bridge is a very popular choice that beginners can shore dive. It boasts intricate honeycombed ledges where sea life is in overwhelming abundance. You'll find seahorses, pipefish, mimic octopuses, and nudibranchs, among other marine oddballs congregating here as well as several shark statues and mini wreckage that decorate the reef.
This site is shallow at just around 3 meters deep; hence bottom visibility is generally good. At best, it will be clear as day. What makes the Blue Heron Bridge even more special is that you can explore it regardless of weather conditions since it is situated in the Lake Worth Lagoon, a protected natural area separated by a barrier from the Atlantic Ocean. Therefore, divers not only witness an underwater spectacle like no other, but it is also safe to explore.

3. Breakers Reef
Named after the hotel fronting it, Breakers reef is a two-mile-long natural coral reef line submerged in 60 feet of water. Located in what was once a pier, divers who take a boat from the Palm Beach inlet are often dropped off at the Fourth Window. It was called as such since the fourth window on the northern side of Breakers hotel is within its line of sight.
You will be amazed by the different sea life forms at the two mounds of coral nearby. They include Hawksbill sea turtles, loggerheads, stargazers, octopuses, sharks, eels, and fancy-looking invertebrates. If you reach the northernmost part of the site, you'll find deep undercuts leading up to the 8-foot King Neptune statue. It now rests deeper at 60 feet, thanks to the Gulf's continuous current sinking it further.

4. Princess Anne
SS Princess Anne is a 350-foot-long steamship that shuttled passengers and cars across the Chesapeake Bay. This artificial reef was sunk in 1993 and lay upright more than 100 feet below the sea. It was broken into two by the more recent hurricanes, making for a highly precarious dive given its current state, which could collapse further. Hence, novice and intermediate divers may want to skip the swim-throughs and navigate the nearby coral reefs instead.
Nonetheless, there are a few open rooms that a skilled diver can penetrate, but they are often not recommended. That said, you can still enjoy the diverse sea creatures you're bound to encounter on-site, such as spadefish, barracudas, Goliath groupers, and some sharks.
Note that this area has a strong ocean current, so prepare to jet past the water when drift diving.

5. Cable Crossing
Cable Crossing is another spectacular coral reef that takes its name from, well, you guessed it, a cable wiring. Installing subsea fiber optic cables or wires running under the ocean is a common practice for more cost-effective and reliable internet connections.
If you are coming from Phil Foster Park, all you have to do is to go to the Palm Beach Inlet, which leads to the Atlantic Ocean. The coral reef on this site is fairly shallow at 25 feet below, making it suitable for intro dives and snorkeling. The honeycombed ledges look like mini caverns; that's why a lot of tropical fish have moved in here as well as manta rays, nurse sharks and giant sea turtles. Best to bring your dive light to take a closer peek at the interiors.
6. Juno Ledge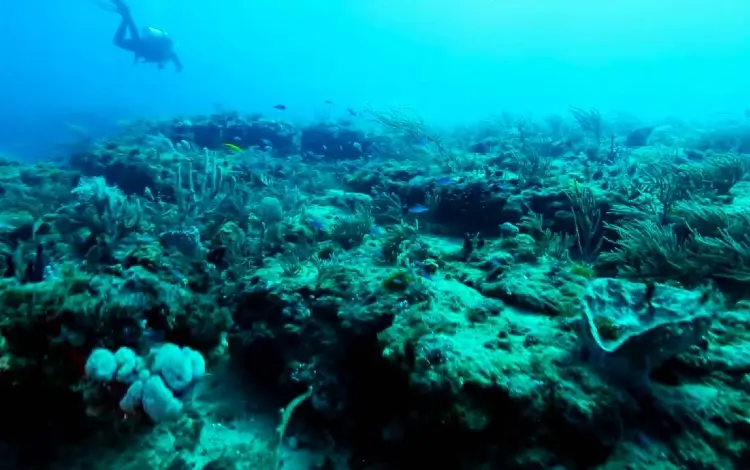 Scuba diving allows people to view and enjoy the wonderful marine life, and you can experience one of the best at Juno Ledge region, south of Jupiter. It features deeper ledges and tunnels you can truly appreciate because of its excellent visibility up to a hundred feet. Hence, you can take the most beautiful underwater photographs, capturing the spade fish, green moray eels, sea turtles, and goliath groupers in their natural element.
Also, in the Juno area, you have Lee's Ledge and the Northwest Double Ledge, where there are huge gatherings of marine creatures in all shapes and colors.

7. The Flower Garden
Sitting right off West Palm Beach, the Flower Garden is a breathtaking saltwater site with inner and outer drop-offs. Inside, you will find patched reefs spread out while honeycomb formations are on the outside. As such, this nature-designed reef is the perfect hiding place for playful fish and different forms of Caribbean life to frolic and huddle. In fact, their frequent spot has been referred to as the Fish Bowl. The place is so full of fish you can hardly see the reef itself.
On the other hand, the eastern side is easy on the eyes with its sea garden of lush soft corals and other fascinating natural elements.
Diving Conditions and Best Time to Dive
Dive sites: manmade reefs, coral reefs, honeycombed ledges
Dive types: intro dive, drift dive, shore dive, open water dive, wreck dive, deep dive
Average Water Surface Temperature: 72 to 77 degrees Fahrenheit (22° C to 25° C)
Average Bottom Visibility: 60 to 100 feet (18 to 30 meters)
Best Time to Dive: turtle nesting season (late May to end of July)
Top West Palm Beach Dive Shops
#1. Pura Vida Divers
A PADI-accredited one-stop dive shop that specializes in charter dives, but also offers dive training, Nitrox fills, and full dive equipment services – that is Pura Vida Divers.
#2. Narcosis Dive Company
Headed by Capt. Alex, a dive boat captain, Narcosis Dive Company facilitates daily charters and diving certifications. You can also avail of the services of an experienced dive guide to keep your ocean explorations safe and enjoyable.
#3. The Scuba Club
The Scuba Club is the longest-running shop in Palm Beach Country, having started its operations in 1972. It is staffed with divemasters that assist in guided tours. The shop also sells a full line of Scubapro equipment, as well as renting out gear, and performs repairs if needed.
Frequently Asked Questions
Is West Palm Beach Good for Diving?
Yes. West Palm Beach has many excellent dive spots for beginners and advanced divers alike, seven of which were discussed in this article.
How Do you Dive the Blue Heron Bridge?
Blue Heron Bridge is so accessible that it only entails a shore dive. You can even swim or snorkel to explore the east or west side. The water is shallow enough to be safe even for beginners.

My unbounded love for the oceans and everything it has to offer motivated me to pursue my passion and become a professional scuba diving instructor.
I keep reading, exploring, and learning more about scuba diving and the underwater world all the time, so I'm excited to share my knowledge with fellow scuba enthusiasts and hopefully contribute a little to your development as a diver. I want people to fall in love with the oceans with as much passion as I have. Read more about me here.