Last Updated: June 9, 2023
The Hawaiian islands easily come to mind when we envision a tropical paradise.
And then, when it comes to diving, Maui is an effortless choice. Beneath coastal waters that glisten from the sunshine lie stunning seascapes, unique critters, and rich biodiversity. Aside from the visual spectacle, these features provide a better understanding and appreciation for marine life in maintaining a peaceful coexistence.
Let's take a deep dive into Maui!
About Maui
The Valley Isle may be the second largest island in Hawaii, but it is thousands of square miles smaller than the Big Island, which is the biggest. Nonetheless, this famous region boasts topside activities for the restless adventurer, such as surfing, whale-watching, hiking, paddleboarding, parasailing and diving.
Maui county, to which Maui island belongs, has three more islands: Lana'i, Molokai, and Kaho'olawe. About half of these islands are within a few miles of the coastline. Such proximity is evidence of their geographical insularity. Maui is home to over 164,000 people, mostly Whites, and Asians.
While Maui can be as laidback as Kauai, it is more developed; thus, visitors can enjoy creature comforts and adequate amenities during their stay. But when you compare it to Oahu and the Big Island, it is less touristy and more relaxed. Hence, this Hawaiian island best exemplifies a tropical vacation striking a balance between exotic charm and modern convenience.
Maui Scuba Diving
Beginner-friendly and near-shore best characterize scuba diving in Maui. Nonetheless, advanced divers who opt to get into the big blue will also have the best time here. The Maui underwater scene is a dizzying array of the most colorful species, mesmerizing schools of fish, and rarely sighted critters like humpback whales.
Don't miss the state fish of Hawaii, whose native name "humuhumunukunuku apua'a" may be a tongue-twister, but you can also call it reef triggerfish or rectangular triggerfish.
If there's one site that encompasses Maui diving, that would be the Molokini Crater. It's interesting to note that most dive spots are concentrated in Lahaina and Kihei, some of which can have strong currents and great depths.
Overall, divers will find at least one exhilarating Maui dive location that caters to their skill level.
Best 7 Dive Sites in Maui
There are so many dive sites on Maui that one or two trips to the island will only cover a little. To ensure that you'll make the most out of what could be your first or only trip to Maui, here are the best spots you will absolutely enjoy and keep in your memories forever.
1. Molokini Crater
Those deep into diving may have an idea of this dive site. Plenty of those who have explored its bottom topography have rave reviews about it.
The Molokini Crater is a crescent-shaped volcanic crater on Maui's west coast believed to have been formed hundreds of thousands of years ago. This partially submerged islet is a Hawaii State Seabird sanctuary on the surface and a spectacular dive spot below the sea. It is only one of three calderas in the world; hence divers from all over wouldn't miss the opportunity to explore its incredible marine life and magnificent views.
Molokini Crater has several dive spots catering to different diver types. Inside, the crater makes for much easier dives and terrific snorkeling, while advanced divers may want to tackle the spot on the back wall side, which drops to more than 300 feet. It is a famous drift and wall dive; you can go down to about 80 feet, and already you will see spinner dolphins abound.
Other dive spots dotting the caldera are the tako flats, where you can see a group of manta rays and octopuses hiding in reefs covered with cauliflower corals. If you want to find Maui sharks and boarfish, they are located much deeper at 130 feet after a series of terraces.
At Flying Sea Cliffs, near the back wall, are shelves 50 feet below. Raccoon butterflies, sergeant fish, damselfish, and enenue, to name a few, hang out at the eastern point that has a gentle slope descending to 60 feet from the surface.
Note that no guests or land tours are allowed on the crater's surface; only divers who have signed up with dive tour operators can go specifically for diving.

2. Five Caves at Makena Landing
If you want to encounter white-tip reef sharks and green sea turtles with certainty, the Five Caves, also known as Turtle Town and Five Graves (it is near an old cemetery), is your best bet. Aside from what technically are more than five caves, it features reef fingers, swim-through arches, and open-mouth caverns where large critters such as manta rays and octopuses are a common sight. You might even spot the super rare flame angelfish, which sticks around in stony coral growths and reef spaces.
The famous bubble cave, which caters to beginners and intermediate divers, has depths of up to 45 feet. Called as such due to the air pockets inside; beware of the pressure it puts on your ears. Nonetheless, sea turtles, among other marine animals, find refuge here.
Five Caves is a boat dive, but if you're a good swimmer, you can also reach the spot by heading north from Makena Landing.

3. Mala Wharf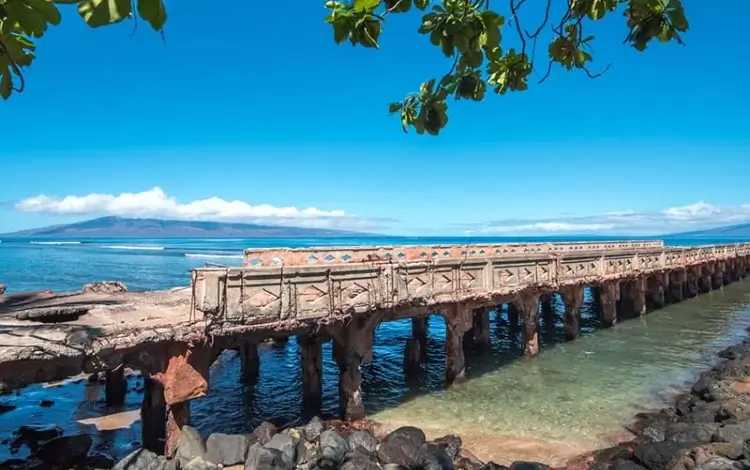 Not more than 40 feet below, Mala Wharf is a great shore diving option in Maui. It's been around for a little over two decades, which makes it fairly new compared to most dive spots.
It has a concrete structure that serves as a quayside for steamships. But back then, because of the strong water current game in the area, it was used for smaller vessels instead. Many years later, a violent hurricane caused the pier to collapse into the water depths, and eventually became an artificial reef.
Today, Mala Pier is encrusted in thick coral growth and houses many diurnal and nocturnal creatures. Reef sharks frequent the sandy bottom and, serendipitously, some frogfish as well.

4. The Carthaginian
Maui's shipwreck site, the Carthaginian, sits on a sandy seabed 97 feet below in the harbor of Lahaina, previously a whaling town. It attracts beginner and intermediate divers to explore the rich marine life in its compartments.
This artificial reef has an interesting history; it is a replica of a whaleship built in 1920 which became a floating museum decades later before it was purposefully sunk in 2005. Currently, you will find the most colorful sea organisms here, such as sea turtles, frogfish, trumpet fish, wrasses, unicorn fish, and eagle rays.
The site is also frequented by Atlantis Adventures, a major tour company facilitating undersea excursions.

5. Ulua Beach
Another dive site where beginners can hone their skills, Ulua beach, is located between Makena and Wailea, 5 minutes from the parking lot. There is a staging area where you can ditch your gear before taking the plunge.
Its dive site has two shallow reefs; one is near shore, and the other is a little further out that sits in 30 feet of water. Since it's a relatively easy dive, many snorkelers get to marvel at the sea turtles, nudibranchs, manta rays, triggerfish, etc., that can be seen without difficulty.
If you want to hang out at the beach after your dive, you can lie on its sand or the grassy area next to it.

Recommended Read: Best Places to Scuba Dive in Hawaii
6. Black Rock Point
Within 10 minutes north of Lahaina, Black Rock Point boasts a wall and coral reef that suits all divers and snorkelers.
About 20 meters from the shore, you'll tread on the gravel and shingle entry point and swim towards the right to reach the first reef. It is shallow yet beautiful; you can go a little further down to 40 meters and get a chance to see a ghost pipefish.
The coral slopes and black coral bush valleys underneath are an awesome sight. There are butterflyfish, triggerfish, snappers, wrasses, lionfish, scorpions, boxfish, and the hometown's favorite sea turtles.

7. Airport Beach
The Airport beach doesn't sound like something you'll make a beeline for. Its official name, though, is Ali'i Kahekili Nui Ahumanu Beach Park, after Kahekli II, a Maui chief in the 1700s. Nonetheless, there used to be an airport runway where the beach is, hence the unlikely name.
This beach park is quite expansive, with picnic spots for guests offering bonus views of Lanai and Molokai islands.
The reef runs parallel to the sandy shore and is fairly shallow at 40 feet but filled with vibrant corals, endemic species, and sea turtles. There's a deeper reef twice the depth for advanced divers to navigate.

Also Read: Scuba Diving Hawaii's Big Island
Diving Conditions and Best Time to Dive
Scuba diving is good all year long in Maui between 10 am and 2 pm, during which the sun is at its peak, enhancing visibility underwater.
The depth range is 10 to 130 feet, with up to 100 feet of visibility based on rainfall and runoff. However, avoid the months of July and August if you don't like peak season frenzy (read: tourist pricing). Also, note the winter time is also whale watching season beginning December until March.
Water temperature generally ranges from 74 to 80 degrees Fahrenheit, with currents that can get strong depending on the time of the day or surf season. Although the island of Molokai naturally blocks surf, you can expect stabler conditions in Lahaina.
South of Maui, dive conditions can be rough during summer due to the surf originating in the southern hemisphere.
Top Maui Dive Operators
There are multiple dive centers in Maui, but I handpicked four of the best based on their services and customer feedback.
#1. Dive Maui
Dive Maui is a first-class ecotour operator, organizing dive trips to the best sites in the region. It conducts PADI certification courses, intro dives and offers scuba gear and equipment rentals. This way, guests can perform their activities without prior dive experience or having to bring their bulky paraphernalia with them.
#2. Maui Dive Shop
This is also a full-service dive center in Maui committed to being the ambassador of nature. Its dive trips are designed around this objective so that guests have a fun time and are encouraged to do their part in conserving the environment.
#3. In2scuba Diving Maui Dive Co.
Looking for a dive center to learn scuba diving? In2scuba is a great choice, especially for beginners. Aside from the training and guidance of its certified divers and instructors, other dive-related services are also available for divers and snorkelers.
#4. Maui Dreams Dive Co.
Whether you want to book a dive tour or rent dive gear, Maui Dreams can fulfill them for you. It also offers a variety of dive courses to those interested in taking their dive activities up a notch under the most skilled instructors.
#5. Banyan Tree Divers
Banyan Tree Divers curates the best dive tours for their customers and keeps their groups small for maximum attention. It has regular trips to the Maui Coast and is known to offer a wonderful Black Rock experience.
Frequently Asked Questions
Does Maui Have Good Scuba Diving?
Yes. The waters are calm, with vibrant corals and fantastic sea creatures. The majority of the dive sites allow shore diving.
Can You Scuba Dive in Maui Without Certification?
Yes. Intro dives are often conducted for beginners under the supervision of a certified diver and trainer.
How Much Does it Cost to Get Scuba Certified in Maui?
A dive certification course costs around $600 plus tax.
Do I need a Wetsuit to Dive in Maui?
Yes. You can opt for a 3mm wetsuit which is sufficient because of the relatively warm Maui waters.
Is There Shark Cage Diving in Maui?
Yes. Maui is one of the best places for shark cage diving.
Is Diving Molokini Crater Worth it?
Yes. Molokini Crater is a premier dive spot in Maui with multiple facets, each featuring reefs and sea inhabitants that make your trip below worthwhile.
How Deep is the Water Around Molokini Crater?
The crater interior has a maximum depth of 100 feet, while the exterior descends up to 300 feet.
Final Thoughts
As you can see, Maui offers incredible diving experience among abundant marine life.
Besides the world-class dive sites covered in this article, there are plenty more excellent diving locations. Worth mentioning are the Honolua and Kapalua Bay, which feature a variety of coral and tropical fish, and Olowalu in Lahaina.
Do you know other great places for diving in Maui? Let me know in the comments.

My unbounded love for the oceans and everything it has to offer motivated me to pursue my passion and become a professional scuba diving instructor.
I keep reading, exploring, and learning more about scuba diving and the underwater world all the time, so I'm excited to share my knowledge with fellow scuba enthusiasts and hopefully contribute a little to your development as a diver. I want people to fall in love with the oceans with as much passion as I have. Read more about me here.