Last Updated: February 14, 2023
Though Destin, Florida might best be known for the beautiful beaches filled with sugar white sand, folks from all over the world flock to this Florida community to take in some of the best scuba diving anywhere in the Gulf of Mexico.
A beautiful place situated in Northwest Fl (right in the heart of the Panhandle), Destin has built up an almost legendary reputation as a "water town".
People love to fish, they love to sail, and they love to scuba off the coast.
Let's dive a little deeper into things you need to know about scuba diving in Destin today.
Best Dive Sites in Destin Florida

1. Destin Jetties
If you want to do a bit of diving just off the shore of Destin, you need to make your way out to the Destin jetties.
Some people call this beach or shore diving and if you're after dives that only take you down about 50 feet (suitable for beginners) this is the place to be.
These incredible rock jetties jut out into the Gulf of Mexico and give you plenty of underwater adventure opportunities to explore. Here you'll find some statues on the ocean floor that are covered with corals and beautiful tropical fish swimming around in gigantic schools. You'll also have a chance to spot sport fish, rock crab, grouper, octopus and might even pal around with dolphins (up close and personal).

2. Miss Louise Wreck
The Miss Louise was a little push tugboat that was intentionally sunk in 1997 just off the coast of Destin.
Planned as part of a new artificial reef program, the tug has been beaten up a little bit over the years (especially the upper part of the boat) but it has settled nicely – and there's tons of suitable structure available for even newbies to dive without a lot of worry.
Sitting completely upright on the sandy bottom floor of the Gulf of Mexico, you'll find the Miss Louise in about 60 feet of water.
The wreck itself is a major attractor of some of the coolest fish too. I'm talking about barracuda, Spanish mackerel, and even the occasional whale shark or two.

3. Barrel Barge Wreck
Thanks to the military history of the Destin area you're going to find all kinds of matériel from the U.S. Navy that's been sunk intentionally off the coast for divers to explore.
One of the coolest stretches of the Gulf to scuba dive has to be the area around the Barrel Barge, a spot just south of the Okaloosa Island Pier.
Making up a part of "Wreck Alley", the Barrel Barge sits amongst 25 other bigger vessels that have been intentionally dropped here to build up an artificial reef.
The top of the 100 foot Barrel Barge can be found in 60 feet of water, though divers that have a little more experience can plumb even deeper to check out the rest of the wreckage, too.

4. Fort Walton Beach
Almost all of Fort Walton Beach has artificial reef built right in thanks to the US military.
The main attraction for scuba divers here, of course, has to be the run of decommissioned M60 battle tanks that you can find piles of.
Again, the dive isn't all that deep (you don't have to go much further down than 60 feet), but you're not going to find many other opportunities to scuba amongst so many old tanks – laying alongside other racks – as you will right here in this part of Destin.

5. Miramar Beach
Sometimes described as the prettiest beach in all of America, tourists flock to this Florida hotspot year after year, and not all of them to park their toes in the sand and sit under an umbrella beachside.
No, some of them like to go underwater to do a bit of exploring in the Miramar Beach area.
One of the best dive centers in Florida is based out of Miramar Beach (the Emerald Coast Scuba, more about them in a moment). They can set you up with some incredible charters to check out artificial reefs, natural reefs, and some of the most interesting racks this side of the Emerald Coast.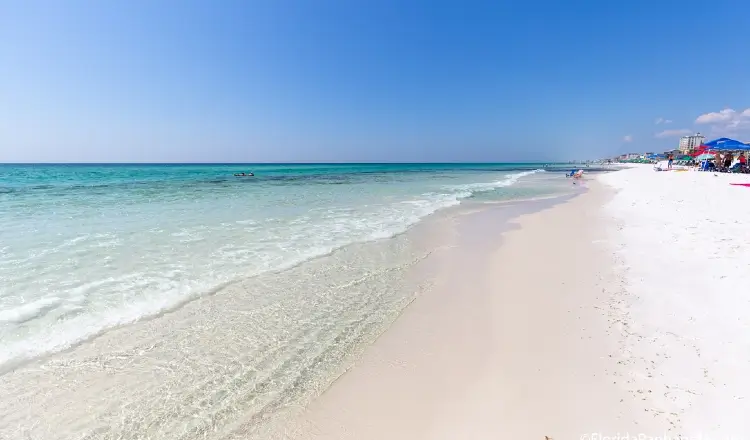 6. Destin Bridge Rubble
When the old Destin Bridge was destroyed huge chunks of it found their way off the coast of Destin, with three major chunks – the Main, East, and North stacks – combining to become one of the most impressive artificial reefs in this part of Florida.
The rubble sits about a mile and ½ away from Holiday Isle. This is not your everyday run-of-the-mill kind of dive, though. It's wild to see a miracle of modern engineering reduced to rubble just a short distance away from where it's replacement sits – still in operation today.

Diving Conditions and Best Time to Dive
Dive conditions along the Panhandle (particularly in Destin) are pretty solid all year round – though you want to make sure that you're doing your best to avoid diving just before, during, and slightly after hurricane season.
Early June through late July are perfect for scuba diving in Destin. You'll have a pretty high average water temperatures that hover around the mid 80°F, but you also have relatively calm seas and tons of visibility as well.
You should know, though, that these two months are the "hottest" months of the year for scuba divers from all around the country and the rest of the world to come into Destin.
Expect some competition for charter boats and excursions, gear rentals, and even just space to dive off the coast. Prices are going to be higher this time of year, too.
Top Dive Shops in Destin
Almost universally beloved by divers in Destin (as well as throughout the Sunshine state and all along the Gulf of Mexico), this professional PADI certified diving shop is about as good as it gets.
Dive masters are skilled and talented, and the captains and crew of the charter boats that Emerald Coast offers are always professional and dialed into your scuba experience. Reviews online talk about how friendly this shop is, and the word-of-mouth buzz they have around town – and throughout the scuba community – is always glowingly positive.
Best of all, if you're just getting started in the scuba world you can actually get trained and certified to dive right out of Emerald Coast Scuba, too.
Another five-star scuba operator in Destin, this is one of only a handful of shops in the state of Florida that could give Emerald Coast Scuba a run for their money.
The dive team here is almost foolishly experienced, with divers that have thousands of dives under their belt – and decades of experience to share with their clients.
Charter and gear rentals (as well as gear sales) are super affordable, with the kind of competitive prices you'd expect in one of the hottest scuba destinations in the US.
Discovery Dive World offers everything you want in a full-service diving shop and nothing that you wouldn't.
The divers, instructors, and boat crews are all seasoned veterans, not just in the diving community but diving in and around Destin and the Gulf of Mexico in general. They'll be able to give you the real world experience you need to have the dive of your life, regardless of your skill level or experience.
Flexibility is something that a lot of online reviews bring up when it comes to Discovery. They'll work with all of their clients to not only get them certified and trained, but will also do everything they can to accommodate them on their charters, too.
This is a great operation well worth checking out and ranks highly, right up there with the other two top-tier scuba shops I highlighted.
Frequently Asked Questions
Is Destin Good for Scuba Diving?
Destin is definitely one of the best destinations in Florida for scuba diving. The dive opportunities are unique and diverse, the community is pretty large – especially for a city this size – and the dive conditions all year round are pretty accommodating, too. Combine that with some of the best dive shops in the US calling Destin home and it would have to be a little crazy not to check it out yourself.
How Much Does it Cost to Go Scuba Diving in Destin Florida?
Diving in Destin Fl isn't going to break your bank account, especially when compared to some of the other dive spots on the Gulf of Mexico and across the rest of Florida, for that matter.
Expect to spend $95 for a charter fee, $165 for all your gear and your instructor's time, and maybe a couple of extra bucks depending on what else you want to add to your itinerary. Don't forget to bring cash for a tip, either!
Are There Coral Reefs in Destin Florida?
The overwhelming majority of the reefs you're going to be diving in Destin are of the man-made variety – artificial reefs that have been built for different reasons. Sometimes they are built specifically with scuba in mind, but other times they're built to provide a little more protection to the beautiful beaches in Destin. Sometimes it's combination of the two.
Are There Sea Turtles & Seahorses in Destin?
Sea turtles can be found all over Destin, but coming across a seahorse is going to be quite a bit more rare. Seahorses are in the Gulf of Mexico for sure, it's just that they don't make it to Destin all that often.

My unbounded love for the oceans and everything it has to offer motivated me to pursue my passion and become a professional scuba diving instructor.
I keep reading, exploring, and learning more about scuba diving and the underwater world all the time, so I'm excited to share my knowledge with fellow scuba enthusiasts and hopefully contribute a little to your development as a diver. I want people to fall in love with the oceans with as much passion as I have. Read more about me here.