Last Updated: February 14, 2023
Washington State, stretched along the shoreline of Puget Sound, offers several great places for scuba diving.
Dives around Seattle and throughout the islands of the Strait of Juan de Fuca will enable both beginner and advanced divers to experience magical encounters with multitudes of fascinating creatures.
In the cold, emerald waters of Pacific Northwest, you can witness sea creatures like giant octopuses, rockfish, wolf eels, steller sea lions and even orcas if you are lucky.
And this marine life alone makes diving here all the more fun.
Keep reading as I provide details on some of the best scuba diving spots in Washington State.
Top 7 Places to Scuba Dive in the State of Washington

1. Edmonds Underwater Park, Northern Puget Sound
Edmonds Underwater Park is a marine protected area established by the city of Edmonds back in 1970. The park accomplished a huge milestone recently in 2020 when it celebrated its 50th anniversary. This park is frequently visited by locals and visitors from across the world.
It has an average of over 25,000 visitors that come for scuba diving alone, making it one of the most popular scuba diving destinations across the Pacific Northwest. The park owes a huge part of its maintenance to the volunteer diver Park Stewards group led by Bruce Higgins, along with several contributors that help protect and improve the park.
Additionally, the park is open from 6:00 am to 10:00 pm. However, night divers need to get an additional permit from the City. The parking facility around Edmonds including the park is around 3 to 4 hours. There are several shops and restaurants for visitors to explore.
The staff at Edmonds is especially friendly and very accommodating. They also offer underwater maps of the park for $10, for divers to explore the abundance of marine life under the best conditions provided.

2. Lake Crescent
Lake Crescent lies about 18 miles from the west of Port Angeles and is located in the northern foothills of the Olympic Mountains. The reason why Lake Crescent is among the most ideal locations for scuba divers is because of how deep and beautifully carved out it is, surrounded by serene natural beauty.
Adding to that, it offers warmth in the summer when water temperatures rise up to 65 degrees. With the water going as deep as 500 feet, the underwater topography is amazing to discover as it includes some places with sheer clay while others with rock walls.
The two most famous wrecks for divers to explore here are the Warren car at about 165 feet and the Steele car at around 190 feet of depth.
Eight Diving allows divers to rent all the best quality necessary gear they need to go diving. Renting starts from $10 per day and varies in accordance with what is rented, with the operational hours being 12:00 pm to 6:00 pm throughout the week and is closed on Sundays and Mondays.

3. Deception Pass – Whidbey Island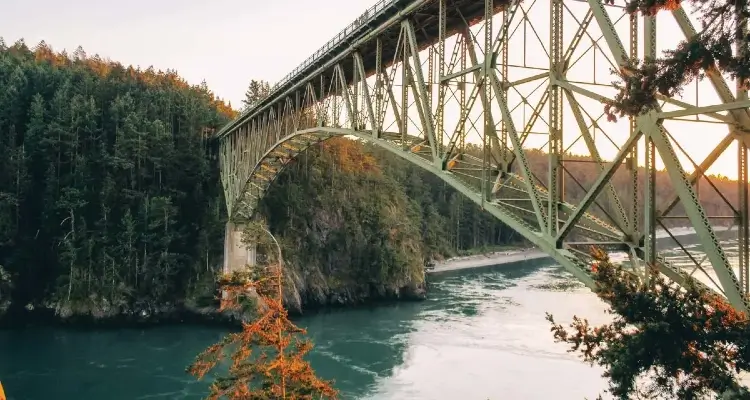 Deception Pass runs through the gap between Whidbey Island and Fidalgo Island. The state park is enormous and consists of several unique spots for divers to explore.
Adding to that, the park has a 14.6-mile-long saltwater shoreline, three lakes, and around 35 miles of trails. A Discover Pass is required for vehicles to enter the park for day use. Deception Pass stands out from many other diving places owing to its breathtaking views, rich forests, and vibrant colors.
However, it is only safe to dive here on very selected days every year where the weather and water conditions are favorable. This is because one can encounter whirlpools, upwellings, and very strong currents. Therefore, you should first try less challenging drift dives at other diving sites.

4. Sund Rock – Hood Canal
Sund Rock is located in Hood Canal and is among the premier diving sites in the Pacific Northwest. It is an easy shore dive where an old fishing wreck gives you a chance to search for a wolf eel.
The South Wall of Sund Rock offers a serene one-hour-long-dive, where the top of the wall is around 30 feet and the bottom around 60 feet.
Additionally, for divers that like to go deeper, there is the opportunity to go beyond 200 feet. However, as the water here is a lot colder compared to other diving resorts, it requires divers to take along extra equipment with them, more training, and motivation.
The aquatic life at Sund Rock includes sea cucumbers, crab, shrimp, wolf eels, and the unique spiny dogfish shark. Once the entrance fee is paid, the parking lot is available for divers to set their gear up just five feet away from the water.

5. Saltwater State Park, Central Puget Sound
The Saltwater State Park lies on the stretch of the shoreline that runs between Seattle and Tacoma, which makes it a highly frequently visited resort. It is operational from 8:00 am to 7:30 pm during the week.
What makes this place so unique is that it is the only scuba diving site in Seattle with an underwater artificial reef. This reef is home to protected marine life such as wolf eels, the Pacific octopus, and the vermilion rockfish.
In accordance with the location of this resort, late fall is the best time for divers to come here. During this season, the waters are clear which provides the optimal visibility and surroundings to explore life underwater.

6. Clear Lake
Clear Lake in Skagit County is a freshwater altitude dive which caters to not only advanced divers but also those who want to dive for recreational purposes. It has a depth of up to 180 feet and is open throughout the year.
As the name suggests, the waters are so clear that they often provide a visibility level of up to 100 feet. Therefore, diving here is similar to swimming in a gigantic swimming pool. However, the water here is very cold throughout the year at approximately 38 F.
For divers, the most optimal location along Clear Lake is its north end, with the most popular tree standing between the middle of the channel and the East Bank.
However, because the water is so cold, you will not be able to stay here for longer than 45 minutes. Even then, you must be sure to carry equipment that sufficiently warms you up both during and after the dive.
7. Alki Cove 2 – Seacrest Park, Central Puget Sound
The Alki Cove 2 in Seacrest park just outside of Seattle is an accessible saltwater dive site with a depth of around 70 feet.
The Alki dive is special because it is protected from major currents and has a small wreck, various debris and structures and masses of marine life to be explored in shallow water.
For experienced divers, there is an added opportunity to explore greater depths and see a bunch of pilings and I-beams. However, there are very strict instructions that prevent divers from going beyond the buoy line.

Diving Conditions
In general, the best time to go diving in the Puget Sound is in summer months when the water is warmest.
You may experience visibility up to 100 feet (30 meters).
Water temperatures fluctuate during the year, but on average they range from 45 to 55 F (7 to 12 C), so drysuit and proper cold water diving gear is a must.
Are There any Shipwrecks in the Puget Sound?
There are numerous wrecks in Puget Sound and around the Pacific Northwest. From the shallow shipwrecks in Edmonds Underwater Park to the deep ones in the middle of the shipping lanes, they include Alaska Reefer, Possession Point Ferry, The War Hawn or The Omar and many more.
Final Thoughts

Next time you're looking to scuba dive in the state of Washington, you now know there are plenty of great options. Pacific Northwest's cold water hides many artificial reef systems and lot of sea creatures in numerous diving spots.
You can choose to dive in the pacific ocean, natural fresh waters, or even artificial lakes for an experience of a lifetime. The interaction with marine life here is truly one of its kind, so be sure to try it out!

My unbounded love for the oceans and everything it has to offer motivated me to pursue my passion and become a professional scuba diving instructor.
I keep reading, exploring, and learning more about scuba diving and the underwater world all the time, so I'm excited to share my knowledge with fellow scuba enthusiasts and hopefully contribute a little to your development as a diver. I want people to fall in love with the oceans with as much passion as I have. Read more about me here.