Last Updated: March 8, 2023
While Michigan might not seem like an international scuba diving hotspot, it's important to remember just how much of a maritime history this Midwest state has – and it's a close relationship with the Great Lakes.
The Great Lakes (Superior, Michigan, Huron, Erie, and Ontario) were, at one time, the most active waterway in America. Jampacked shore to shore with all kinds of ships carrying things like lumber, iron, and coal (not to mention tourists looking to explore this part of the country), the amount of ship traffic on these lakes was almost unbelievable.
At the same time, though, these waterways have never been the easiest to navigate. In fact, the cold, fresh waters of the Great Lakes are known for unpredictable storms and gigantic waves that pulled ships down beneath the water all the time.
That same cold, freshwater in the Great Lakes has helped to preserve much of this wreckage, though – making it a great hotspot for scuba divers that want to get a glimpse at legitimate underwater history.
If you've been thinking about making a scuba trip to this state, and are serious about finding the best diving spots in Michigan, you'll want to check out all the info I highlight below.
Best 8 Diving Sites in Michigan (Great Lakes)
1. Thunder Bay National Marine Sanctuary – Lake Huron

One diving hotspot in Michigan that belongs on every single diver's itinerary is the first national marine sanctuary in the United States, Thunder Bay.
Home to north of 100 historical shipwrecks either in Thunder Bay proper or just beyond, there's no other place in the U.S. where you'll find hundreds of shipwrecks – sometimes stacked on top of one another – in water depths that range from just a few inches to 200 feet.
Because this is a national marine sanctuary, almost all of Thunder Bay has been carefully mapped, measured, and marked out. The resources for diving here are out of this world, giving even brand-new scuba divers the confidence they need to reach these wrecks and explore them safely.
One of the absolute must shipwrecks you need to visit if you dive Thunder Bay has to be the Montana. This 235 foot side wheel steamship sunk after a fire, but much of it has been preserved in almost pristine condition because of the cold, freshwater environment.
The Pewabic is another wreck you'll want to explore. It sank 100% intact and completely upright, though it is just outside the recreational dive limits in between 148 and 168 feet of water.

Should you go down to see this wreck, though, make sure that when you surface you pop over to the
Thunder Bay Heritage Center
. You'll find many of the relics pulled from this shipwreck here as well as a live stream of divers that are actively exploring the wreckage, too.
2. Manitou Passage Underwater Preserve – Lake Michigan
A beautiful underwater preserve protected by the state of Michigan, you'll find tons of shipwrecks here as well.
The overwhelming majority of the vessels you'll find sunk in the Manitou Passage were hard-working vessels, responsible for moving a lot of timber out of Michigan during its lumbar heyday.
It wasn't at all uncommon for ships moving through this passage to seek out the Manitou Islands when the water started to get rough and choppy. The trouble is, however, that the lake around the islands could be pretty dangerous to navigate even in halfway decent conditions – and a lot of ships ended up going down while trying to seek out safety.
A 247 foot ocean worthy freighter was lost in November 1960 trying to attempt this exact fee. The ship, the Francisco Morazan, ended up running aground on the rocks just off of South Manitou Island – and you can see the wreckage (part of it, anyway) still sitting above the water today.
The rest of the broken whole sits about a few hundred yards from the shoreline in just a few feet of water making it one of the most accessible shipwrecks in Michigan for those looking to do a little snorkeling as well.
Another great shipwreck to explore in this part of Michigan is the Three Brothers vessel, a ship that went down in September 1919. This boat sits under between 5 and 45 feet of water and makes for a really great entry point into the scuba community.

3. Sanilac Shores Underwater Preserve – Lake Huron
If you go just south of the "Michigan thumb", the Lexington area of the state, you'll come across the Sanilac Shores Underwater Preserve.
One of the most dangerous stretches of the Great Lakes, particularly for early navigators, this bit of Lake has no natural harbors and often very rough and rocky water to contend with.
At least 16 already identified shipwrecks sit within 120 feet of the surface, making them accessible to divers with even just a little bit of experience under their belt. New wrecks are being discovered all the time, too. They are mapped, marked, and added to the underwater preserve database.
Two specific shipwrecks are the highlight of scuba diving in this part of Michigan.
The first is the Sport, the very first ever steel tugboat to work on the Great Lakes. Not only is it a fun boat to explore underwater, but you can also see a lot of relics and tools that the boat used scattered throughout the wreck site as well. New finds are always being discovered, adding to the history and understanding of this ship.
The second is the Regina, a ship that was only discovered in 1986. This ship is a little more difficult to reach than the Sport – but not impossible – and is well worth your time.

4. DeTour Passage Underwater Preserve – Lake Huron
Another of the famous Michigan underwater preserves, the DeTour Passage is home to dozens of shipwrecks that were moving from Lake Huron to the Soo Locks system. Somewhere along the way, though, a combination of dangerous storms, very heavy seas, and possibly even navigational errors led them astray and caused them to sink to the bottom.
While 19 wrecks make up the "official" count of this underwater sanctuary, divers are continuously finding new wrecks in these relatively shallow waters.
One of the coolest things about diving this particular part of Michigan is that many of the wrecks can be found from sure accessible sites – which means the entirety of the vessels sits within around 30 to 40 feet of water.
That makes these shipwrecks accessible to anyone with even just the basic scuba experience.
The Sainte Marie wreck even pokes just outside the water, with its steel paddlewheel situated pretty close to where the ship went down.
The John B Merrill (built in 1873) is another popular hotspot for scuba divers in Michigan. Dive down and you'll be able to still spot the beautiful craftsmanship, the graceful clean lines, and the original name board as well as ship hardware and personal effects that have been left untouched and unmolested thanks to the cold, freshwater of the lakes.

5. Alger Underwater Preserve – Lake Superior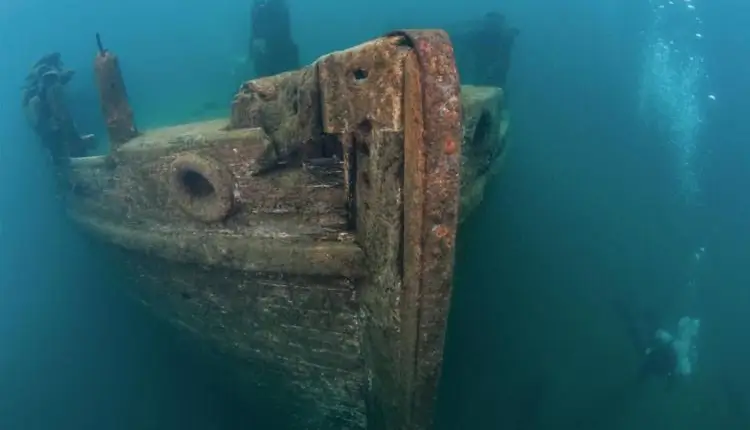 Located in Munising, the Alger Underwater Preserve usually draws people to the attractions above the water – but scuba divers know that there's a world of history and adventure just beneath the surface that most folks will never get an opportunity to see firsthand.
You'll find shipwrecks, underwater caves, and some of the most beautiful mineral stained ledges of rock, the kinds of sights divers will see here in Michigan and nowhere else.
The Smith More ship sits in about 70 to 105 feet of water and is a perfect vessel to explore for those looking to dive a little deeper. Those that want to stay closer to the surface, however, can check out the Bermuda. This is a boat that sank in 1870 and is located just 12 feet from the surface.

If you really want to get a feel for all the history in the Alger Underwater Preserve be sure to take advantage of the two hour
Glass Bottom Shipwreck Tour
. You'll be able to get a look at a bunch of the shipwrecks you can later explore while you dive from the comfort of a beautifully appointed tour boat.
6. Straits of Mackinac Shipwreck Preserve
All you have to do to get a feel for just how dangerous the Straits of Mackinac are for ships traveling this waterway is to go up on the 5 mile long Mackinac Bridge and have a look down at the water below.
You'll see the violent swirls, how turbulent this water really is, and will have a much better appreciation for why there are literally dozens of boats sunk throughout these straits.
Diving this water is not for newbies, but for those with plenty of experience and nerve.
Those that do decide to head below the water here, however, will be able to see the third-largest freighter ever lost in the Great Lakes, the Cedarville – a beautiful and almost perfectly preserved ship sitting in 105 feet of water.

7. Southwest Michigan Underwater Preserve – Lake Michigan
Visitors to South Haven, interested in scuba diving will want to visit the Southwest Michigan Underwater Preserve and dive the Havana for sure.
A decent sized scooter that went down in 1887, divers will be able to see the complete hull, well-preserved keelson, and the centerboard of the vessel without having to string themselves too much. You'll have a much better understanding of turn of the previous century shipbuilding after this dive, that's for sure.
Another great dive in this part of Michigan has to be the Rockaway, a boat lost in 1891. The best part about the Rockaway is that when you surface you can head over to the Michigan Maritime Museum in South Haven and learn a whole lot more about the ship, its history, and how it went down.
8. Whitefish Point Underwater Preserve – Lake Superior
The Whitefish Point Underwater Preserve is home to the legendary Edmund Fitzgerald wreckage, popularized by a song from Gordon Lightfoot.

But that's not the only gem you'll find here!
There is more than 30 different wrecks located within the official preserve site itself, with dozens of other wrecks just outside the preserve "proper".
The Indiana (a wooden steamer that went down in 1858) and the Niagara (204 feet long) are two of the most popular shipwrecks – aside from the Edmund Fitzgerald, of course – that Michigan divers just can't get enough of.
Diving Conditions and Best Time to Dive
If you're looking to enjoy some of the best scuba diving in Michigan, it's a good idea to try and plan your trip for April or May or September and October.
July is also a pretty decent month to do some diving in Michigan, as that's going to result in the calmest conditions (on average, anyway). August isn't terrible – though there have been some legendary storms that spin up in August across the Great Lakes, so you'll want to continuously check the forecast to be sure you're good to go.
Diving in the winter in Michigan is usually a no-go. That's when the water is coldest, the storms are particularly nasty, and most dive shops won't even take charters out in those kinds of conditions.
Which Great Lake Has the Most Shipwrecks?
Though the Great Lakes are home to more than 8000 shipwrecks (and possibly even more), Lake Erie accounts for the bulk of these wreck numbers.
Lake Erie has over 2000 shipwrecks, making this water some of the densest shipwreck water in the entire world.
Interestingly enough, only about 375 of them sitting in Lake Erie have been discovered already. This is why there are so many divers constantly hunting for new wrecks in Lake Erie. More than 500 active scuba divers every year are on the hunt for new wreckage sites.

My unbounded love for the oceans and everything it has to offer motivated me to pursue my passion and become a professional scuba diving instructor.
I keep reading, exploring, and learning more about scuba diving and the underwater world all the time, so I'm excited to share my knowledge with fellow scuba enthusiasts and hopefully contribute a little to your development as a diver. I want people to fall in love with the oceans with as much passion as I have. Read more about me here.