Last Updated: February 14, 2023
Choosing the right place for your next scuba diving adventure is always exciting, but you definitely want to know what you're getting yourself in for before you arrive. Lake Tahoe is known as the "jewel of the Sierra Madres", and for good reason.
Although most people venture up here to explore above the water, Lake Tahoe is an amazing dive location with a number of beautiful spots to visit, incredible scenery to check out, and a lot to offer divers both new and highly experienced.
It is the biggest alpine lake in the whole of North America, spanning nearly 500 square kilometres of fresh water, and it lies on the border between California and Nevada. It should come as no surprise that there is almost as much to see below the surface as there is to explore on its shores.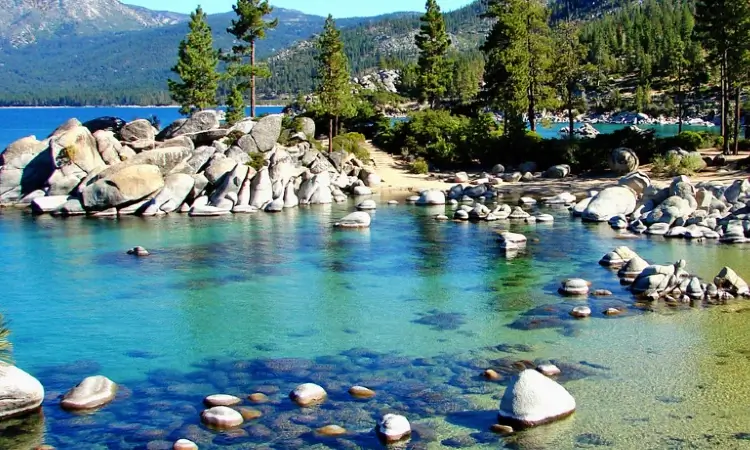 If you're looking for an adventure, scuba diving at Lake Tahoe should definitely be at the top of your list. The lake is absolutely massive and incredibly deep, so there is a lot to see and many places to get your feet wet (literally).
To give you an idea of what you might expect, I'm going to take a look at some of the most popular sites for diving around the lake, why they have become such favorites, and what you can expect if you do decide to give them a try.
Top 5 Lake Tahoe Dive Sites
1. Sand Harbor
If you've seen any pictures of Lake Tahoe, then you've probably been looking at Sand Harbor. It is highly picturesque with sandy beaches, tall trees, and shallow waters. This is the perfect place for a beginner to start their diving journey. Most of the water around the beach itself is around 20 feet in depth, but there is still quite a lot to see.
If you're a little more experienced, you can swim further afield from Sand Harbor, too. At around 300 feet from the shore, the depth slopes away from about 40 feet to more than 100. You will find lots of large boulders to look around, as well as some trees below the surface and even vertical cliffs.

2. Rubicon Wall
Rubicon Wall is more of a landmark than a specific dive site, and it is truly magnificent. This colossal stretch of underwater cliff formation is miles long, stretching around the southwestern corner of the lake.
Most people start their dive around Calawee Cove, and you will immediately be able to feast your eyes on the remarkable castle-like rocks and craggy granite walls that made this area famous.
If you travel south, you can go even deeper as well, and the wall itself drops hundreds of feet down to the lake floor at some points.

3. Emerald Bay
You need to be a little more prepared to visit Emerald Bay, but it is well worth the time and effort. The sites here are only really accessible by boat, unless you feel like taking an extremely long walk with all of your gear.
Visibility is not as good here as it is elsewhere on the lake, and the Emerald name is more than earned. The water is very green, but that just makes exploring it even more exciting and mysterious.
You can find four separate wrecks that are part of the Emerald Bay Maritime Heritage Trail:
Wooden Barges,
Florence M. Passenger Launch,
Wooden Fishing Boat,
and Hard Chine Skiff.
They are all great fun to look around, and each one has its own information panels that will explain a little more of their individual stories.
4. SunnySide
Sunnyside is a small and relaxing little spot that's also known as William Kent Beach. It is rocky and pebbly, rather than sandy, and the water gets deep fast.
The best place to explore is north of the beach itself, where you will find logs and cut lumber in a large debris field spanning from around 30 feet to more than 100 feet in depth. It's a favorite hangout for lake minnows, and you will probably see schools of suckers around here as well.
It can be a little tricky to get your hands on a parking spot to visit Sunnyside though, because there are only a few nearby, so it's best to go early and beat the crowds.

5. Hurricane Bay
The locals love Hurricane Bay for its free parking close by, deep water, and interesting landmarks.
The two main attractions in the bay are the Alley Cat and an old truck chassis that was turned into a boat trailer. The Alley Cat is an infamous little sailboat that rests at the bottom of the lake, and it is filled with little quirks and funny objects that all have a unique story.
The truck chassis/trailer is a little harder to find, and it's pretty deep down. You have to hit around 100 feet if you want to see it up close.

Diving Conditions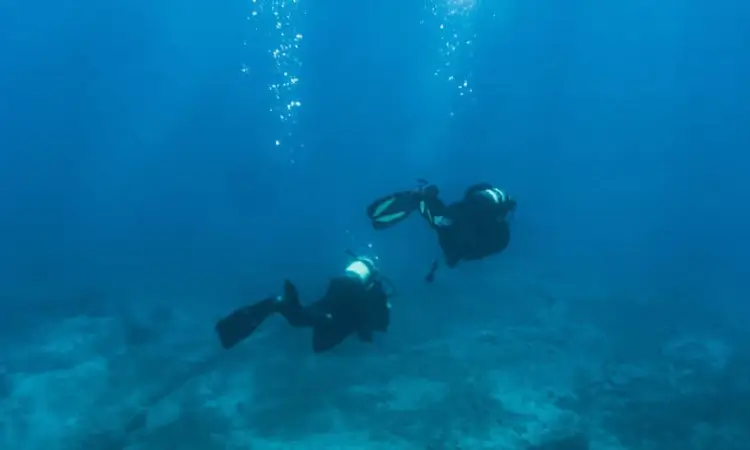 So, what can you expect from the water when you get there? In terms of visibility, it is generally excellent at Lake Tahoe. Usually, you can expect visibility between 30 and 75 feet, but at times it will be as far as 100 feet or more.
On a really bad day, you might get low visibility that only reaches the 15-foot range, but that is relatively rare.
When it comes to temperature, things are a little less ideal. Around the surface, it is usually between 40°F and 50°F in February and March but closer to 60°F or 70°F by August. As you dive, it does get noticeably colder, and below around 600 feet you can expect temperatures to be consistently around the 40°F mark.
It is a mountain lake, after all, so it shouldn't be too surprising that you're going to be dealing with cold water diving. It's probably best to explore Tahoe in a drysuit, but it's not as freezing as you might think, considering how high up in the mountains you are.
Best Time To Dive
The best time to dive at the lake does really depend on what you want to get out of the experience.
If you're looking for the greatest visibility, then the winter months are going to be your best bet. Boat traffic is significantly less at this time of year, and conditions are usually better for deeper dives.
See other great places to scuba dive in California here
March through October is when most people choose to go, because the temperatures are warmer and the days are longer. Obviously, that does make these months a little busier.
No matter when you choose to visit, it's always best to dive early in the morning to avoid the crowds. This is when the water will be at its calmest, so you will get the best visibility possible.
Top Dive Centers in Lake Tahoe
If you're ready to visit, then you should definitely check out some of the excellent dive centers while you're out there. Most of the full-time dive shops in the region can actually be found in nearby Reno, but there are a few that open up closer to the lake over the diving season.
– Sierra Diving Center
Sierra Diving Center is in south Reno, and it's got everything you could need for exploring the lake. They offer equipment, lessons, training, technical diving, and much more – and the store itself is open all year round.
– Tahoe Dive Center
Over the summer, Tahoe Dive Center is a great option for tours, equipment, and other services too. They can be found right next to the lake, in Kingsbury, but they are only open during the summer season. Their team is full of enthusiastic professionals, so you know you are in good hands.
– Adventure Scuba Center
Adventure Scuba Center is a great location in Reno for all of your diving needs. Whether you're a beginner looking to have your first lesson or an experienced diver and you just want some equipment serviced, they have you covered.
Frequently Asked Questions
Is Lake Tahoe Good for Scuba Diving?
Lake Tahoe is an incredible place for scuba diving. There are dive sites all around the lake, great visibility, and some exciting landmarks to explore as well.
Can You Scuba Dive to the Bottom of Lake Tahoe?
You can scuba dive to the bottom of some of the shallower areas of Lake Tahoe, but you would not be able to get anywhere near the bottom of the deepest point – even if you were very experienced. The average depth is over 900 feet.
How Deep is Lake Tahoe at its Deepest Point?
Lake Tahoe is more than 1,600 feet deep at its deepest point. This is beyond the limits of a scuba diver, but it has been reached by robots and submersible craft. The record for the deepest dive on open circuit scuba is currently 1,090 feet.
Does Lake Tahoe Have Underwater Tunnels?
There is a lot to see under the surface at Lake Tahoe, but the idea that the lake is connected to others by underwater tunnels is a myth. No scientific evidence has been found to prove the existence of such tunnels, and experts have debunked the "oddities" that led to people believing in the tunnels in the past.

My unbounded love for the oceans and everything it has to offer motivated me to pursue my passion and become a professional scuba diving instructor.
I keep reading, exploring, and learning more about scuba diving and the underwater world all the time, so I'm excited to share my knowledge with fellow scuba enthusiasts and hopefully contribute a little to your development as a diver. I want people to fall in love with the oceans with as much passion as I have. Read more about me here.