Last Updated: February 14, 2023
For many residents and habitues of recreational spots, Florida is more than just about warm climates and Walt Disney theme parks. Having the Gulf of Mexico on one side and the Atlantic Ocean on the other, dive sites in the Sunshine State are perhaps as abundant as wild alligators in the Everglades, drawing diving enthusiasts from around the world.
Discover some of them in the historical Fort Myers.
Whether you are someone looking to experience their intro dive or a technical diving daredevil who is ever expanding their boundaries, the phenomenal spots in this nature-bound city will not disappoint.
Overview of Fort Myers
As the commercial center in Lee County, Florida, Fort Myers is also home to more than 92,000 residents and serves as a principal gateway to Southwest Florida. In 1876, Fort Myers was named after Colonel Myers, who served as Quartermaster General of the Confederate States Army. Previously, it was first used to refer to one of the largest forts during the Seminole wars in 1850.
Visitors in Fort Myers or the nearby Cape Coral can check out the Edison Ford Winter Estates, where they can tour historical homes and buildings like Ford Caretaker's Cottage and Edison Botanical Research Lab, among others.
Sailing into its island destinations, such as Captiva and Sanibel, tourists are greeted with patches of white sand, assorted seashells, rich sea life, and a host of outdoor adventures, including snorkeling and scuba diving, that make for an unforgettable trip.
In October 2022, Fort Myers was heavily devastated by Hurricane Ian, which lasted for over a week in the region. Based on the substantial damage it caused, rebuilding efforts are still underway for many of its residential and commercial structures.
Why Scuba Divers Should Not Miss Out on Fort Myers
Quite surprisingly, many people outside Florida don't realize that Fort Myers is also a great dive destination. In fact, its underwater real estate is more than double compared to what awaits you in the Florida Keys. From its beach shores, the sand gradually recedes to the bottom, creating natural ledges that lead to spectacular sinkholes and artificial reefs, which make up for the area's lack of soft corals.
Amateur divers can indulge in snorkeling or marvel at various accidental and purposeful wrecks, housing large schools of fish and marine life that run only several miles offshore. At the same time, the areas have safety protocols, while the beaches have good visibility for the most part to ensure a pleasant and safe experience.
Residents and guests alike are expected to refrain from displacing, feeding, let alone killing sea creatures, several of which are either endangered or protected species. And to always use common sense, avoid harming the delicate coral reef and dive within ones limits to ensure a safe and enjoyable experience.
In the meantime, divemasters and technical divers can explore the more remote sites that will satisfy their thirst for great discoveries and adventures. As long as the weather permits, one can venture further into the Gulf to see the most amazing undersea wreckages.
For shark tooth diving, consider heading to Venice Beach, less than an hour from Fort Myers. Having an underwater camera and video to capture the beauty and action below sea level is highly recommended.
Best Fort Myers Scuba Diving Sites
Scuba divers and recreationists are in for a treat when in Fort Myers, whether admiring the inhabited reefs or exploring big and historic wrecks. There are many glorious dive sites from top to bottom and every spot in between, all promising to take your breath away.
Let's dive deep into the best scuba diving Fort Myers has to offer.
1. Wiggins Pass Reef
Wiggins Pass Reef is the biggest hard bottom reef outside Keys that shore divers would not want to skip. It runs parallel to Wiggins Pass beach, where you can enjoy snorkeling and other water activities. It is about 3 miles in length and 1 mile in width
The southwestern coast, in general, is suitable for all divers regardless of skill due to its shallow waters. Thus, it also caters to fishing and kayaking.
But since the currents may run high and strong, knowing how to swim against them would be best when diving in the area.
2. USS Mohawk
You can find this 165-feet long coastguard cutter almost 30 miles west of Red Fish Pass in Captiva Island at Charlie's reef. This decommissioned World War II vessel was sunk in 2012 to create an artificial reef. Now it serves as a memorial for US War Veterans and is considered the crown jewel in the Gulf.
The shipwreck, which sits perfectly upright in about 90 feet of water, provides plenty of room for exploration. However, the cutter's crow's nest extends up to just 35 foot below the surface, with the main deck sitting at 60 feet depth.
Although the structure surrounding its engine room has collapsed, advanced divers can still access several decks. It still has its interior equipment where goliath groupers and many warm-water fish love to seek refuge.

3. Santa Lucia
The Santa Lucia wreck is sunken at just over 20 feet. It used to be a 47-foot turtle boat the refugees to the US traveled on to escape Cuba in 1994. Three years later, it was moved from the boatyard to the sea and became an artificial reef.
Chaotic swirls of French Angelfish, baitfish, and Goliath groupers, among other sea creatures, inhabit the cabin and other parts.
Since it's more accessible and not too far from the shore (less than 4 miles), you can expect to see other divers around this popular diving spot (frequented even by novice divers).
4. Captiva Blue Hole
Also referred to as "The Crack," Captiva Blue Hole is an enormous cavern or sinkhole with an initial depth of 95 feet, bottoming out at around 180 feet. It houses a variety of sea animals like octopus, barracuda, snapper, amberjack, and grouper, to name a few.
Its limestone wall features many undercuts experienced divers can explore 30 miles offshore of Boca Grande.

5. The Paddlewheeler
About 30 miles off the Marco Island coast, the Paddlewheeler tells a story of a shipwreck estimated to be a century old. This wreck, which looks like it used to be a steamer navigator, evokes an undersea mystery that has sparked the curiosity of many scuba divers.
It is sunk at roughly 80 feet but only 5 feet high. Fishermen whose net got caught in its protruding parts led to its discovery in 1980.

6. The Baja California
A former Honduran steamship turned artificial reef sits upright 114 feet below 60 miles west of Naples. Some of its original cargo remains on site, consisting mostly of glassware, and it has become a haven for colorful tropical fish.
Given its immense depth and open water diving setup, nitrox divers are more equipped to handle its underwater conditions.

7. Sanibel Island
Aside from the USS Mohawk, roughly 28 miles offshore, Sanibel Island also has a dozen more reefs within a 15-mile radius.
The Belton Johnson reef is another example which is only 5 miles away. Then there's the Edison reef made of rubble remnants of a mainland bridge, ARC Tower, and Pegasus that are engulfed in marine growth, becoming sanctuaries for barracudas, moray eels, nurse sharks, etc.
Novice divers can take advantage of exploring some of these manmade reefs that are not only more accessible from the island but also have modest depths of 60 feet or less.
Diving Conditions and Best Time to Dive
While there are optimal dive seasons and conditions, scuba diving in Fort Myers is practically available any time of the year. Its exuberant below-the-surface water ecosystem makes it suitable for any diver. Each site is good for a particular type and dependent on one's diving goals and skill level.
The average annual water temperature on the surface is between 70 and 80 degrees Fahrenheit, with July being the warmest month. Water visibility hovers up to 100 feet below the surface in the best part of summer, and seas are typically calm, which makes for smoother boat rides to target spots. But because of the continuous freshwater outflow from the Everglades that mixes with the Gulf's swift currents, waters tend to be murkier midsummer and winter.
Tourists who visit during winter are recommended to wear a hood, 7-millimeter wetsuit and scuba gloves when diving for added cold protection. Although there are mild rains, for the most part, hurricanes are common from June to September in Florida.
Sea Creatures you Might See in Fort Myers
Fort Myers waters are teeming with marine life that you don't have to swim out far to see some of them. You're likely to find fish a few feet off the shore, such as rays, sawfish, and pufferfish, to name a few, as well as hermit crabs and echinoderms.
But here are the main attractions that people look forward to seeing when they swim or dive around Fort Myers.
Dolphins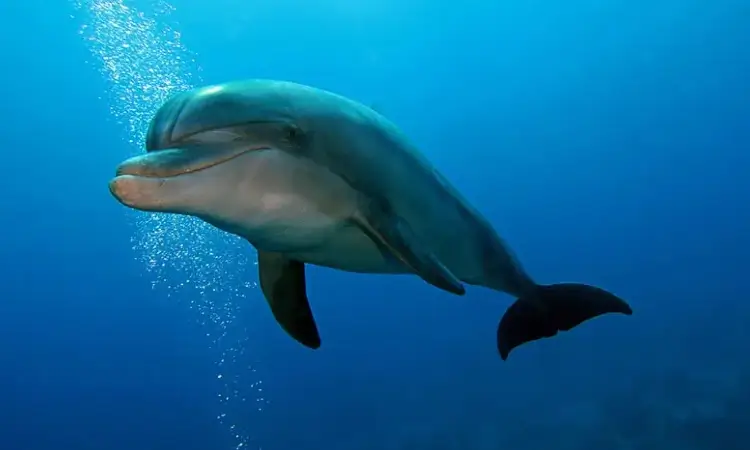 Swimming with dolphins is a bucket list experience for many. You are bound to encounter them, particularly bottlenose dolphins, when scuba diving or heading out into the seas.
In any case, dolphin tours can also be arranged by riding a wave runner for that fun opportunity to interact with the most naturally friendly sea mammals. Dolphins love showing off their tricks and acrobatics, flipping mid-air from the ocean, and putting on a smile for their adoring fans.
Manatees
Also called the lumbering water cows, manatees are highly visible in Fort Myers, especially during winter months from late December to March. They prefer the warmer Florida waters at this time and converge at Lovers Key State Park and Manatee Park.
You might have smaller chances of seeing them in the summer as they prefer to be in the Gulf of Mexico from April to November.
Sea turtles
Sea turtles are best appreciated from a distance in their natural habitat. In other words, look, but don't touch. Aside from being already endangered, the young ones have a low survival rate.
Dozens of sea turtles step out to Fort Myers beach during the breeding season. Avoid disturbing them by flashing lights or creating noise that may upset them or jeopardize their processes. Instead, you can watch them lay their eggs and retreat to the ocean without interfering.
Top Dive Shops in Fort Myers, Florida
Since different spots cater to certain diving skills, it is always best to check with dive centers for further information and precaution. You can buy or rent snorkels, fins, masks, and other gear you might need during your stay. Below are some shops that can help you.
– Captain Pete's Diving Outfitters
As a full-service dive operator, Captain Pete's offers dive gear and classes in Fort Myers and other Southwestern locations. They organize dive tours outside Florida too, like the Bahamas and Turks and Caicos.
– Dean's dive center
This locally-owned dive shop provides all PADI training courses and certifications, such as open water diver, deep diver, divemaster, and many others. At the same time, Dean's Dive Center sell diving-related items and supplies like nitrox fills. Their services also extend to equipment rental, repair, and maintenance.
– Scubavice Diving Center
Scubavice Divers began more than four decades ago with the goal of training divers to not only be the best but also to practice safety at all times. It takes pride in being a NAUI Platinum facility, a Technical Diving center and an SDI training center, with its own heated pool and diving facilities for practical training.
Frequently Asked Questions
Is there good scuba diving in Fort Myers?
Yes, and there's a lot of it. Fort Myers underwater has a network of artificial reefs hosting massive schools of fish and exotic sea creatures, several of which are highly accessible by novice divers, given their proximity to the shore.
Can you snorkel in Fort Myers?
Fort Myers' long coastlines and gradual recession of sandy bottoms make its beaches ideal for safe snorkeling. Visitors will be in awe of the variety of marine life without having to venture too far into the sea.
One of the best places to snorkel is Bowditch Point Park, as it features a wide variety of fish and coral. Lovers Key State Park is another excellent spot for snorkeling, as it is known for its clear waters and abundant marine life.
Do I need to get scuba diving insurance in Fort Myers?
Dive centers and tour organizers in Fort Myers will not require you to have diving insurance. Professional divers, though, are expected to have it. It is also in any diver's best interest to get one, especially when going on dive expeditions with considerable depths.
Can you scuba dive in Fort Myers without certification?
Depending on the dive site and type of activity, Florida generally does not require a certification to engage in scuba diving. Beginners are usually accompanied by a licensed scuba instructor, which will suffice to ensure their safety. And besides, they will be brought to shallower sites anyway. However, there will be shops that will only rent equipment to certified divers.
Final Thoughts
Scuba diving in Fort Myers Florida offers a great underwater experience. The water is clear, the visibility is good and the climate is also warm year-round, so you can dive any time of year. There are many different sites to choose from, including reefs, walls, ledges, and shipwrecks.
Whether you're a beginner or an experienced diver, there's sure to be a dive site that's perfect for you.

My unbounded love for the oceans and everything it has to offer motivated me to pursue my passion and become a professional scuba diving instructor.
I keep reading, exploring, and learning more about scuba diving and the underwater world all the time, so I'm excited to share my knowledge with fellow scuba enthusiasts and hopefully contribute a little to your development as a diver. I want people to fall in love with the oceans with as much passion as I have. Read more about me here.