Last Updated: February 8, 2023
Scuba diving is a beautiful way to explore the depths of the ocean. However, you will need to learn a little to become a diver. While it may seem complicated, becoming certified with an accredited organization isn't difficult.
To become a certified diver, you'll need to take training courses and a couple of tests. This will help you brush up on your skills and help you become a better diver. There are different levels of certifications, and each has its requirements.
Navigating these levels may seem challenging, but I'm here to clarify all your questions.
Here's a handy guide that will walk you through basic scuba diving certification levels.
How Many Levels of Scuba Diving Are There?
Many agencies have different names for their certifications, but most of their training is similar.
All the available certification levels can be classified into
Recreational Scuba Diving:
PADI Scuba Diver – A start or a middle step towards full certification
Open Water Diver – Gives you autonomy
Advanced Open Water Diver – Gain experience and expand your knowledge
Rescue Diver – Develop your rescue skills
Master Scuba Diver – Highest recreational scuba certification
Professional Scuba Diving:
Divemaster – Start Your Professional Career
Assistant Instructor – Those who teach and train future divers often need assistants
Instructor – Teach, train and certify others
Master Scuba Diver Trainer – You have certified at least 25 divers and have completed at least 5 specialty instructor courses
IDC Staff Instructor – Help trainers or course directors teach new instructors
Master Scuba Instructor – Being recognized as an elite diving instructor
Course Director – Teacher of teachers
So alltogether I can say that there are 12 certification levels. But most accredited organizations offer 5 major classes (based on PADI) that I cover below.
Level 1 – Open Water Diver Certification
The first step to becoming a certified scuba diver is obtaining your 'Open Water Diver certification'. This is your ticket to discovering the beauty of the underwater world on your own.
This level features introductory lessons that will help you dive safely. The course covers all the scuba diving essentials and helps you get comfortable with your gear. Moreover, it enables you to gain confidence while diving, which prepares you for what's ahead.
Level 2 – Advanced Open Water Diver Certification
Next, you'll come to the 'Advanced Open Water Diver Certification'. Once you've passed the first level, you should have all the basics covered. However, there may be some instances where you may find yourself being clumsy underwater.
The weight of your gear could be a significant factor, and this level will help you get more comfortable with your movement. You will practice navigation, buoyancy and try deep diving.
This course will cover different specialty dives (3 of your choosing), like Digital Underwater Photography, Enriched Air Nitrox, Fish Identification, Night Dive, Peak Performance Buoyancy, Search & Recovery, Wreck Diver and other – so you will get plenty of training with your instructor.
Level 3 – Rescue Diver Certification
If you've made it this far, congratulations! You have gained enough experience and are on your way to becoming a professional diver. The third level is the 'Rescue Diver certification', which is about keeping others safe while diving.
As a professional diver, you may find yourself in situations where you will be diving with newbies. This level prepares you for the unexpected. If your members face an emergency underwater, you'll be trained to handle it.
You will cover various emergencies during this level that will train you to help others. Lastly, you will learn basic first aid and skills to rescue divers.
Level 4 – Divemaster Certification
Do you want to turn your love for diving into a paying job? To do so, you will need to complete instructor levels. The first instructor level is the 'Divemaster Certification' for people who want to dive deeper and lead excursions.
Obtaining a Divemaster will require a lot of effort. You will need to gain enough experience and understand diving skills well. However, the course is fun, and the journey is quite rewarding. It will cover the basics of leadership, planning, and supervising diving trips.
Level 5 – Instructor Certification
The instructor certification is the final level and may be the most challenging. This level is for you if you have a passion for diving and want to tell the world about it. It allows you to train upcoming diving instructors.
This is the perfect opportunity to pass your knowledge and skills to young divers earning their levels. You will be tested, and your teaching skills will be evaluated. Moreover, this means you will need to take classroom and in-water training.
PADI Certification Levels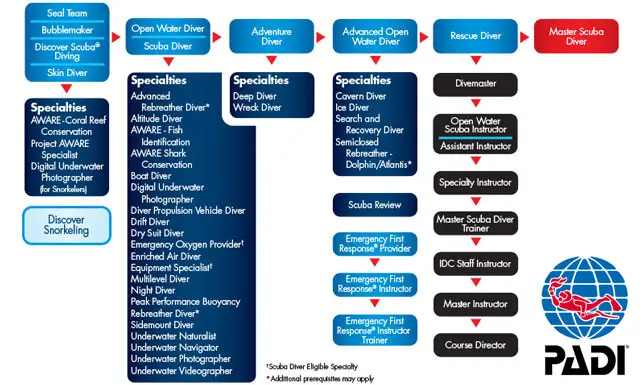 The Professional Association of Diving Instructors (PADI) is one of the most recognized diving institutions in the world. It offers a wide range of certifications for divers from all levels, so there is something for everyone. From beginner to professional, PADI caters to everyone.
PADI offers five major certifications, which I have just covered. However, several other levels exist for individuals who want a more specialized diving field.
The organization is known for its professional instructors and great learning options, it also features e-learning.
Diving Certifications Other Than PADI
While PADI may be the most recognized and largest dive training organization in the world, there are plenty of others like SSI, NAUI, or CMAS.
Association such as Scuba Schools International (SSI) are excellent to get certified from. SSI offers a popular certification program. It provides various certifications for divers at all levels.
The National Association of Underwater Instructors (NAUI) offers one of the world's oldest and most recognized diving certification programs. This should be your top choice if you're looking for skilled instructors. What's more, the NAUI is renowned for its high-quality training and education.
Remember to do the research before opting for a particular program.
What is the Highest Scuba Certification?
The highest scuba certification depends on the organization you pick. Each has its levels; however, there are a lot of similarities among them. If you opt for PADI or NAUI, their highest level in recreational diving is the 'Master Scuba Diver' rating. Did you know that less than 2% of divers receive this rating?

You will need a lot of experience and training to become a master scuba diver. Apart from the number of dives, you will need to complete different levels and specialty courses to be considered for this certification.
On the other hand, if you opt for SSI, its highest rating is the Dive Control Specialist. This level allows you to become an instructor and teach other divers in a classroom.
Which Diving Certification is Best?
Each diving organization sets its standards, methods, and curriculum. Identifying the best certification can be difficult. Instead, if you want to become a professional diver, I recommend doing your research.
Before opting for a certification, set your goals and determine whether the level will help you. You could try asking senior divers in your circle for some answers. There are a lot of good certification options out there, so don't worry too much about it.
Final Thoughts
It is also quite useful for beginners to think about the different certification levels in terms of skills obtained, it just clears any confusion.
Open Water Diver Certification – Keep Yourself Safe
Open Water Diver Certification – Learn to Respect the Environment and Tools
Rescue Diver Certification – Keep Others Safe
Divemaster Certification – Teach Others

Instructor Certification – Teach Professionals
Not mentioned here are numerous specialty and technical courses, and new ones are being introduced all the time. Once you become an open water diver, you can just keep learning.
Although, scuba diving is a constant learning process, it offers an entire new world of knowledge and experience.
My unbounded love for the oceans and everything it has to offer motivated me to pursue my passion and become a professional scuba diving instructor.
I keep reading, exploring, and learning more about scuba diving and the underwater world all the time, so I'm excited to share my knowledge with fellow scuba enthusiasts and hopefully contribute a little to your development as a diver. I want people to fall in love with the oceans with as much passion as I have. Read more about me here.