Last Updated: March 8, 2023
Mexico's Yucatán Peninsula is home to several tantalizing sinkholes, know as cenotes, that attract scuba diving and snorkeling enthusiasts from around the world.
The Yucatan Peninsula in Mexico has many cenotes that you can explore with just a snorkel and fins or your full scuba gear. This includes, but is not limited to, Dos Ojos, Angelita, Tajma Ha, and Dream Gate.
In this article, I list ten of the best cenotes in Mexico's Riviera Maya, located on the northern Yucatán Peninsula, as well as what you need to know about each dive.
What are Cenotes?
Simply put cenotes are just sinkholes filled with water. These caves consist of limestone which erodes quite quickly, so a ceiling of these caves have collapsed and formed sinkholes. Over time they have developed into spectacular underwater caves that are perfect for curious explorers.
Some cenotes are wide open and some only half filled with water. They are very popular for swimming, snorkeling or zip-lining. But you can also experience spectacular scuba dives.
The Yucatan Peninsula is renowned for its many beautiful and historical cenotes that are linked to the largest known system of underwater caves on Earth.
They were important sources of fresh water for the ancient Maya people who used to inhabit the area. They have even been used for bloody sacrificial offerings to their gods.
Despite their checkered history, these cenotes are renowned worldwide as great diving spots, thanks largely to their crystal clear waters, easy accessibility, and pristine conditions.
Can You Dive in Cenotes?
Yes, you certainly can. In fact, scuba diving in cenotes is very popular. If you do plan cenote diving, there are a few things to consider:
You need to have scuba experience
When visiting a cenote, you will also need to bring a certified diver with you, especially if you don't have your own qualifications.
There are different rules to open water diving
While not necessarily dangerous, cenote diving has a more rigid and technical set of rules that you must follow.
You will need diving equipment
You will need normal scuba diving gear (including a long wetsuit for the very cold water) as well as full boots to protect your feet from the sharp and jagged rock ledges.
It's also a good idea to keep the snorkel at home. You won't need it and there are lots of underwater ledges and tree roots that it will get tangled up in.
Make sure that your dive kit includes a torch or flashlight (and a backup, just in case). Although you're likely to dive only where the light can reach, cenotes are known for their unpredictable dark patches and you don't want to find yourself deep in there with little light and no torch to guide yourself safely to the surface.
Best Cenotes in Riviera Maya – Top 10 Places
Below, you'll find the 10 best cenotes in Mexico. You might not be able to visit each one, but this list will help you choose which ones you might like to visit the most.
1. Dos Ojos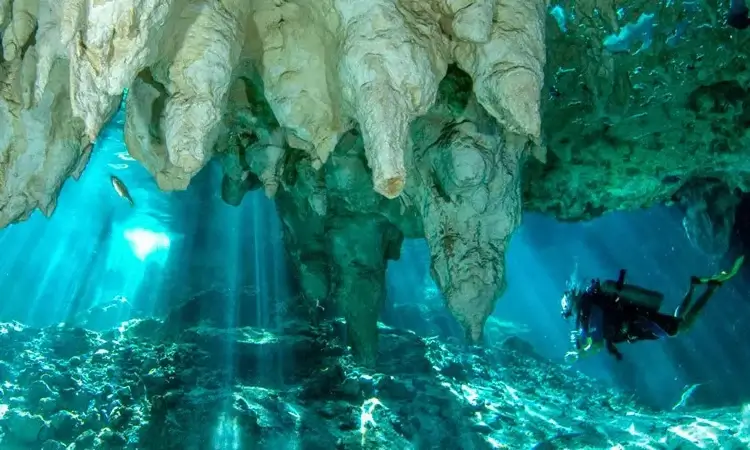 Dos Ojos is one of Mexico's most popular dive destinations, and for good reason: it offers a spectacular cenote-diving experience complete with stalactites, stalagmites, and even a bat cave where you can marvel at a vast population of these fascinating mammals.
You can find Dos Ojos just 48 kilometers (30 miles) south of the holiday resort Playa del Carmen, or only 35 minutes by ferry from the island of Cozumel. It is nestled amidst thick jungle not far north of the small town of Tulum.
The cenotes are clear, shallow, and stunning, with multiple options to practice your cave and cavern diving. When you're close to the bottom, don't forget to look back towards the entrance so that you can appreciate the beautiful strobing effects of the sunlight streaming through the clear waters.
The name Dos Ojos means 'two eyes' in English, and it refers to the shape of the two main cenote openings.
At Dos Ojos, there are two main dives to choose from, the Barbie and the Bat, which are connected so that you can swim between them. There are also plenty of snorkeling and free diving options as well.
However, it can get crowded so if you do decide to make the trip, try to get there first thing in the morning. Even better, try to avoid peak season altogether, which is between May and September.
Basic Facts
| | | |
| --- | --- | --- |
| | Bat Cave | Barbie Line |
| Depth | 10 meters (32 feet) | 8 meters (25 feet) |
| Diving route | 320 meters (1050 feet) | 414 meters (1358 feet) |
| Difficulty level | Medium | Easy |
2. Aktun Ha

Aktun Ha, which can be found just 8 kilometers (5 miles) from Tulum, is widely known for its nickname the 'car wash cenote'. This is because it used to be a popular place for local taxi drivers to come and wash their cars.
With a water level just a couple of inches below ground level, it is safe and easy for most divers to access.
The cenote is famed for schools of freshwater fish, stunning pink lily pads, the occasional turtle, and even a shy crocodile or two. If you're fascinated with the local ancient Mayan culture, a keen eye will also be able to spot fragments of Mayan pottery hundreds of years old.
Divers can choose to swim downstream or upstream, but most take the upstream option because it boasts large, chestnut-colored columns.
With clear green waters and a diameter of about 50 meters (164 feet), this cenote is perfect for those of you who fancy a fine photo. The presence of algae floating at the top also creates a beautiful filtering effect.
Basic Facts
| | |
| --- | --- |
| Depth | 15 meters (50 feet) |
| Diving route | None, it is a pit dive |
| Difficulty level | Easy |
3. El Pit

This cenote, known in English as 'The Pit', can be found about 100 kilometers (62 miles) southwest of Playa Del Carmen, not far from Dos Ojos cenote. With a total depth of 119 meters (390 feet), it is particularly dangerous and should only be attempted by experienced scuba divers. To date, it is the deepest known cenote in Quintana Roo.
If you have the skill and equipment to tackle this cenote, you will experience crystal clear waters that are awash with spectacular light effects. As you make your way down, you will pass a layer of salty water (halocline) at 15 meters and a distinct layer of hydrogen sulfide at 30 meters. This is far as the sunlight reaches and will be as deep as you can safely dive.
At this depth, the effect of swimming amongst submerged tree roots and branches is like flying through a misty forest.
Basic Facts
| | |
| --- | --- |
| Depth | 30 meters (98 feet) |
| Diving route | None, it is a pit dive |
| Difficulty level | Difficult |
4. Angelita
Angelita Cenote offers a unique and picturesque experience, thanks to its single chamber without overhangs or side passages. The almost-circular cenote descends straight down 160 meters (525 feet), although the light will only guide you for the first 30 meters (100 feet) or so. After that, the freshwater is replaced by a halocline layer which itself sits above an almost completely opaque layer of murky seawater.
You can find it about 16 kilometers (10 miles) south of Tulum, set amidst the thick jungle. It is great for scuba divers and snorkelers alike.
Basic Facts
| | |
| --- | --- |
| Depth | 40 meters (131 feet) |
| Diving route | None, it is a pit dive |
| Difficulty level | Medium |
5. Calavera – Temple of Doom

With the nickname 'temple of doom', Calavera (skull in english) cenote evokes an imposing and mystifying diving experience. And the adventure starts before you even hit the water, with divers having to brave the three-meter (10 foot) leap just to reach the water.
Once you're underwater, you will find yourself in the middle of a cathedral-like room with a massive pile of rocks and sediment in the center. Most divers choose to slowly wind their way around this pile as they swim deeper through the different halocline layers.
It is the perfect cenote to experience a beautiful light show as the sunlight shines through the different layers of deep green water. Winding your way around the edge of the cavern, you will even be able to spot fossils embedded in the rock.
Basic Facts
| | |
| --- | --- |
| Depth | 15 meters (50 feet) |
| Diving route | 160 meters (525 feet) |
| Difficulty level | Easy |
6. Tajma Ha
When you enter the cool blue waters of Tajma Ha cenote, you're swimming through several connected underwater caves. Sugar Bowl is famed for a beautiful beam of sparkling white light, while Cenote Esmeralda is tinged green due to the presence of specific local tannins.
Tajma Ha is the perfect place to experience your first cenote dive; it's shallow, clear, and easy to navigate.
For those who like to take beautiful underwater photographs, the intense halocline layer refracts the sunlight into beautiful, eye-catching patterns.
But be careful where you swim, because many divers have injured themselves on the sharp-edged rock profiles.
Basic Facts
| | |
| --- | --- |
| Depth | 15 meters (50 feet) |
| Diving route | 350 meters (1148 feet) |
| Difficulty level | Medium |
7. Jardin del Eden – Ponderosa

This cenote, also known as Ponderosa, is both an enticing dive spot and a spectacular swimming hole set amidst thick, luck jungle.
Thanks to its clear blue waters and numerous shallows, Ponderosa is popular with both snorkelers and serious divers. It is even a popular training dive site.
Jardin del Eden (or in english 'Garden of Eden') is famed for its many species of colorful fish, which practically glow as they swim through the clear waters.
Thanks to its many rock ledges, it's also perfect to experience the sunlight as it beams down through the water, dancing amidst the tree roots and rock ledges.
Basic Facts
| | |
| --- | --- |
| Depth | 14 meters (46 feet) |
| Diving route | 260 meters (853 feet) |
| Difficulty level | Easy |
8. Dream Gate
The two dive options at Dream Gate – upstream and downstream – are considered by many divers to be some of the most beautiful in the world. For this reason, it is an extremely popular cenote for scuba divers.
Although very shallow, the cenote has a difficulty rating because it is a tight squeeze in places and should only be attempted by experienced divers with proficient buoyancy control.
Dream Gate cenote is just one kilometer (0.6 miles) from Dos Ojos cenote, in the same patch of dense jungle.
If you choose to explore this one, you will be rewarded with swathes of delicate stalagmites surrounded by fine, rich sediment.
Basic Facts
| | |
| --- | --- |
| Depth | 6.5 meters (21 feet) |
| Diving route | None, it is a pit dive |
| Difficulty level | Difficult |
9. Casa Cenote
Casa Cenote, which is also known widely as Casa Manatee, is situated particularly close to the beach, just 10 kilometers (6.3 miles) north of Tulum. Set amidst spectacular mangroves, the area is full of pristine wildlife.
Thanks to this proximity, its caverns and pits are connected to the sea through a 50-meter (164 feet) tunnel.
Casa is the perfect cenote to practice your diving, for there is plenty of infrastructure to help you get in and out of the pit. It is also popular for snorkeling and free diving.
Basic Facts
| | |
| --- | --- |
| Depth | 7 meters (23 feet) |
| Diving route | 250 meters (820 feet) |
| Difficulty level | Easy |
10. Chac Mool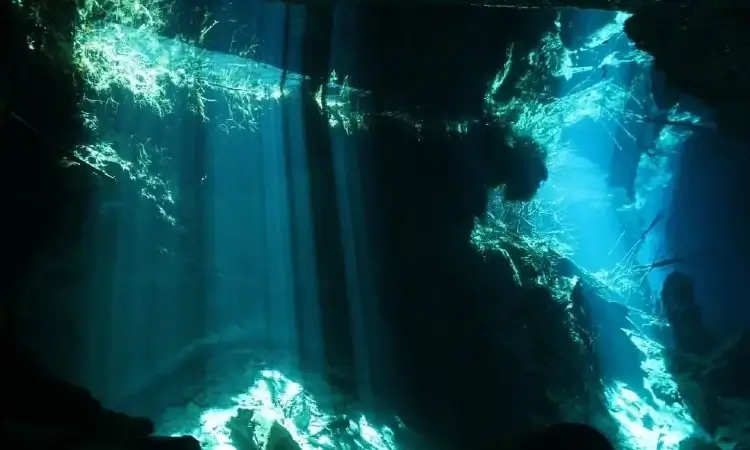 You can enter Chac Mool Cenote from one of its two entrances, both of which lead to the same central chamber. At just 12 meters (40 feet) deep, it is perfect for new divers or those wanting to enjoy an easy, relaxed dive.
The first chamber is a large, light-filled cavern. In the second, collapsed rock has created a ledge and air pocket that divers can use to rest and marvel at the cenote's beautiful stalactites, including the world's largest underwater stalactite.
If you're lucky enough to dive into the cenote on a bright sunny day, you'll have the chance to view a spectacular light show, where the sun beams down into the water, appearing to dance amidst the submerged tree branches.
Chac Mool is about 23 kilometers (14 miles) south of Playa del Carmen, close to Puerto Adventuras.
Basic Facts
| | |
| --- | --- |
| Depth | 12 meters (39 feet) |
| Diving route | 400 meters (1312 feet) |
| Difficulty level | Medium |
Final Thoughts
Now you should have a pretty good idea what are Mexico's finest cenotes on offer and the best way to explore them. There are many to choose from, with easy, medium, and difficult grades available.
No matter whether you're a beginner scuba diver, snorkeling enthusiast, or seasoned professional, there are many beautiful cenotes to explore in the Riviera Maya.

My unbounded love for the oceans and everything it has to offer motivated me to pursue my passion and become a professional scuba diving instructor.
I keep reading, exploring, and learning more about scuba diving and the underwater world all the time, so I'm excited to share my knowledge with fellow scuba enthusiasts and hopefully contribute a little to your development as a diver. I want people to fall in love with the oceans with as much passion as I have. Read more about me here.