Last Updated: June 9, 2023
You don't have to leave the United States to discover brilliantly colorful underwater locations teeming with aquatic life. Pacific Ocean diving is known to be some of the best in the world, and, lucky for us, I have one of the top places to experience it.
Hawaii has long been a favorite hot spot for avid scuba divers.
With eight islands in total (7 of which are inhabited) and tons of coral reefs, shipwrecks, and plenty of open ocean, there is no shortage of dive spots for ocean enthusiasts to explore. While there are plenty of places to discover around the Hawaiian Islands, there are a few standouts among those with diving experience. 
I've compiled a list of the top ten dive spots in Hawaii broken down by islands for adventure seekers that will make your experience extra special.
Best Scuba Diving in Hawaii – Top 10 Sites
Scuba Diving in Hawaii Big Island
Perhaps the island that everyone thinks of first when they picture Hawaii, the Island of Hawaii, also known as the "big island," is filled with locations that are sure to wow even the most experienced divers.
The big island is notable for its underwater lava formations and night dives to get up close with Manta Rays. Two of the most frequented spots are standouts due to their natural beauty and aquatic life that hangs around just waiting to be discovered.
1. Golden Arches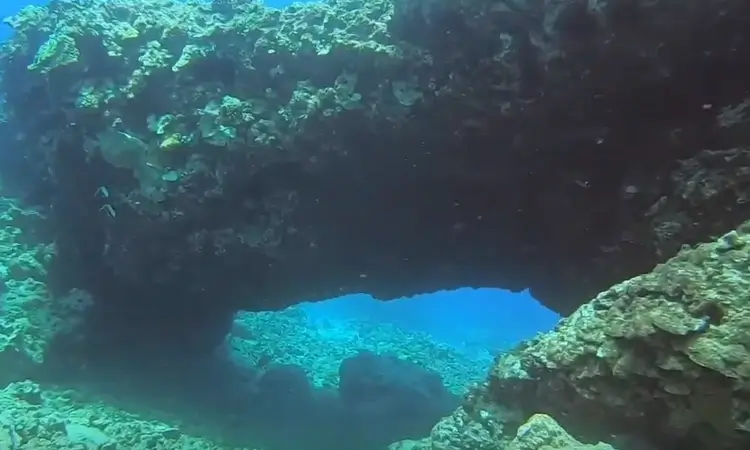 The Golden Arches is the perfect location for divers that wish to experience those aforementioned lava formations. This site boasts large arches formed from a lava flow that hardened beneath the sea.
The largest arch has plenty of nooks and crannies to explore as you swim through, discovering bright yellow reef fish, triggerfish, and even pods of dolphins on rare occasions. After you swim through the first arch, there is another smaller one left to be explored.
It is easy to spend a few hours at this site swimming through the lava rock and seeing what aquatic life you can find. It is also a great spot for beginners, thanks to the gentle currents sweeping through the area.

2. Crescent Beach
If you want a fairly good chance of seeing sharks up close and personal, Crescent Beach may be the perfect spot. Due to it being situated at the mouth of Honokohau Harbor, where fishermen are in and out with their daily catches, this area tends to attract sharks of all kinds.
In fact, shark sightings are so common at this location that one shark has been spotted so frequently that it has earned a name. Laverne, a 16-foot Tiger shark, often visits the site and gives an experience unlike any other.
This place is also great for other marine life, thanks to the beautiful coral reefs and lava formations dispersed throughout. You're likely to spot dolphins, eels, rays, octopuses, barracudas, and various other reef fish.
See more great diving spots on the Big Island of Hawaii here
Scuba Diving in Oahu
The island of Oahu, home to Honolulu, Hawaii's largest city, is an amazing place to visit if you want to see shipwrecks. The island is home to a fair amount of sunken ships that are frequented by many dive operators.
Shipwrecks offer a unique diving experience, bringing in a piece of the world above the surface and incorporating it into life below, providing a new home for all types of marine life.
3. YO-257 Wreck
The YO-257 wreck is best left to the more advanced divers. The wreckage of the 175′ ft Navy oiler sits at less that 100 feet in depth along the south shore of the island. And there is another wreck right next to it called San Pedro.
To create an artificial reef, it was purposely sunk in 1989 and has become a hot spot for marine life and divers eager to witness the colorful scenery.
The site is home to all sorts marine life, such as octopuses, reef sharks, puffer fish, and more. Because of this location's depth as well as stronger currents at times, it is recommended that you only attempt to go here with plenty of experience under your belt.

4. Shark's Cove
This spot is one of the most well-known shore dives on the North Shore. The rocky bay is home to tons of wildlife and stunning clear, blue water. Thanks to the large amounts of boulders and coral reefs present in the area, small caverns were able to form and provide hang-out spots for some of Hawaii's most colorful and vibrant marine life.
Shark's Cove is a great place for diving novices to start out. The surrounding cliff walls keep the waters relatively calm most of the time. And, if you need a break, there are a series of tide pools nearby that are fun to explore.
Scuba Diving in Kauai
One of the westernmost islands in Hawaii, Kauai is known for its lush rainforests and sweeping mountains of the Na Pali coastline. Thanks to its location, it is also home to some of the most breathtaking spots in the island chain, with sightings of the green sea turtle almost guaranteed. You will not be disappointed if diving in Kauai is on your list of places to visit while in Hawaii.
5. Sheraton Caverns
Aptly named due to its location in front of the Sheraton hotel, this place is known for its green sea turtle sightings. You can get an up-close look at the majestic animal and see how they interact with their environment.
Another huge draw to this area is the series of lava tubes that can be explored, which are home to crabs, lobsters, and shrimp. These tubes have tons of cracks and hiding spots that are teeming with wildlife, so there is no shortage of things to look at.
It has so much wildlife swimming about that it has earned the nickname of "the circus," and rightfully so! It's perfect for anyone that wants a relatively relaxed dive with tons of aquatic life to discover.

6. Tunnels Beach
Diving here is sure to allow you to discover the wonders that are lava tubes. If you haven't guessed it already, this beach got its name from the sheer number of lava tubes that sit beneath the surface. These tubes form caverns that make the perfect playground for divers.
It is home to a wide variety of sea life, including sea turtles. You can swim through the tubes or around the coral reef to uncover everything this beach has to offer and in generally pretty calm conditions.
Scuba Diving in Maui
Maui is perhaps one of the most visited islands in all of Hawaii, known for its stunning beaches with beautiful backdrops of other islands and mountains. It is the second largest island in the state and becomes home to Humpback whales during the mating season.
There are plenty of diving sites around the island of Maui, but a few stand out as the most visited, and for a good reason.
7. Black Rock Point
Black Rock Point sits at the north end of Ka'anapali Beach in Maui. For many, this is a must-visit if they're staying on the island. Similar, Black Rock was formed by lava that hardened underneath the surface.
The formations created an extension that juts out into the ocean, and because of this, there are large drop-offs into the open water that you should be aware of. Thanks to its proximity to deeper waters, larger marine life can sometimes be present.
Other than the typical smaller fish that are normally present in a place like this, you likely find stingrays, turtles, and even seals as well. As mentioned before, humpback whales typically show their faces around Maui during mating season to have their calves in the warmer waters.
You may get the chance to see one of these huge mammals in person, although they should never be approached.
8. Molokini Wall
This site will require a bit of a journey to get to and it is definitely not for beginners or inexperienced divers. It is one of the most remote spots to experience while visiting the Hawaiian Islands. About a 40-minute boat ride from Maui, the Molokini Wall is a one-of-a-kind experience.
The wall itself goes to a depth of about 300 feet, although any excursion that takes you to this spot will not go nearly that deep. You can expect to only go about as deep as 100′ ft. It is unique to Hawaii because the wall is part of a volcanic crater that has since fallen below sea level.
Because of the unique nature of the wall and old volcanic crater, the site has been protected for many years and due to that, marine life has been able to thrive in large numbers. You may come in contact with white tip reef sharks, octopuses, eels, the occasional dolphin, and, of course, numerous species of fish.
Some species that have been observed here are exclusive to this area, so viewing them is truly an opportunity you won't get elsewhere. This is a can't miss spot for that reason alone for many divers.

Scuba Diving in Lanai
Lanai is an island that is lesser known. Part of Maui county, it is the smallest inhabited island that tourists can visit, and it is known for its mixture of high-end resorts and rugged landscape perfect for adventuring. You will find some interesting dive locations to explore in Lanai, and one in particular, that is pretty popular.
9. The Cathedrals
This location is one that has earned its name of cathedral. The spot is a series of caverns that formed from collapsed lava tubes. The ceilings of the caverns have broken apart a bit over time, leaving openings to the surface above.
On bright, sunny days, the sun shines through these holes giving the caverns a stunning appearance that mimics how light shines through windows in a cathedral. This spectacular feature alone makes it worth visiting if you're on the island.
You can experience not only these picturesque visuals created by the light, but also have first-hand access to exquisite natural formations such as lava shoots to swim through. And, of course, marine life is plentiful, with dolphins, sharks, various fish species, and sometimes whales.

Scuba Diving in Molokai
Molokai is also lesser-known island in Hawaii, and it's not too surprising why that is. There are very few tourists that make the journey to the island each year in comparison to the other, more populated islands.
There is only one true hotel in Molokai, and most of the island is uninhabited, leading to a rugged wilderness that isn't very tourist-friendly. Just because tourists don't often visit this island doesn't mean that it doesn't have anything to offer. This remote island is home to a popular dive site.
10. Fish Rain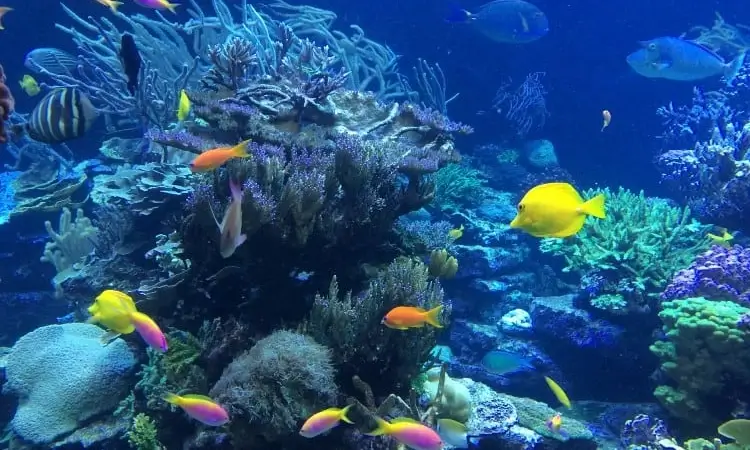 The area known as Fish Rain is a 30-mile stretch of a virtually untouched coral reef ecosystem. In this area alone, there are around 40 places for scuba divers to visit. Many locals tout this location as the best that Hawaii has to offer.
Why is this? Because the reef has been relatively undisturbed, it has allowed vast arrays of marine life to flourish. Some of the Hawaiian Islands' most colorful species make this their home, and it is a must-see for a reason.
You can see fish such as triggerfish, Parrotfish, and other vibrant species. Bigger fish and marine mammals have made appearances here as well. Galapagos sharks, seals, hammerheads, whale sharks, and tiger sharks have all been spotted from time to time.
Of course, the wildlife you see is never guaranteed; there is a good chance you'll see some of the ocean's larger species at Fish Rain.
This spot is not an easy one to dive in, nor is it easy to access. If you're not staying on the island, which can be tough to find accommodation on, you'll have to make the journey over by ferry (or plane).
Once you reach the island, the journey there is anything but easy as well. There are no direct, paved roads leading to the area. All of this, combined with less than favorable ocean conditions, make diving on Molokai suited for those with lots of experience.
Other Notable Hawaiian Dive Thrills
Suck 'Em Up Lava Tube
This place in Kona (Big Island) has a peculiar name, but for a good reason. This lava tube is the perfect thrill for those that have plenty of experience and are comfortable underwater. The area is made up of lava tubes, and the entrance into the caverns is much larger in size than where you come out.
Because the entrance is larger than the exit, if the current is strong enough through the caverns, the exit will essentially suck you up and out of the underwater cavern. This is why it is not recommended for inexperienced divers as it can cause feelings of claustrophobia and panic can take over.
The underwater caverns are also full of marine life just waiting to be discovered if you can brave the thrill ride on the way out.
Manta Ray Night Dive in Kona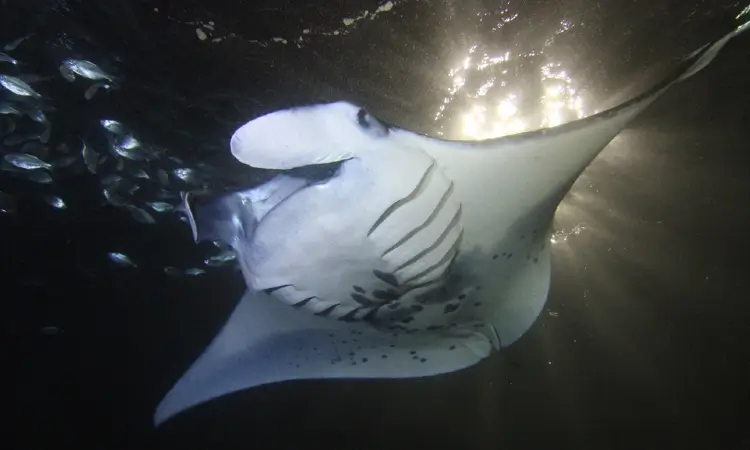 The Big Island is known for offering nighttime dives where tourists can get up close to schools of manta rays. This is perhaps the most well-known diving excursion in the entire state.
Manta rays feed at night, and when on one of these dives, you may get to experience them feeding and traveling in large numbers, sometimes encircling you for a one-of-a-kind experience.
Which Hawaiian Island is Best for Scuba Diving?
While all of the Hawaiian Islands boast beautiful scuba locations and you really can't go wrong with any of them, some may be better than others simply for accessibility purposes.
The Big Island of Hawaii along the southwestern coast of Kona holds some of the most beautiful and popular settings for scuba divers. Sites on Oahu that are close in proximity to the city of Honolulu are also great.
Because these places are easily accessible to tourists unfamiliar with the islands and are close to popular accommodation and lots of transportation options, they are the best diving locations in my opinion.
How Much Does Scuba Diving Cost in Hawaii?
The price for scuba excursions varies greatly in Hawaii, depending on various factors. If you are heading to the islands planning to get open water certified, you'll be paying a bit more than you would if you come already certified.
Price also depends greatly on the length of the excursion, how many tanks you'll need, and equipment rentals. On average, you should expect to pay anywhere from about $150 to $800 or so for different dives and certifications (if needed).
If you're on a tight budget, it is best to do your research before heading to the islands so you know what company to go with and what type of experience you can reasonably participate in.
Diving Conditions and Best Time to Dive
Diving conditions can vary greatly from season to season and also from island to island. Some islands that are less protected from swells from the open ocean can be pretty treacherous no matter the time of year.
Rip currents and large swells are present in a few of the previously listed locations and those are only recommended for the strongest, most advanced scuba divers.
With that said, generally, Spring and Fall are the best times to visit Hawaii to go scuba diving. The waters are much calmer during these seasons, and you will be able to enjoy it a bit more.
Because the water is usually calmer during this time, visibility is also at its best as well. You will be able to see much more than during the Winter and Summer months.
Hawaii Scuba Diving Packages & Operators
Hawaii has no shortage of scuba operators that offer a wide array of packages ranging from shorter outings at shore to night-time dives to see manta rays and ones that take you to hard-to-reach, remote spots such as the Molokini Wall.
Depending on your budget, experience level, and what type of excursion you are looking for, there are plenty of places on each island that will offer what you are looking for.
Below are scuba operators on each island mentioned above, and while these are certainly not the only options, it can be helpful to have a starting point in your research!
Each of these operators has plenty of experience taking guests out to experience the beautiful spots Hawaii has to offer. Another good way to find reputable  operators is to consult with your hotel's concierge if available. They will have plenty of recommendations that are reliable.
Final Thoughts

The Hawaiian Islands are known for many reasons. Their beautiful landscapes, vibrant culture, and access to some of the best ocean dive opportunities in the world. There is no right or wrong location to visit if you're looking to go for a scuba diving adventure.
All you have to do is decide what you want to experience and how much underwater exploration you want to do when you visit. Once you narrow down those details, you'll have no problem finding the most stunning and vibrant locations that will ensure you go home with plenty of stories.

My unbounded love for the oceans and everything it has to offer motivated me to pursue my passion and become a professional scuba diving instructor.
I keep reading, exploring, and learning more about scuba diving and the underwater world all the time, so I'm excited to share my knowledge with fellow scuba enthusiasts and hopefully contribute a little to your development as a diver. I want people to fall in love with the oceans with as much passion as I have. Read more about me here.