Last Updated: March 8, 2023
Sooner or later, anyone serious about scuba diving finds their way down to Florida.
A bucket list destination, not just for American scuba enthusiasts but for divers from all over the world, Florida is set up with some of the best diving spots on the planet. I am talking diving opportunities on all sides of this big, beautiful state – diving in the Atlantic Ocean, the Gulf of Mexico, and in the Florida Keys.
At the same time, though, some dive hotspots in Florida are considered to be a little more attractive than others.
In the rest of this guide I run through (almost) everything you need to know about the great places to scuba dive in Florida today.
Shall we get right into it?
Let's go!
Best Scuba Diving in Florida – Top 15 Locations
While this list is in no particular order, for geographical sake I'll break the places down into these regions:
Panhandle
Northeastern Florida
Gulf Coast
Central Florida
South Florida
Florida Keys
Scuba Diving in Panhandle
1. Pensacola
Pensacola has become a real attraction for scuba divers thanks to the sheer volume of artificial reefs in these waters.
Home to one of the largest military bases in the state of Florida, that military presence made possible the world's largest artificial reef – the 911 foot artificial reef established after the sinking of the USS Oriskany.
Previously a major part of the naval fleet and Essex class aircraft carrier, this wreck sits at the bottom of the ocean just off Pensacola alongside the USS Massachusetts, a Russian freighter, and (literally) dozens of other pieces of military matériel.

Experiencing a
dive in Pensacola
is always something special.
2. Destin
Destin is located a little bit east of Pensacola, but still sits on the northern part of the Gulf of Mexico and offers some really special diving opportunities.
The water is warm pretty much all year round, giving divers an option to spend a lot more time underwater than they might have otherwise. Limestone ledges have beautiful spots of coral to explore and there are huge fish populations in this part of the Gulf, too.
Like Pensacola, Destin has quite a bit of military matériel that has been sunken offshore.
Old tugboats, barges, landing craft, and so much more makeup artificial reefs that divers will have plenty of possibilities to explore all on their own.
Check out the best spots to dive in Destin here.
3. Panama City
A major artificial reef initiative rolled out in the 1970's by the then Mayor of Panama City transformed this spot almost overnight into a "must-see" scuba destination.
Navy ships, pontoon boats, bridge spans, hovercraft, and even military buildings were all shipped into Panama City and sunk out in the Gulf of Mexico. A 465 foot British tanker even found its way to Panama City after being torpedoed by German submarines in the 1940's, the real crown jewel of this artificial reef collection.
Scuba Diving in Northeastern Florida
4. Jacksonville
Divers looking to get in on the action in Jacksonville are going to want to try and shoot for summer months whenever possible. That's when water temperatures hover around 80°F or so and visibility really starts to skyrocket.
The continental shelf is situated pretty far offshore from Jacksonville, making almost all of the scuba diving in this part of Florida available to recreational divers that aren't looking to really push things.
Those that are feeling pretty adventurous can check out the 327 foot Casablanca, a ship sunk intentionally in 1972 (right alongside a 220 foot freighter called Anna, which went down in 1986), to find a real thrill.
5. St. Augustine
At the conclusion of the Persian Gulf War the U.S. Navy brought 33 A6 attack bombers that they intended to decommission down to St. Augustine.
These jets – jets that flew in combat during that conflict – were brought just offshore and then intentionally sunk just about 24 miles off of the St. Augustine Inlet proper.
Today they sit in 110 feet of water (warm, generally pretty calm) and are available for anyone looking to do a little underwater exploring.
Scuba Diving in Gulf Coast
6. Sarasota
You don't have to get very far ashore from the city of Sarasota to get into some real amazing scuba diving.
About 5 miles offshore you'll find a whole host of limestone ledges under the waves that offer schools of fish plenty of opportunity to thrive. If you want to see a ton of underwater life, these ledges are perfect.
If you're willing to go a little further offshore (30 miles or so) you'll come across a legitimate shipwreck BayRonto.
This ship went down in 1919 carrying a load of wheat from Galveston headed for England – but a storm sank her faster than the crew ever could have expected. Luckily, the entire crew was able to get off of the ship in time and into lifeboats.
Now that wreck is a beautiful artificial reef but not something that you want to risk going inside. It's been collapsing over the last hundred years and you don't want to be under the wreck when it finally gives way.
Check out other great diving sites in Sarasota here.
7. Venice
Every year, people from around the country come to Venice to do a bit of diving just because of the unique opportunities available to take things from the ocean floor without having to fork over a ton of money in the process.
Venice is absolutely littered with sharp teeth, relics, and all kinds of other underwater trinkets (some dating back centuries) that you will be able to pull up and keep all for yourself.

The only other way you'd be able to bring home underwater treasures like this is if you were on a sanctioned shipwreck search (or were peeling a wreck you'd found illegally).
Scuba Diving in Central Florida
8. Ginnie Springs
Ever drank bottled water from Dannon before?
If so, you've actually already had a little bit of water from Ginnie Springs. This is where they source ALL of their spring water!
That's a pretty solid (and ringing, really) endorsement for just how crystal clear, how clean, and just how picture-perfect the water in Ginnie Springs is.
A 100 foot diameter depression (with three smaller springs located pretty close by), you'll have at least 100 feet of visibility in this water at all times – all year round – and often even more visibility than that.
Visibility like that is something every scuba diver should experience at least once.
9. Devil's Den
This cave system collapsed thousands of years ago, cracking open and giving a "window" into the steam rising off of the warm spring below.
Early settlers thought that this was a window into the depths of hell and stayed about as far away from it as they could. Today's scuba divers, though, not only creep up to get a better look – they often jump right in.
The water drops to about 50 to 60 feet deep, which isn't that much (compared to other diving spots). It's the caves below, though, that are the real star of the show.

Many of the caves have been blocked off because of potential risks, but there are still a bunch of safer caves that are still open for exploration.
10. Blue Grotto
If you want to do a little bit of cave diving in Florida but do not have a cave or cavern scuba certification yet, Blue Grotto is the spot for you.
Foolishly affordable (less than $30 will give you an entire day of diving), you can also do a little bit of "free diving" thanks to the diving bell located at about 30 feet.
Air is pumped directly into the diving bell, giving divers the chance to pop inside, spit out their regulator, and have a quick chat with anyone that they are in the water with.
It's a wild time!
11. Crystal River
The entirety of the Kings Bay region is a hotspot for manatees that love to make their way to Crystal River starting in November (and staying straight through April).
These monsters of the underwater world – weighing north of 1000 pounds on average when fully grown – are actually pretty gentle.
You're not suppose to dive with the manatees (snorkeling is allowed), but there are a lot of opportunities to get pretty up close and personal with these beautiful creatures in ways you wouldn't have been able to anywhere else.
Just remember that manatees are protected by seven different sanctuaries (as well as a major national wildlife refuge). You do not want to fool around with the manatees, harass them, or cause them any discomfort whatsoever.
You'll be in for a world of legal hurt if you do.
Scuba Diving in South Florida
12. West Palm Beach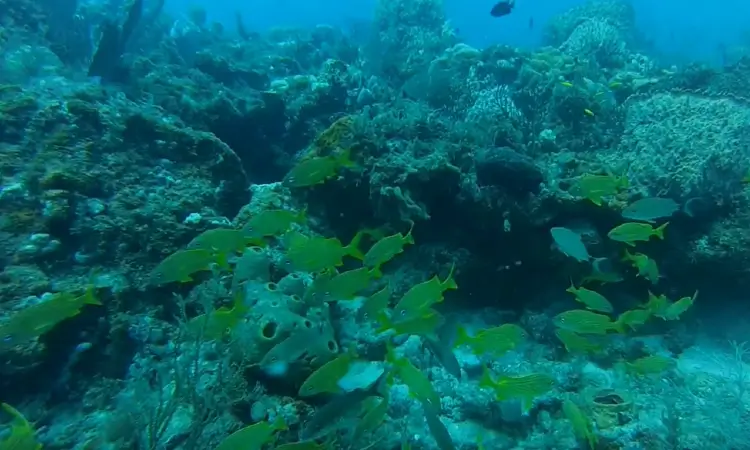 You need to be a little careful when scuba diving in West Palm Beach, if only because this is home to the second largest ocean current on the planet – and it's located only a mile offshore.
That's not something you want to get tangled up in.
Luckily, though, West Palm Beach has a whole bunch of diving sites that aren't going to pull you into that current.
You have the Breakers Reef, the "Corridor", and a lot of other little hotspots that are well worth checking out.
Breakers Reef is where you'll want to go if you're interested in seeing all kinds of ocean life. The Corridor is an artificial reef made up of half a dozen different ships intentionally sunk about 10 minutes out from the West Palm Beach inlet.
13. Fort Lauderdale
Fort Lauderdale, located less than 30 miles north of Miami, reminds a lot of people of Venice in Italy. That is thanks to its incredible canal system – fully navigable canals, at that – so it should be no surprise that scuba diving would be a huge part of the city's culture.
Local government organizations (as well as a whole host of nonprofits and for-profit operations) have all come together over the years to build one of the most impressive artificial reef programs on the Atlantic coast.
Dozens and dozens of ships have been intentionally sunk. Three retired oil platforms have followed them, too. And the reef is really only just getting started.
If you like to spend time in and on the water, Fort Lauderdale is certainly one of the best places for scuba diving in Florida.
Scuba Diving in Florida Keys
14. Key Largo
People have been coming to Key Largo for decades to dive, thanks to the incredible natural reefs as well as the overwhelming amount of fish that live in this part of the ocean.
One of the most popular attractions here is the statue Christ of the Abyss, a nine foot bronze statue that is 25 feet underwater off the coast of Key Largo. This statue is located in John Pennekamp Coral Reef State Park.
More recently, though, people have been coming down to Key Largo to dive the 510 foot ship Spiegel Grove sunk in 2002 offshore that brought even more marine life to interact with.
We are talking tons of different types of fish, but also barracuda, silversides, and more.

There are a whole bunch of other wrecks situated off the coast of Key Largo that you'll want to check out while you're here, too. Find a guide – any of the quality guides in town – and they will hook you up.
15. Islamorada
Undisputedly the saltwater flyfishing capital of the world, scuba divers are also getting into the action down in Islamorada.
That's because there are two gigantic wrecks available for exploration, wrecks that are situated add "reasonable" depths that recreational divers can get down to without a ton of experience or a ton of special certifications.
The Eagle is the bigger of the bunch. 269 feet long, this freighter sank in 1985 during Hurricane George.
The other wreck, the locally known "Cannabis Cruiser", was a shrimp boat that the original owners turn into a drug running vessel. As soon as the Coast Guard started closing in on a nighttime operation the runners decided to scuttle the boat all on their own, dropping her in 100 feet of water.
That's a fun dive for anyone.
How Much is Scuba Diving in Florida?
While diving prices are going to differ all across the state of Florida from one operation to another, you can expect these prices to be pretty affordable – especially compared to other diving locations across the US (and certainly around the world).
As a general rule of thumb you should expect to spend around $100 for a single two tank trip underwater.
That dive session includes your tanks, all your weights, a wetsuit rental (if you need it) and a dive guide.
Some operations will also offer you (for between $30 and $40 more) all the rest of the gear you need – from the top of your head to the tip of your toes. This often includes advanced dive computers, electric communications, and more.
Night and more complicated dives can get a little more expensive. It's not at all unreasonable for reputable dive outfits to charge anywhere between $150 and $200 (or more) for these kinds of excursions.
Again, though, a lot of it depends on the dive operation you're going with, the area you are diving in, and a whole host of other factors.
You should also remember that you can almost always get discounted daily rental rates on multi-day dives. A single, two tank dive might cost you $100 or so – but you might only pay $80-$90 per dive if you signed up for two, three, or four days of diving.
There's also a lot of possibilities to private charter with dive groups and organizations up and down the east and west coasts of Florida.
Prices in the private charter world can be all over the place, though. It's a good idea to reach out to operations a couple of months in advance – the further out in advance the better – to find out their pricing, how it compares to the competition, and to lock in the dates you want (ideally at a discount).
Do You Need to Be Certified to Scuba Dive in Florida?
It may surprise you to learn that while Florida is home to some of the best scuba diving sites in the country the state does not require you to have any licenses or certifications whatsoever when you want to dive.
Yes, you are reading that correctly.
Anyone, at any time, anywhere in the state of Florida has the opportunity to rig themselves up and dip beneath the ocean surface on a dive.
Of course, at the same time, you'll have an almost impossible time finding any legitimate scuba outfit that will rent you gear or take you on dives until you produce your scuba certification card.
Dive operations, dive centers, and even resorts up and down Florida do not want to take any risks whatsoever bringing inexperienced and uncertified divers underwater. They aren't going to rent you your gear, they aren't going to turn you on to any spots, they certainly aren't going to take you on any dives – and they probably won't even fill your tanks.
Thankfully, though, getting your hands on your scuba certification is super simple and straightforward.
There are a ton of PADI outfits in Florida that you can get your certification through. These shops offer great training, relatively affordable, and can provide you with specialty training as you advance to do exactly the kind of diving you're most interested in.
Best of all, any legit dive operation (as well as most dive resorts) will point you in the right direction for a PADI certified course – if they don't offer these services in-house – so that you can get certified ASAP and then get rolling with your underwater adventures.
You'll also want to know that while Florida doesn't require to have any scuba certifications the state does have a lot of rules, regulations, and laws on the books governing diving activities, diving vessels, and how dives should be conducted out in open water.
It's important that you brush up on these legalities before you put your regulator on and slip beneath the surface.
Divers Guide
Scuba enthusiasts around the world consider Florida to be about as close to "diver's paradise" as it gets.
Surrounded on three sides by big water, more than 100 of the best scuba sites in the United States are located in the great state of Florida.
The Atlantic, the Keys, and the Gulf of Mexico all have tons and tons of hidden gems dotted throughout for those looking to do a bit of underwater exploring. Combine that with an almost unlimited amount of warm springs and freshwater dive spots and it's easy to see why this is a global scuba destination.
Here's a bit of "inside information" for those thinking about taking the plunge in the Sunshine state.
Diving Conditions and Best Time to Dive

Because Florida is so big, and because the diving locations are so unique and diverse, you are going to find the conditions to be pretty different depending on where you're going underwater.
For example, if you're going to be diving in the Panhandle you're going to want to make sure that you are heading out between the months of April and October. This is when water visibility is the best – 50 feet to 100 feet at times – but it's also when the water temperatures are highest (between 70°F and 85°F).
Northeastern Florida, on the other hand, offers great options in the summertime and early fall. This is when temperatures hold in the low 80°F with visibility up to 100 feet well offshore.
Set yourself up for scuba along the Gulf Coast and you'll be good to go pretty much all year round, there are generally warmer water conditions compared to the Atlantic. Mid 80°F temperatures are the norm, though you can see water temps get down to the middle 60°F in winter.
Visibility is always pretty good, though.
Central Florida diving is about as good as it gets all year round, particularly if you are swimming in warm spring fed waters. This water holds temperatures of about 75°F the whole year but the real reason to dive in this region is because the visibility is unreal.
I'm talking of 200 feet or more thanks to the crystal clear, springfed water.
You're not going to find that at ton of other places.
South Florida delivers the goods for scuba divers all year round as well. Water is between 70°F and 80°F (depending on the season) and visibility is pretty good, though 100 feet might be a stretch in most popular spots.
Finally, if you're popping down to the Keys try and plan your dive trip for the fall if you can. The Florida Keys diving can be done all year round, but the fall is when the water is warmest (mid 80°F) and water conditions give you the clearest amount of visibility.
Requirements
As I have already mentioned, the state of Florida does not require any diving certifications.
In reality, however, you will have an almost impossible time finding even a handful of dive shops or outfitters willing to rent gear to you or guide you without proof of your scuba certification.
A PADI certification is the gold standard here, just like it is across most of the United States. This is a master key of sorts, opening up pretty much every dive opportunity in Florida.
If you do not yet have your PADI certification but still want to scuba dive in Florida that's no big worry.
As of 2022 there are about 130 different PADI certification affiliated shops and organizations offering this kind of training. It doesn't take long, it isn't super expensive, and it's accepted across the US and everywhere else.
It's a big piece of the scuba puzzle, though.
Transportation and Accommodation
Florida's economy is built on the back of tourism and I'm not just talking about the millions of people that find themselves at Disney every year.
Transportation and accommodations are generally pretty affordable, almost unlimited as far as options go, and really easy to get connected with.
I do recommend, though, that you plan your diving adventure as early in advance as possible.
Scuba diving here is super popular, with folks from all over the world flying in to take part in some of the underwater attractions. You don't want to miss out just because you waited until the last minute.
On top of that, transportation and accommodations that are reserved early enough in advance almost always unlock discounts you wouldn't have had access to otherwise. Talk about a win-win kind of situation, right?
You can fly into any of the major airports (including Tampa, Orlando, or Miami) and reach any other corner of Florida in just a few hours with a rental car and be diving in no time. That's tough to beat!
Almost every bit of water that can be dived in Florida has a local dive operation you can connect with, too.
It doesn't get a whole lot better than that.

My unbounded love for the oceans and everything it has to offer motivated me to pursue my passion and become a professional scuba diving instructor.
I keep reading, exploring, and learning more about scuba diving and the underwater world all the time, so I'm excited to share my knowledge with fellow scuba enthusiasts and hopefully contribute a little to your development as a diver. I want people to fall in love with the oceans with as much passion as I have. Read more about me here.