Last Updated: February 14, 2023
A gorgeous chain of islands off the southernmost tip of Florida and the southernmost part of the United States – the Florida Keys are visited by thousands of tourists every year.
Some of them come to enjoy the natural beauty of the Florida Keys. Some come for the adventure – the islands are known for their passionate watersports community.
Still more visitors flood to the Keys to take in some of the best scuba diving Florida has to offer.
Whether you want to experience colorful reefs teeming with marine life or some iconic wrecks, the best dive sites in the Florida Keys I highlight below have something for everyone.
Best 10 Scuba Diving Sites in the Florida Keys
1. John Pennekamp Coral Reef State Park (Key Largo)
Maybe the biggest draw of all when it comes to scuba diving in the Keys, the John Pennekamp Coral Reef State Park is an underwater amusement park of sorts – filled with tropical fish, and expansive reef system, and some of the most unique underwater sites you'll find anywhere on the planet.
Every time you slip beneath the surface in this reef park you'll discover something new. Maybe you'll swim amongst thousands of tropical fish moving in a school. Maybe you'll see dolphins and sharks.
Perhaps you'll even make your way over to a legendary Mock Spanish shipwreck (alleged to have been carrying piles of gold) inside the park boundaries.

The most popular spot in the John Pennekamp park, though, is the
Christ of the Abyss
statue. Located 25 feet underwater, this 9 foot bronze statue was donated to the
Underwater Society of America
by Egidi Cressi, a famous Italian scuba equipment inventor and manufacturer. As it stands in the blue waters of the ocean with arms reaching towards the surface this makes for great photos.
At the end of the day, no scuba diving trip to the Florida Keys is complete without a visit to this legendary location.
2. USS Spiegel Grove (Key Largo)
After seeing the natural beauty of the Pennekamp Park, make sure you go over and visit the USS Spiegel Grove wreck site, too.
A 510 foot long U.S. Navy ship that was intentionally sunk in June 2002. Hurricane Dennis made changes to how the USS Spiegel Grove sat on the bottom, flipping the massive ship over so that it stood upright in the wake of the hurricane. This dive site has become a major artificial reef system.
You can find it in about 130 feet (though top of the boat can be reached much sooner than that, at around 45 feet), making it a relatively simple and straightforward dive for those that are interested.
One of the largest artificial reef systems in the US, you'll want to be sure that you are armed with an underwater camera when you visit this site.
It's not a bad idea to check this wreck out with the help of professional charter cruise, though. Overhead environments can be pretty dangerous and you certainly don't want to get turned around and lost inside the wreckage.

3. Sombrero Reef (Marathon Key)
A relatively quick boat ride from Key Colony Beach just 8 miles away, Sombrero Reef sits in just about 30 feet of water.
This dive is pretty simple and straightforward, perfect for those that are just getting into scuba – but there's enough adventure, excitement, and plenty of things to see that will attract veteran divers as well.
You'll be amazed at just how beautiful this site is even before you slide beneath the surface. A 142 foot lighthouse rises above the reef, helping to attract all kinds of fish, including sharks.
Make sure this is on your Florida Keys dive itinerary!
4. Molasses Reef (Key Largo)
The Molasses Reef system in Key Largo is kind of unique for the state of Florida, in that it is not contained or confined within a set area but instead sort of stretches out all over the seafloor.
Because of the unique nature of this reef system it's grown to be one of the most extensive in the USA.
Thanks to its size there is a tremendous amount of diversity, not just in the reef itself (which feels like it's made up of different little ecosystems) but also in the kind of marine life that it inevitably attracts.
Parrotfish and angelfish love to flip around, moray eels, lobsters, and armies of sea turtles call the reef system home as well.
What really draws a lot of people to this reef, though, is the almost unlimited opportunity for full-blown shark diving. If you've ever wanted to swim with the apex predators of the ocean, Molasses Reef is where you want to be.

5. USNS General Hoyt S. Vandenberg (Key West)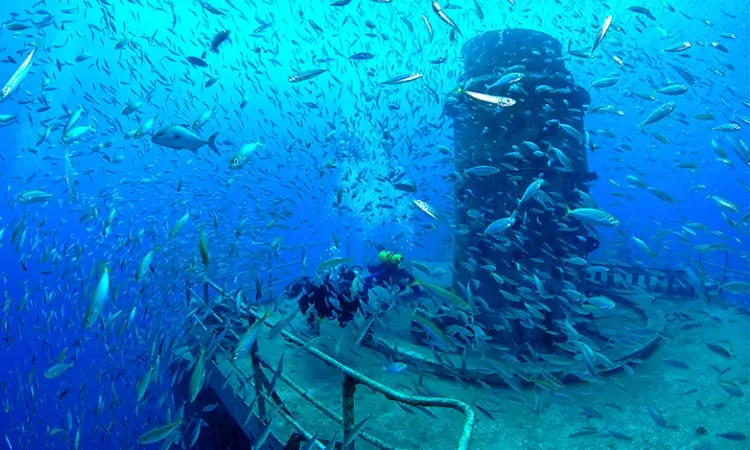 This U.S. Navy military troop transport vessel (later turned into a missile tracking ship) measures in at 522 feet, making it a very large cornerstone for the underwater reef system about 7 miles off of Key West.
Much of the ship was sunk at 140 feet of water, but the superstructure can be found around 40 to 50 feet of water. The U.S. Navy intentionally sank this vessel after working with 18 different agencies to make sure that it could create the kind of artificial reef system Key West was looking for.
The initial goals for this vessel and the reef that it created were to help establish new recreational dive and fishing opportunities that would relieve the pressure from natural reefs in the area.
Secondary benefits were the creation of new ecosystems for marine life, as well as extending the "life" of this vessel – preserving its history and heritage.
This is a wreckage well worth exploring when you go scuba diving in Key West!

6. USCGC Duane (Key Largo)
The US Navy is not the only military organization intentionally dropping decommissioned vessels into the ocean off the coast of Florida in hopes of creating artificial reefs.
The US Coast Guard has also gotten in on the action, most famously with their intentional sinking of the USCG Cutter Duane – a 327 foot long ship that was intentionally dropped to the bottom of the ocean back in 1987.
Today, the ship sits in 105 feet of water, making it a relatively shallow dive, at least as far as Florida Keys artificial reef dives are concerned.
Over the last 35 years it had plenty of time to develop. Today massive coral colonies grow in and around the vessel, attracting dozens of fish species – as well as all kinds of other marine life.
Goliath grouper, Atlantic fish, and other sport fish are hugely popular in this region, but the USCG Duane also attracts multiple different species of sharks. Reef shark, nurse shark, and bull shark show up with regularity here.

7. Looe Key (Lower Key)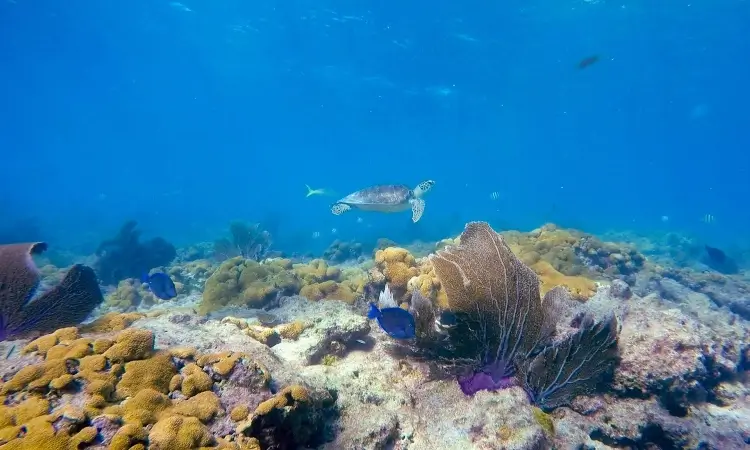 This U-shaped natural reef located around 7 miles offshore south of Big Pine Key is filled with unique coral colonies, barrel sponges, as well as a rare species of black coral – that you aren't going to have a ton of opportunities to see elsewhere in Florida.
The state and local authorities have been working diligently over the last few decades to help protect and preserve this dive hotspot.
Because of the shape and makeup of the reef, marine life flocks into this region and the ecosystem makes it very easy for these species to flourish and thrive.
A lot of the most famous underwater photos of marine life taken in the Keys are captured here, with divers from all over the world making sure that this stays near the top of their dive itinerary.
8. The Eagle (Islamorada)
The Eagle, a ship built in 1962 (based out of Holland), was intentionally sunk in December 1985 in about 110 feet of water.
Designed to establish an artificial reef system, the 269 foot long ship did a fantastic job at that – right up until Hurricane George split the ship into pieces in 1998.
Oddly enough, however, the splitting of the ship didn't disrupt the capabilities of this artificial reef system but instead enhanced them. Now there are two cornerstones of it sitting at the bottom of the ocean just off of Islamorada, attracting tarpon, grouper, jackfish and of course sharks and divers, too.

9. Coffins Patch (Marathon Key)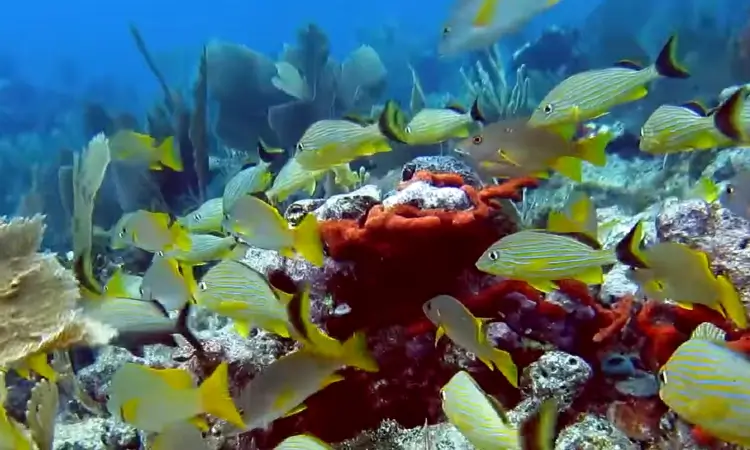 Marathon Key is home to a number of shallow patch reefs called the "Coffins Patch", reefs that sit between 15 and 30 feet underneath the water. Reefs that have proven time and time again to be quite dangerous and even deadly (hence the name) to ships traveling in this part of the ocean.
A number of ships famously sank here back in the 18th century, with the Spanish Galleon Ignacio maybe the most famous of them all.
Divers come to this area to see these reefs up close and personal, to be sure. They also come to this area in hopes of spotting some bits and pieces of treasure that may have been left behind and undiscovered until now.

10. The Benwood (Key Largo)
Unlike the majority of the other artificial reef systems made from ships that were intentionally sunk, the Benwood was scuttled in 25 to 45 feet of water only after it accidentally ran into the USS Total in April 1942.
Originally salvaged (partially) only to be used by the Army Air Corps for target practice, the ship was later dynamited and dropped in place near the French Reef system – and there it's sat ever since.
Far and away one of the most popular dives in all of Florida Keys (in large part because of its relatively shallow positioning), visitors are going to want to be sure that they charter a trip out to the Benwood.

Dive Conditions and Best Time to Dive
The water of Florida Keys stays beautifully warm all year round, making this a fantastic location for year-long dive opportunities.
In the spring, water temperatures hover between 75° and 79°. Weather conditions produce somewhat choppy seas, but there's not a ton of wind to worry about.
The summer months are the best months of the year to dive. The water is warm (83°F to 87°F), the seas are calm.
Fall and winter diving can be fantastic, though you need to be careful about diving during the hurricane season (from August through mid November). Conditions are often a little rougher this time of year, but water temperatures still hover around 70°F to 83°F or so.
Top Dive Shops in Florida Keys
– Horizon Divers
One of the most frequently referred dive shops in the Florida Keys has to be Horizon Divers.
The team here are very experienced, seasoned divers that understand the underwater world of the Florida Keys like the back of their hands. They own their own boats, they run their own crews, and they offer some of the best prices for diving in the Keys for sure.
– Florida Keys Dive Center
One of the most established dive operators, the Florida Keys Dive Center has been a "one-stop shop" resource for divers since 1983 – including those looking to get certified and start their SCUBA journey.
If you're looking for a reputable operation you know you can trust it doesn't get a whole lot better than this. A PADI five-star certified dive shop, and that's just about as good as it gets.
– Captain Hook's

Captain Hook's has you covered from top to bottom when you want to do a little bit of scuba diving in Key West, Marathon or Big Pine Key. Situated just a little bit north of New Town (almost smack dab in the middle of the very last key in the Florida Keys), you'll have easy and quick access to all of the great dives in this part of Florida.
The crew is professional and accomplished, but more than that almost every single review speaks of their personality, the fun they have, and how seriously they take the safety of the divers under their charge.
– Islamorada Dive Center
The Islamorada Dive Center is tucked away and it's its own little harbor just off of the Overseas Highway.
One of the most highly reviewed operations, the crew here understand exactly what it takes to make a picture-perfect dive experience for each and every one of their dive customers.
Beyond that, though, this dive center runs a top-notch certification school as well as a developing skills school, too. Whether you're looking to get started in scuba diving or becoming more accomplished diver, they have got you completely covered.
Florida Keys Scuba Diving Packages & Prices
As of right now, scuba diving packages in the Florida Keys are going to run you – on average – about $90 for a two location, single day charter.
That's per person, and gear rentals (as well as any extras or amenities) may bump the cost per person a lot higher.
At the end of the day, though, that's not a "break the bank" kind of price for some of the best diving in the United States.
Frequently Asked Questions
Is There Good Scuba Diving in the Florida Keys?
There isn't just good scuba diving to be had in the Florida Keys, there's great scuba diving in this part of Florida. From artificial reefs to natural reefs, to historical sites and wrecks, you'll find everything you're looking for underwater in the Florida Keys.
Is Diving Better in Key West or Key Largo?
Truth be told, the diving in Key West and the diving in Key Largo are pretty unique experiences. It really all comes down to the kind of diving you're looking to do – more natural dives or more artificial/man-made dives. The water and weather conditions are going to be almost identical no matter what.
What is the Most Popular Dive Site in Key Largo?
Far and away the most popular dive site in all of Key Largo has to be the Molasses Reef.
The entire Florida Keys National Marine Sanctuary is worth checking out to be sure, but this is the crown jewel of this area.

My unbounded love for the oceans and everything it has to offer motivated me to pursue my passion and become a professional scuba diving instructor.
I keep reading, exploring, and learning more about scuba diving and the underwater world all the time, so I'm excited to share my knowledge with fellow scuba enthusiasts and hopefully contribute a little to your development as a diver. I want people to fall in love with the oceans with as much passion as I have. Read more about me here.